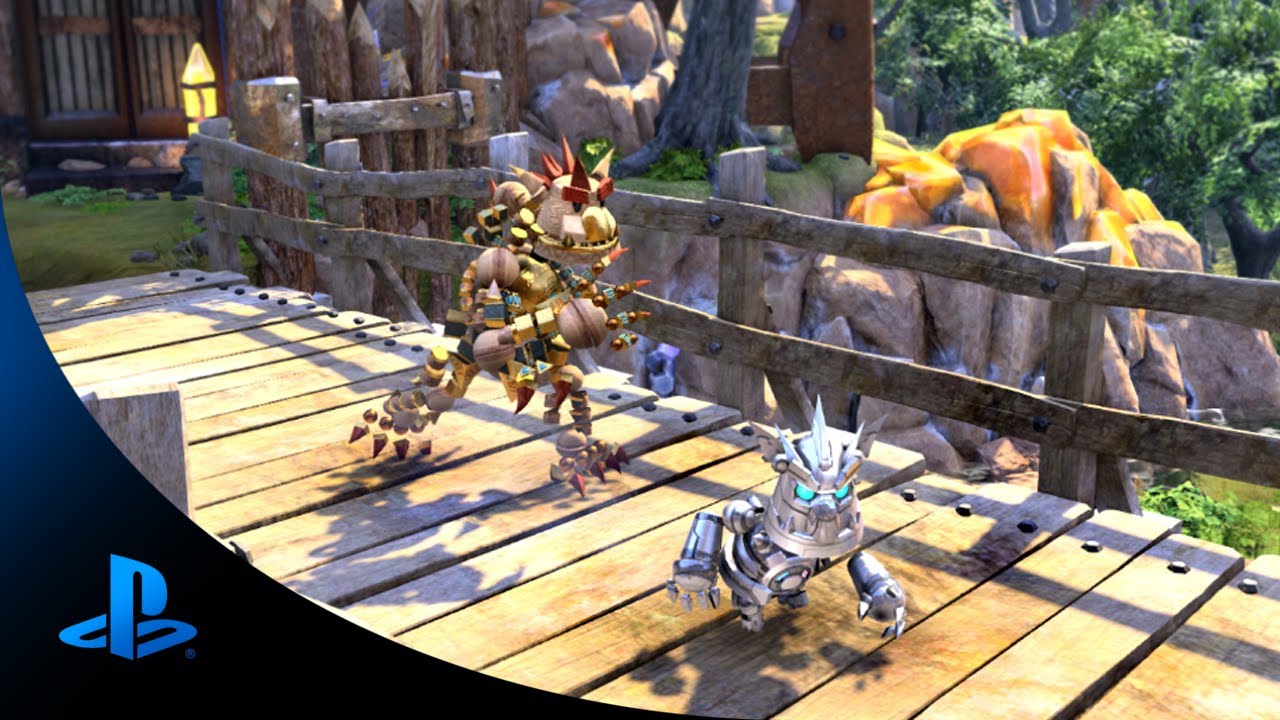 Hello, everyone. We're just a little over a week away from the launch of PS4, and I can't wait for everyone to finally get their hands on Knack. If you're looking for a taste of something different, something a little more old-school, Knack is the perfect PS4 game for you. With Knack, not only are we taking gamers back to the days of classic games like Crash Bandicoot, we're also introducing some new and unique ways to experience the game.
We have a unique two-player coop mode that puts a fun twist on traditional co-op games and is a great reason to pick up an extra DualShock 4 controller. If you own a PS Vita, there's of course Remote Play, which can even work in conjunction with our two-player co-op. We have a fun social connectivity feature that lets you unlock collectibles faster through your network of PSN friends, and finally, we have a brand new standalone mobile game app called Knack's Quest. I'm here to talk about all of these today.
Knack's co-op is a little different from some cooperative games you may have played. From the very beginning, Knack was meant to be both a challenging and rewarding old-school style character action game, as well an accessible "gateway" title for gamers to initiate their friends and family members into the joys of true console gaming. On Normal or Hard, the game can be brutally challenging and very rewarding. But with simple controls and Easy mode, even new players can experience the world of Knack.
In Knack, our two-player cooperative mode was designed in a way that accentuates the vision for the game. A second player can drop in or out at any time, and control Knack's shiny metallic helper, Robo Knack. Robo Knack has a move set somewhat similar to Knack's, but can donate parts to Knack and heal him with a touch of the Triangle button. If there's a non-gamer or light gamer in the house, this is a great way to introduce them to the world of Knack – just start the game on Easy and drop in from time to time to help them through the game.
Oh, and if you enjoyed the smack fests in LittleBigPlanet, you'll find some fun in smacking your on-screen partner when he or she least expects it.
As you play through Knack's story mode, you'll no doubt find walls and doors that are begging to be smashed, burnt down or otherwise destroyed. There are over 60 of these rooms — some are out in the open, but some are a little trickier to find. Inside these rooms, you'll find a chest that holds a collectible item: either a gadget part, or a rare Crystal Relic.
There are eight gadgets in all, and each requires anywhere from 3 to 7 parts to complete. Once you complete a gadget, Knack can equip it to enhance his abilities or add new ones. A few of my favorite gadgets are the Combo Meter, which allows Knack to boost his attack strength by hitting enemies 8 times in a row without taking damage himself, and the Harvester, which lets Knack collect sunstones from defeated enemies. In these chests you may also find Crystal Relics, like diamonds or rubies. If you find enough of any single kind of rare Relic, you'll unlock a new form of Knack to use in a second play-through of the game. Each Knack variation has different characteristics such as super strength, super fragility, etc.
Finding these secret rooms and collecting gadget parts and Relics is fun, but it's even more fun when you have friends playing the game as well. Whenever you find a secret chest, you'll be able to either take the item you found in the chest, or choose any item a friend found in that same room the last time they played. This can really come in handy when you're trying to complete those gadgets or unlock that last Knack variant. Your gadget collection even carries over to new playthroughs, so you can work on getting all eight handy gadgets.
You'll also find secret areas holding more parts to help you heal and grow, as well as Sunstone crystals to fill up your super move gauge.
Lastly, we just launched a new mobile game app called Knack's Quest as a FREE download for iOS devices (Android version coming soon). This game is a standalone three-in-a-row jewel game featuring Knack himself. Gather parts to help Knack grow before the time runs out to clear the level. Unlock endless mode by beating all levels, and post your scores in global and friend rankings.
What's more, you can also unlock gadget parts and rare Relics for use in the full Knack game on PS4. Once PS4 launches on November 15th, there will be an update to the mobile app that connects it to the PS4 game, allowing you to transfer all of your unlocked items over to your full game. Even if you don't have a knack for these kinds of games (excuse the pun), you can enlist a friend or family member to work on unlocking items for you.
We'd love to hear your thoughts about the game and co-op mode in the comments below! Look out for Knack on November 15th!