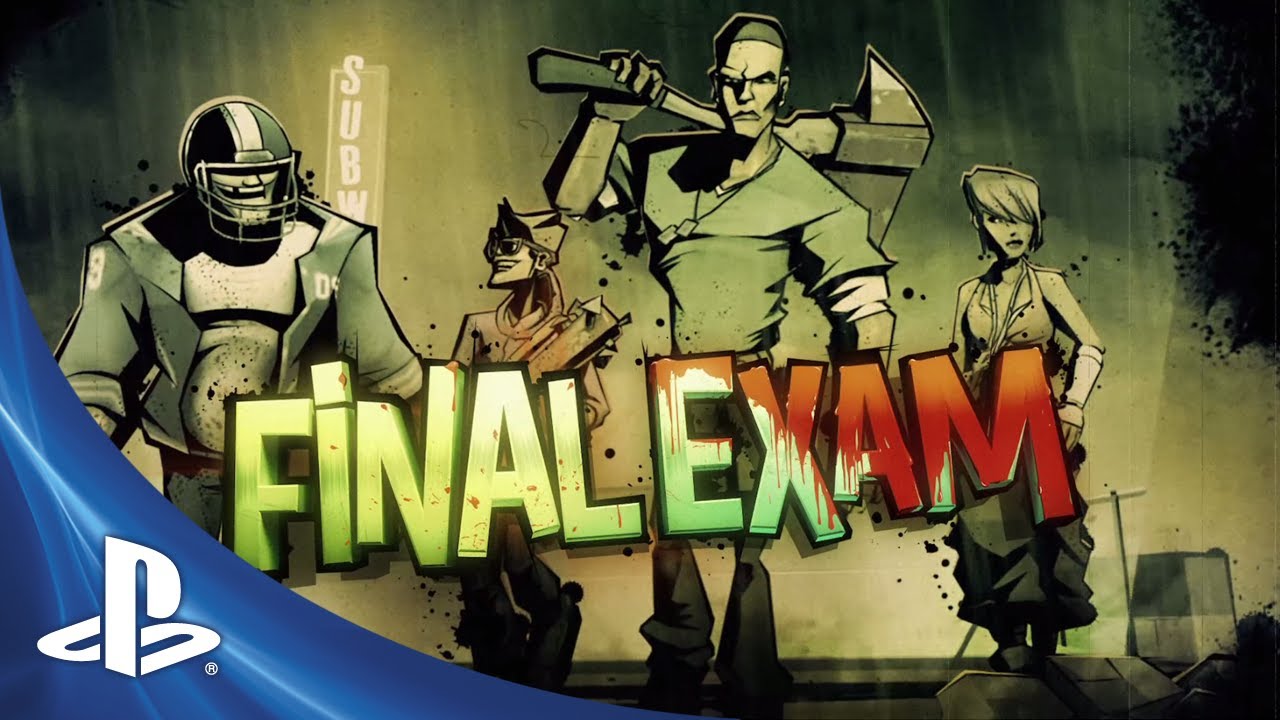 Hi everybody, this is Francois from Mighty Rocket Studio. This is our big day, because Final Exam launches on PlayStation Store. It's available for $9.99.
Do you like action games or beat 'em ups? If so, I encourage you to try the demo. In Final Exam, you can maim monsters with baseball bats, shotguns, flamethrowers, and many more. There's a solo mode, a co-op mode for two players on the same screen, and a multiplayer mode, with up to four players online. You'll have plenty of fun in solo mode, and even more fun when playing in multiplayer mode.
Choose your favorite character: Brutal Joe (the quarterback), Cassy (the street dancer), Nathan (The geek, my favorite!) and Sean (the handsome bad boy). Learn to take advantage of each one's unique characteristics, make them evolve, and discover their most powerful attacks through eight monster-packed missions. We can promise many hours of fun.
There's also a time attack mode that you'll have to unlock. One particular guy on the team that really, really likes getting high scores inspired us. In this mode, you have seven minutes to get the highest possible score. So you'd better unlock all the available attacks in order to be able to vary things up to achieve some stellar combos.
Here's a trick that might be useful when dealing with hordes of monsters: you can throw them into fire. They burn really well. But be careful not to burn your ass! Actually, you can throw everything in the game.
You'll also meet nice people in Final Exam. Some NPCs help you escape from locations infested with monsters. The sad thing is that they often die when they're not useful anymore: smashed by a tank monster or electrocuted. There are other silly things in the game that you'll discover during your journey. You'll also meet other NPCs who'll seem familiar to fans of Obscure. There are indeed many details that will remind them of that game.
If you want to know more about Final Exam, have a look at our website. You'll even find a paper craft pattern to have your own Brutal Joe with you on your desk all day long.
What? You're still reading this post? Shouldn't you be downloading the demo of Final Exam? And tell us what you think of the game. We at Mighty Rocket Studio love to listen to people who play our games.