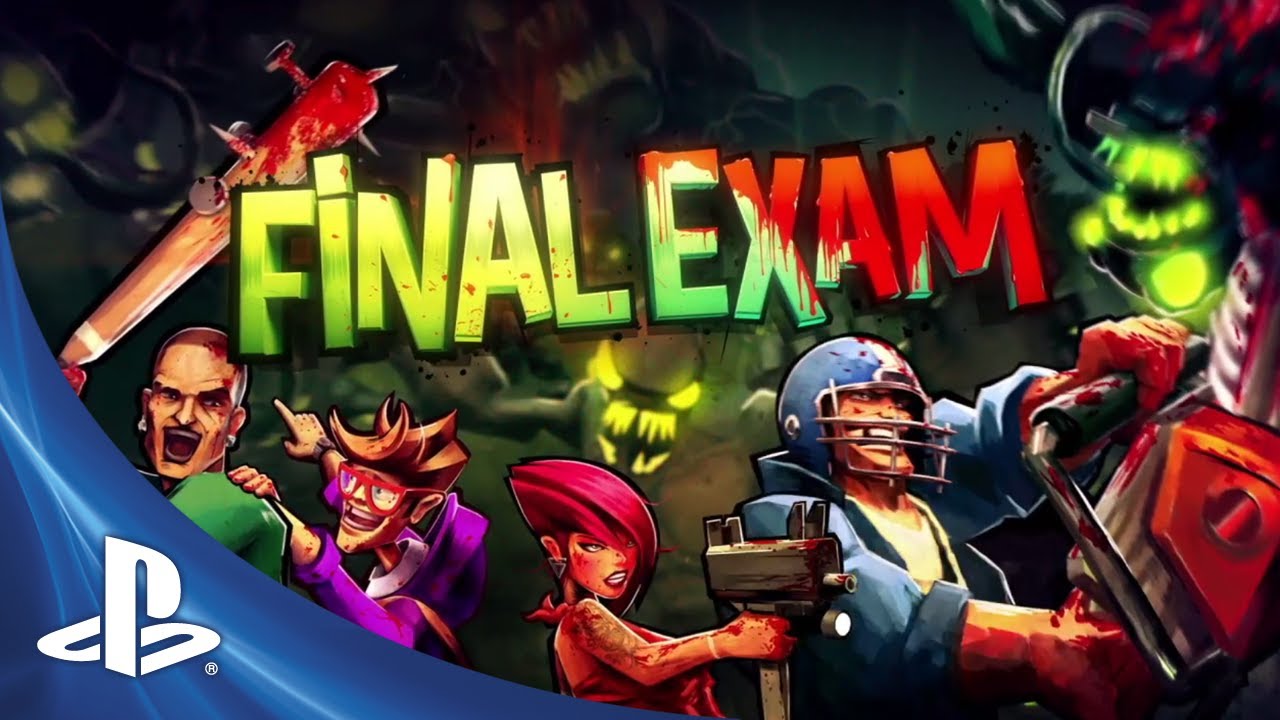 Hey, I'm Francois. I run Mighty Rocket Studio, and I'm pleased to talk about Final Exam with you. There are nine people in the studio, and this is our first game. We created the studio for this game. So we hope that you'll love it!
Final Exam is a beat'em up in which your goal is simple: survive. You were going to a class reunion. It should have been a fantastic party… and you suddenly realize that there are monsters everywhere… and they're after you.
You can choose from 4 characters that are all classic, teen archetypes. Brutal Joe is the quarterback of the group. He likes hitting and everything related to raw power. Cassy is a street dancer (I'm sure she was a cheerleader in school), and her special attacks are dance moves. Nathan is a geek. He loves technological stuff (and he's my favorite). The last one, Sean, is the handsome guy… but the bad boy. He likes playing with firearms.
Each character has unique, powerful attacks based on their skills. Each skill has 4 power levels, up to the ultimate attack that blasts everything on the screen.
At the beginning of each mission, you can make your favorite character evolve by enhancing his or her physical characteristics, adding new combat moves, or choosing unique powers. All of which are important for scoring, but let's talk about that a bit later.
There are 8 missions (30 to 45 minutes each) in Final Exam that take place in three huge environments, so you won't get stuck in one long, boring corridor. To reach your objective, you can follow any path you want. It's especially important in multiplayer games where you can decide how your team progresses: choose the safer route that takes longer, or split up to finish the mission faster, which means more points — and more danger.
You can play Final Exam solo, in co-op mode with two players locally (It's more fun to be on the same couch to yell at your mate because he just broke your S combo!), and also in multiplayer mode with up to four players online.
Final Exam is fun in solo play, but it's even more fun in multiplayer mode. We still have fun with it, here at Mighty Rocket Studio, when we play with 4 players. It's good to hear people laugh when playing a game they know by heart, after more than a year of development, because it means that it's genuine fun. We also have items that were designed especially for the multiplayer mode. For example, there's a parade float that transforms into an armored that you'll use to cross a particularly dangerous area.
Scoring is important in Final Exam. Of course, at the beginning, you'll have fun as soon as you play. But you'll soon realize that a good player that pays attention to his or her combos can get scores at least ten times higher than other players. To design our combo system, we took inspiration from skateboard games in which the more you vary your tricks, the more your score grows. We do the same in Final Exam. That's why it's really important to get new combat moves to vary your attacks. The mini-leaderboards that are always displayed in the main screen will remind you that you still have friends to beat.
Here are some tricks to achieve high scores: play in hard difficulty modes, try out multiplayer, and don't forget to turn on the manual combo validation in the options menu.
So go ahead, use your unique attacks, the flamethrower, the chainsaw, the mighty rocket launcher with its homing missiles… and blast monsters. They deserved it. And above all, have fun!
Final Exam will be released on November 5th for PS3, will debut at $9.99. If you want to know more about the game, have a look at the overview trailer above, and be sure to visit the Final Exam website. You can also learn more about what's going on behind the scenes on our devblog. You'll even find a paper craft pattern to have your own Brutal Joe with you on your desk all day long!
We also like to hear from people who play our games, so please, tell us what you think.