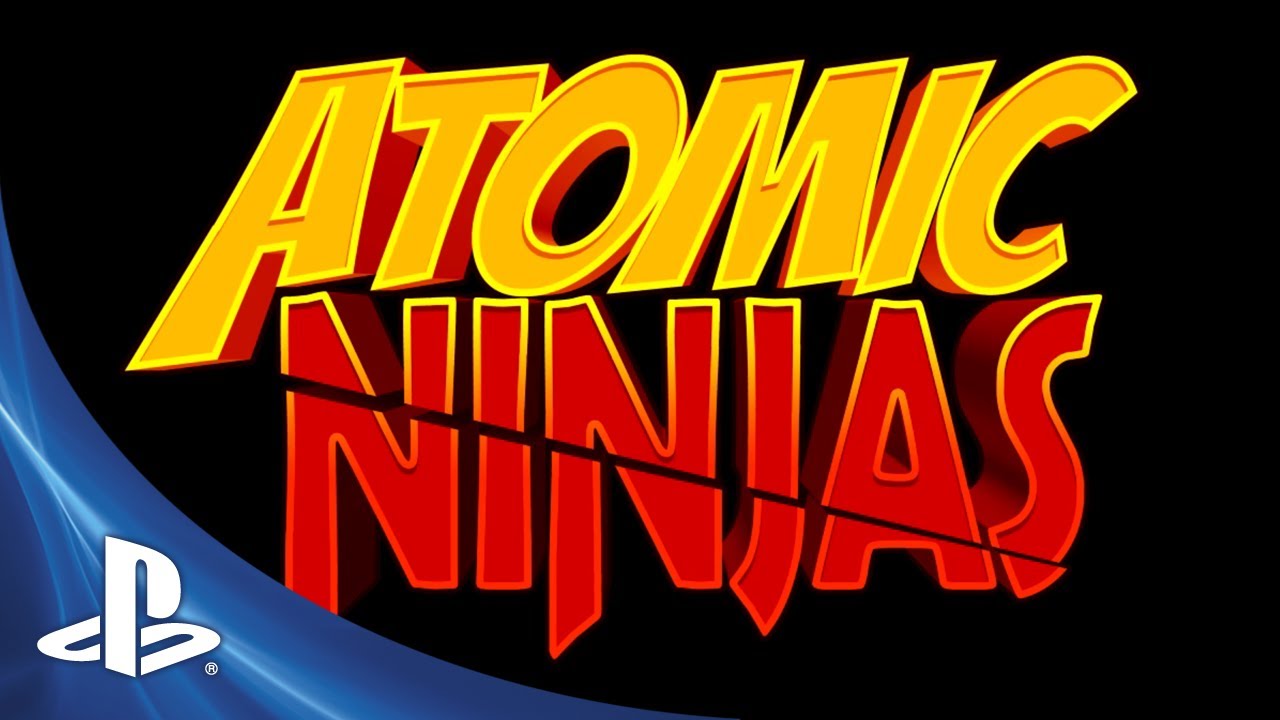 Hey everybody! This is Jakub, from Grip Games. Our long-awaited, multiplayer action platformer, Atomic Ninjas, is finally cutting its way to PS3 and PS Vita next week on PlayStation Store, Cross Buy and Cross Save, for $9.99. We're happy to reveal that, contrary to a previous announcement, both the PS3 and PS Vita versions will be released simultaneously on October 8th — as all the evil ninjas sabotaging the launch were apprehended and beheaded
For those of you who not yet familiar with Atomic Ninjas, it's a hilarious, 2.5D platformer with a focus on multiplayer matches, both online and local. But single-player mode is also present, including vicious ninja-bots!
The most important gameplay feature is that you won't be able to directly kill your opponents. Instead, you have to use the arenas themselves to get rid of the competition. Who needs guns when you have lava, acid pools, and laser walls? Your goal will be to push other ninjas into these environmental hazards and, of course, stay out of them yourself. This creates a completely new twist on gameplay, where you have to outmaneuver and outsmart your opponents.
To help you with this task, there's an arsenal of ninja weapons. Punches, shurikens, and ninja ropes, but also more "atomic" stuff like rockets, telekinesis, and super-abilities, which can make you invulnerable, super-fast, invisible, etc. Each weapon brings its unique play style with it — from aggressive, head-on punches, to more defensive, long-range telekinesis. You can use invisibility and hiding spots for a stealthy approach, or you can wreak havoc.
There are seven Atomic Ninjas to unlock and pick from. Each has his own personality, taunts, and starting weapons. As for the gameplay modes, you can find Deathmatch, Capture the Flag, Treasure Hunt, Domination, and also team-based modes.
Atomic Ninjas is, most of all, a really hilarious game. It's not just its comical look and sounds, but the overall, entertaining gameplay. There's no shortage of intense fights and situations, but it all makes you laugh, rather than feel tense. It's a game that you can play for a few minutes to kill some time, or to spend dozens of hours while mastering it and unlocking all its secrets.
Needless to say, we're very proud of Atomic Ninjas, and we can't wait to see your reactions when you get to play it. Atomic Ninjas launches for both the PS3 and PS Vita next week, and the players on both systems are able to play against each other. Cross buy is supported, so purchasing one version lets you download the other one for free. A free trial will also be available, so you'll be able to try a few matches before buying the game.
If you want to find out more about Atomic Ninjas, be sure to visit the official website, as well as our Facebook and Twitter. See you all online soon!