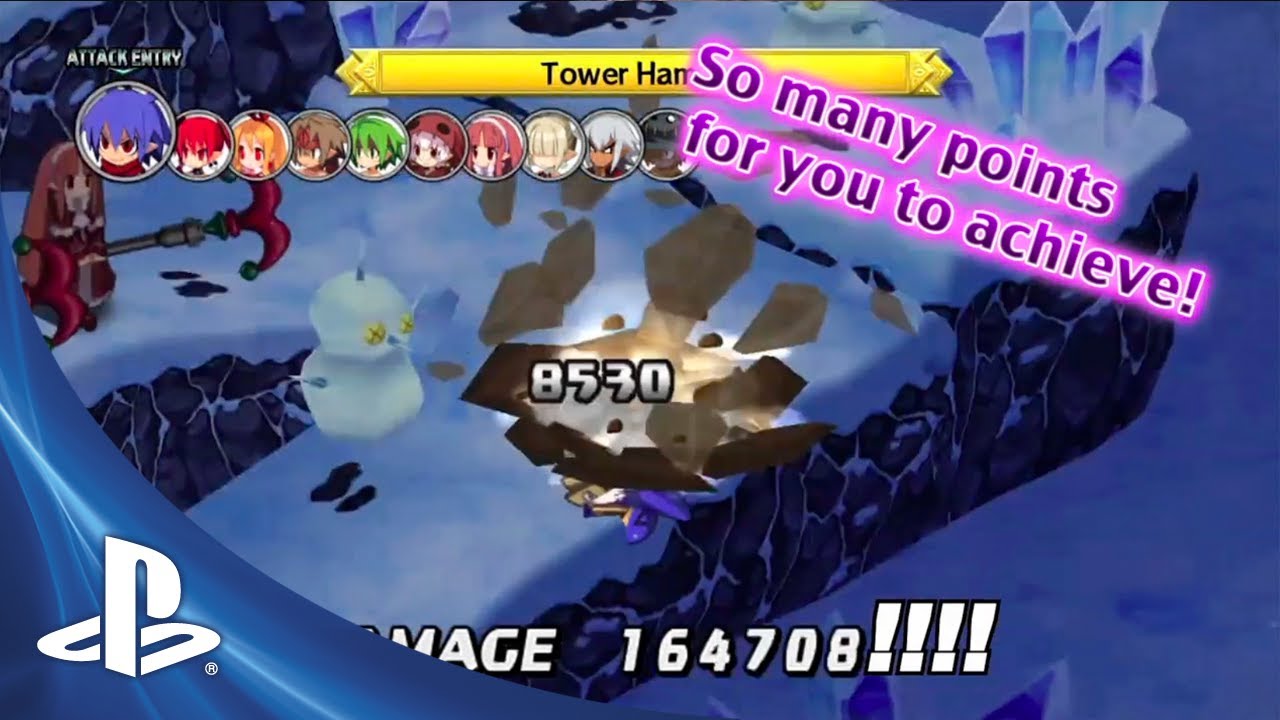 Hey, doods! Once again, it's David from NIS America with news on the latest in our fan-favorite, strategy-RPG series, Disgaea. Disgaea D2: A Brighter Darkness is set to launch for PS3 on October 8th in North America. Also, for the first 30 days from the launch of Disgaea D2, a costume DLC pack for Laharl, Etna, and Flonne will be available as a free download on PlayStation Store! Isn't that something? Now, without further ado, let's get into all the juicy new details of Disgaea D2.
Disgaea D2 is a brand-new entry in the Disgaea series that takes place immediately after the first one, with Laharl being Overlord of the Netherworld. Unfortunately, no one else has gotten the memo, so he sets out on a quest with Etna and Flonne to let the denizens of the Netherworld know who's boss.
Along the way, he meets a few rebel demons that found out he's Overlord and aren't too happy about it, along with other colorful characters — including a girl claiming to be his sister! And if trying to get some respect wasn't a dangerous enough endeavor, Laharl discovers that bigger problems have begun blooming in the Netherworld, and Celestia might be to blame… What's a fully-fledged Overlord to do?
Disgaea D2 comes with the classic trio of Laharl, Etna, and Flonne, but we've added a boatload of new features! Characters are now in beautiful high-definition sprites! All that HD action is going to be great when you're pummeling away at your enemies and dealing billions of points of damage with over-the-top, anything-but-tame skills.
We've also replaced the Magichange system with the Mounting system in this game. Now during battle, you can "mount" a humanoid character onto a monster character to combine them and open up special new skills and attacks. Unlike the Magichange system, once you've finished up your business, you can simply dismount the characters and have your monster fight alongside you in battle like normal!
We've also added a master and pupil system. Essentially, you'll pick a character to be the master and another to be the pupil. By doing this, the pupil gains new skills from the master, as well as higher weapon proficiencies. Of course, with every master-pupil dynamic, the master eventually learns from the student, and in this case that means the master gains some stat boosts! So much knowledge and so much power!
We've got all these things, plus old favorites like the Item World and the Dark Assembly, where you can create characters and bribe your way to having the best of the best! Character creation in the Dark Assembly has also been improved so that now you can choose between three personalities for each character, which determines that character's Evility, as well as their dialogue both in and out of battle.
There are also two new generic classes you can bolster your battle roster with — the Male Angel and the Sea Angel. Sounds like there's a lot of help coming from Celestia! Combining all of this customization and going through the Item World to max out your weapon's levels will let you get crazy-go-nuts on your enemies, and let 'em know that the real Overlord's standing up! Still not enough? How about a little Cheat Shop action? At the Cheat Shop, you can change how much experience and gold you get, and even break the level limit (?!) so there's tons more SRPG madness to be had!
I hope all of these new features have got you eager to tumble down into the Netherworld and experience hundreds of hours of customizable gameplay! Do millions of points of damage! Level up your characters and weapons hundreds of times! Change Laharl into a girl! Wait, what?
There's just so much you can do, and even if you think you've maxed everything out, there's still more! Beyond the initial launch costume pack DLC, we also have Raspberyl character DLC and a bunch of other fun stuff coming down the road! The party just don't stop!
Thanks for your support and taking the time to read this! Prinny out, dood!