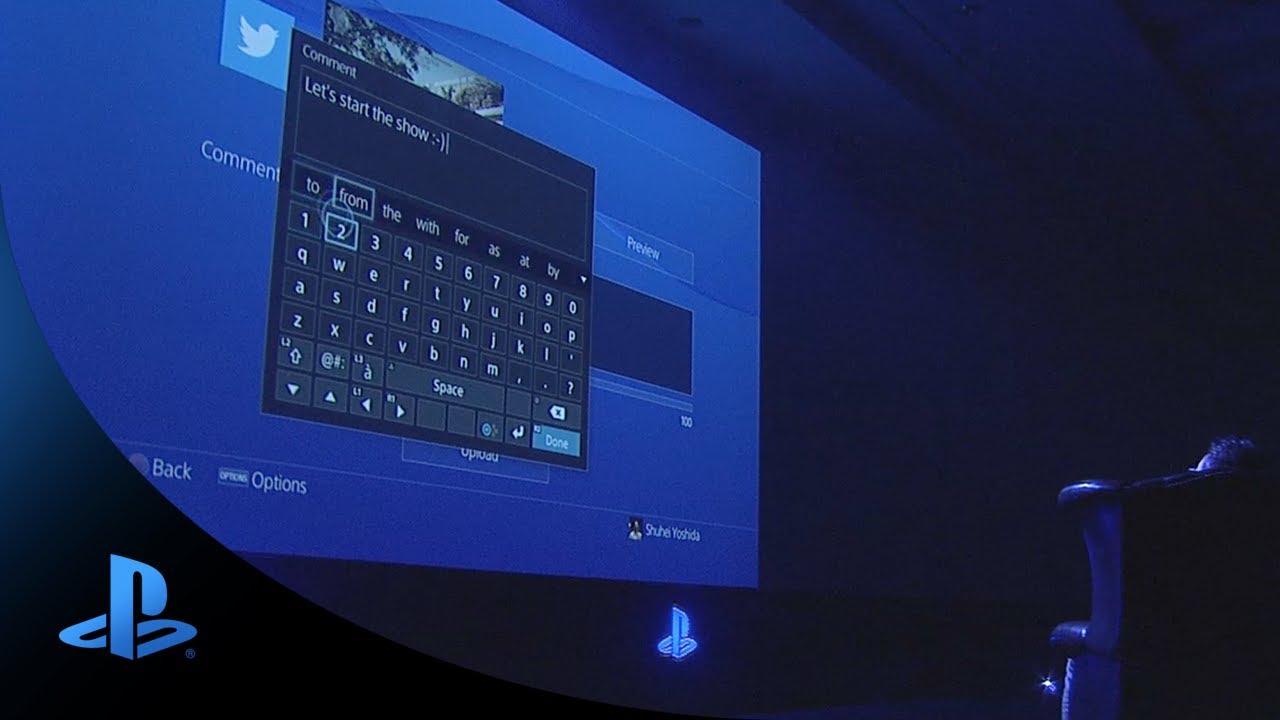 One of the most memorable moments from our Gamescom press conference was surely the sight of Worldwide Studios President Shuhei Yoshida taking the gathered audience on a tour of the new PS4 user interface, live on stage, from the comfort of a big leather armchair.
If you haven't seen it yet, please do take a look at the video below to see him hop seamlessly from the PS4 home screen into a livecast of a friend playing Killzone: Shadow Fall, before joining that game and then, finally, sending a screenshot of the session straight out to his Twitter feed.
PlayStation.Blog caught up with Yoshida-san the morning after the show to go into a little more detail on the PS4 UI, and find out what he's most excited for players to see come November 15th.
PlayStation.Blog: Obviously not many people have used the PS4 UI yet, so can you tell us a little bit about how it feels?
Shuhei Yoshida: What I showed was only a small portion of the UI. Obviously the system software is still in development. We really wanted to show off the social aspect of the UI. The minute you boot up, you'll see all the information about games you own, what your friends are doing, whether there's any new DLC coming out, or if your friends have shared a video or screenshot. And you can also spectate anyone playing PS4.
The demonstration was to show that my friend Eric was playing Killzone. I was able to spectate, but also join the game. All PS4 games allow you to take screenshots, so I pressed the share button to automatically take one. And PS4 also records the last 15 minutes of gameplay, so I had the choice of either uploading the screenshot or the video. So I tweeted out the screenshot to my actual Twitter account. And if I chose to, I could have posted the video to my Facebook. It's very easy to do.
"It's very easy to do."
PSB: We've increased the friend list limit to 2,000 with PS4. As someone who really enjoys social media, are you looking forward to that huge influx of new friend requests that will surely come on launch day?
Yoshida: I have maxed out all the friends lists of all the consoles I have! The thing about friends lists though, is that you might meet a person in a game and make friends with them, but then after a couple of months you might forget who they are. So I'm really excited to be able to add the real names of friends, like on Facebook, so you can see who that person is and bring your own friend network onto your console.
Of course, it's optional, so you don't have to do it if you don't like it, but I'm the kind of person who enjoys a game much more if I know who I'm playing with. So I'm really looking forward to this!
PSB: What aspect of PS4 are you most excited for gamers to discover when they purchase their new system?
Yoshida: The discoverability of things. It's like checking your social media every day. I really like that people can find out about new games, information, and what their friends are doing, without even booting the game. For example, you can check out whether you have had new challenges from friends from the home screen of every game. All the important information is presented to you immediately. The same game might come out on PS3 and PS4, but playing the game on PS4 will be much more fun, I would expect.
"The indie movement is so exciting to me."
PSB: You've been with PlayStation for many years and witnessed all our major platform launches. With a few months left until the release date, how are you feeling about the PS4 launch, compared with previous platforms' launch dates?
Yoshida: The indie movement is so exciting to me. It really reminds me of when we were working on the original PlayStation. Back then, PlayStation really expanded the audience for gaming and brought in a lot of new developers. Lots of unique, interesting games came out of nowhere.
I feel a similar kind of vibe and passion from those indie people today. I'm so excited this time. It was scary going into PS3, actually. Everything was going bigger, but this time around it's a really great combination of big and better games, and smaller, really creative, interesting titles.
PSB: Are there any indie titles in particular you're really looking forward to playing on PS4?
Yoshida: I'm always a huge fan of Octodad. I was watching the live demo before the press conference and was like "Let me play!" And The Witness. It wasn't in the show, but I can't wait to play the game when it comes out.
PSB: While we're on the topic of games, I know everyone is always interested to find out what you're playing at present. Can you offer our readers three recommendations that you think they should check out?
Yoshida: Along with our huge catalogue from Worldwide Studios, Dragon's Crown is a game I'm playing and really digging. It's a very immersive, action brawler RPG with beautiful graphics. I'm playing on PS Vita, and it's very beautiful on the PS Vita screen. I highly recommend it.
I still haven't been able to make huge progress on Hotline Miami. It's very hard! But it's so addictive! I really like it. It's like playing Demon's Souls or Dark Souls — you have to die a lot to learn how to play.
The other recommendation… maybe Velocity Ultra? That's so great. Or PixelJunk Monsters Ultimate, perhaps. These are all games on PS Vita, but Dragon's Crown and Hotline Miami you can also play on PS3.