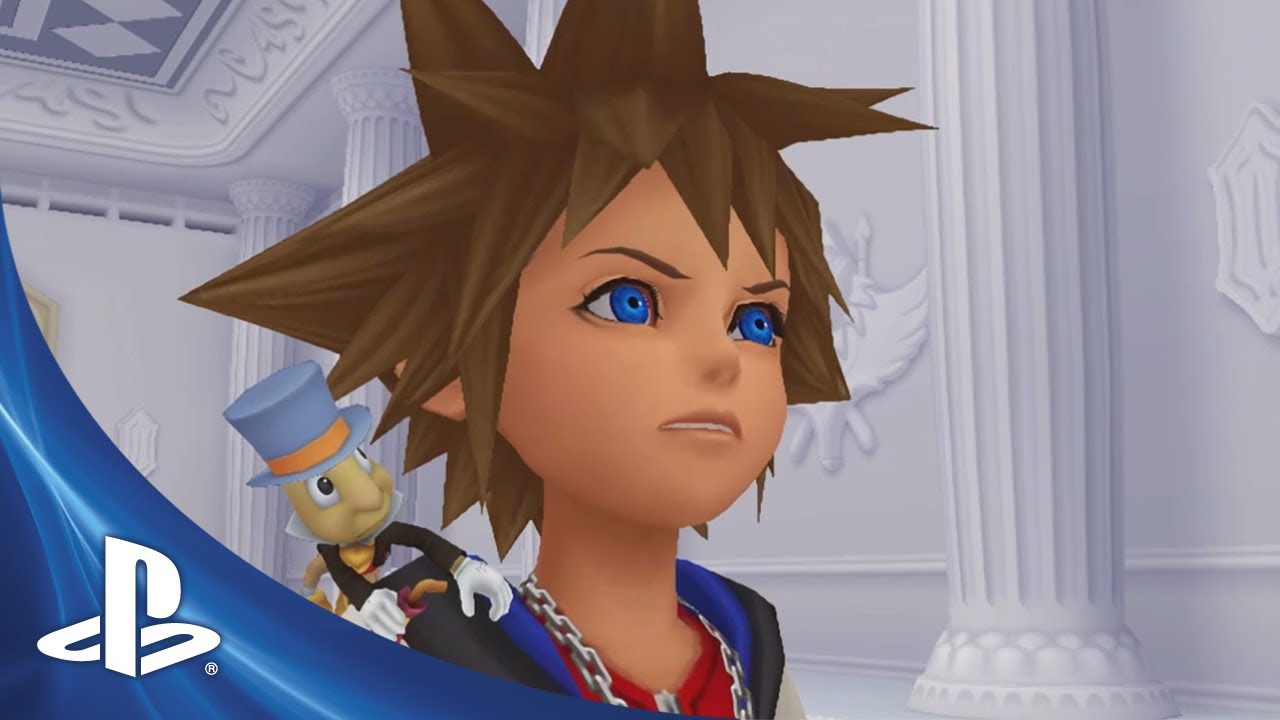 "When we are older, you'll understand what I meant when I said, 'No, I don't think life is quite that simple.' "
So sang Hikaru Utada in her beloved single that opened the original Kingdom Hearts in September of 2002. And so she sings again in this upcoming HD update that famously twisted together the fates of Square Enix characters with Disney icons. And the lyrics offer a pointed commentary on the re-release, as the narrative of Kingdom Hearts was never quite that simple. And perhaps that's why we love it so much.
Kingdom Hearts begins innocently enough, with a young boy named Sora spending time with his friends, Riku and Kairi. But soon their world, and perhaps all worlds, are threatened by a malignant darkness. Sora, as our intrepid hero, is promptly pulled into the intrigue.
Kingdom Hearts HD 1.5 Remix is an incredible collection for fans of the series, and a perfect entrypoint for those that missed the original. It includes the "Final Mix" version of the first Kingdom Hearts, which was never launched in the United States. This version includes new enemies, items, and other assorted goodies. But now, of course, the visuals have enjoyed a tremendous overhaul. Kingdom Hearts HD practically bursts off the screen, proving once again that simple but effective art styles age brilliantly.
We popped in the original Kingdom Hearts for a back-and-forth comparison, and the difference is incredible. The HD version not only looks better, but feels smoother — and the colors sizzle. This isn't a hastily-put-together kind of upgrade, but one that offers a significant improvement.
The collection doesn't stop with the original, however. It also includes the 3D remake of Chain of Memories, aptly titled Re: Chain of Memories, which takes place between Kingdom Hearts and Kingdom Hearts II. This game replaces the menu-based action battles of the original with an addictive, collectible card system.
As a bonus, Kingdom Hearts HD also comes equipped with HD remastered versions of the cinematics from Kingdom Hearts 358/2 Days. Please note that this is not the full game — just the story. But it's a fantastic way to catch up on a touching part of the series that never made it to a PlayStation platform before.
Even if you played the original Kingdom Hearts when it launched, the HD Remix is very much worth looking into. Not only are the visual updates a dramatic improvement, but the play itself has aged just as well as the art style. Kingdom Hearts Final Mix is still every bit as charming and fun after all these years, with a wealth of weapons to find, worlds to explore, and a lovable hero to develop. Seriously, how adorable is Sora?
Similarly, the battle system in Re: Chain of Memories remains addictive, with card collecting and deck building mechanics that play to our love of CCGs. It also allows us to "build" the worlds we visit, selecting where to drop save points and battle rooms as we go. A lot of time can be spent playing with these systems, as they provide a remarkable amount of customization and control to how Sora behaves in combat.
And for those of you that have yet to experience Kingdom Hearts, this is likely your best doorway into the adventure. Perfect timing, too, as Kingdom Hearts III was announced at E3 earlier this year. And with two games and one cinematic collection bundled together onto a single disc, the long-running narrative of the series might be a little simpler to follow this time around.
Kingdom Hearts HD 1.5 Remix launches on September 10th for PS3. Pre-orders include an exclusive art book with concept sketches and more.