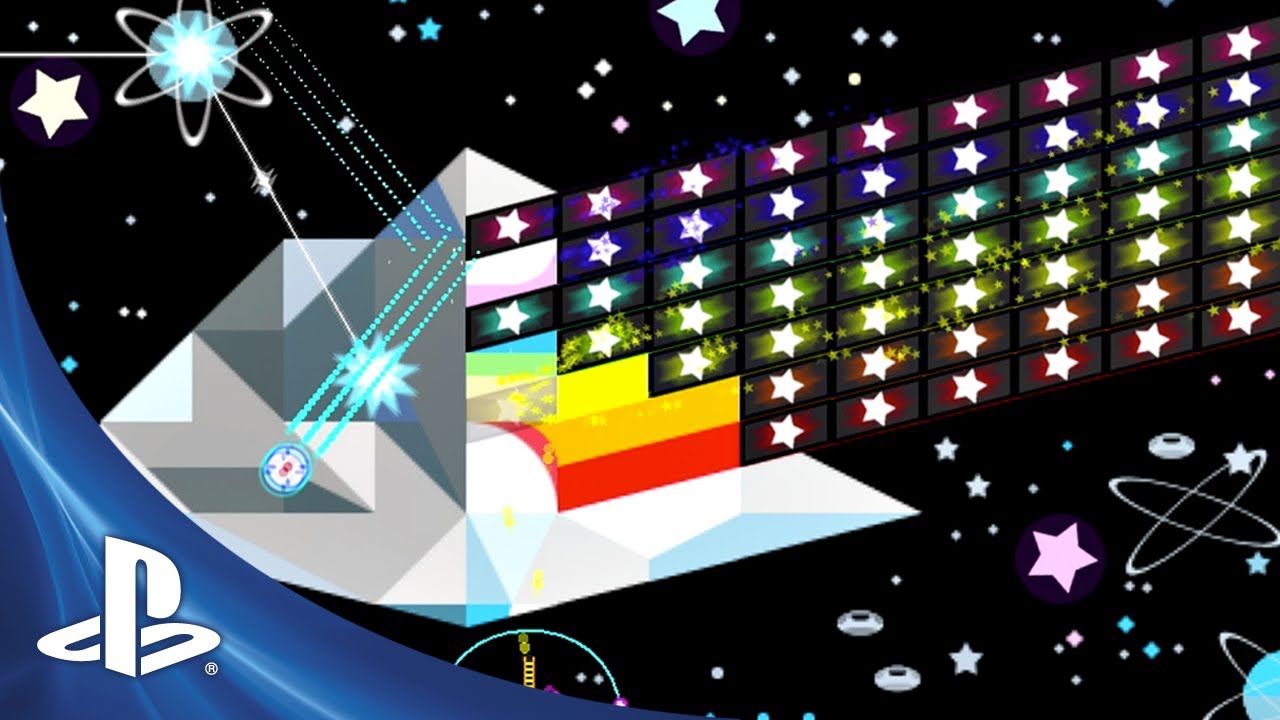 Hi there! I'm pleased to reveal that our next game, BreakQuest: Extra Evolution, is coming to the North American PlayStation Store this week — for PS Vita!
Here's a brief history lesson for you. The original game was released back in 2004 on PC by Spain-based Felix Casablancas and Nurium Games. It was the best breakout game of its time, as it featured something very unique to the genre: fully interactive physics. We were big fans of BreakQuest, and when Sony introduced us to PlayStation minis in 2010, we decided to bring BreakQuest to the mini platform last fall with BreakQuest: Extra Evolution, which was quite successful.
Now, we decided to bring BreakQuest: Extra Evolution to PS Vita natively, with new features, a redesigned level selection system, updated graphics, PSN support, and more.
One of the most valuable features of the original BreakQuest was 100 unique levels, each containing its own interactive physics design, layout, art, and sounds. We redesigned them all with better visuals, while still preserving the charm of the originals. Actually, we have 101 levels — there's one secret one. Try to find it!
We also created 10 boss levels, each serving as a unique mini-game. Boss attacks can have adverse affects on your shuttle, like making it unresponsive, reversing the controls, or even killing the bumpers for a short period of time. Taking down these bosses will require some strategy on your part.
Each boss unlocks a new shuttle, which can be selected from the Shuttle Base menu. In the beginning of BreakQuest: Extra Evolution, you start playing with a basic shuttle, but by defeating bosses you can unlock up to 17 shuttles. The new shuttles comes with activated power-ups: guns, sticky bumpers, rockets, multi-ball, etc. — any of them can help you finish levels faster and get higher scores.
We also supports "near" gifts. Some shuttles are exclusive through near, and there are free ball packs hidden there, too!
One of the new play elements added to BreakQuest: Extra Evolution is the Energy Shield, which can help you keep a ball in play. Once deployed, charging lines begin to cross the screen from left to right until they meet in the middle. Once fully charged, you can activate the shield with the L or R buttons. This shield can be especially helpful when you're having a hard time keeping the ball in play.
Another new element, the Gravitor, can attract the ball to the shuttle's bumper with a simple press of Square or Circle.
And of course, there are PlayStation Trophies included in this version of BreakQuest as well, designed to reward players for outstanding performance during play.
With BreakQuest: Extra Evolution, we're testing out the "Freemium" business model. We believe that this model is perfect for our game. Consider it an advanced demo of sorts, with scoreboards and Trophies working out of the box. By default, BreakQuest comes with 33 balls. When balls run out, you can purchase more ball packs with 100, 200, 500 balls. Also there's an Infinite Ball unlock. There's also a mechanism in game to create extra balls by catching ball parts.
We hope you love the new evolution of BreakQuest. You can find more information on our site, or on Twitter.