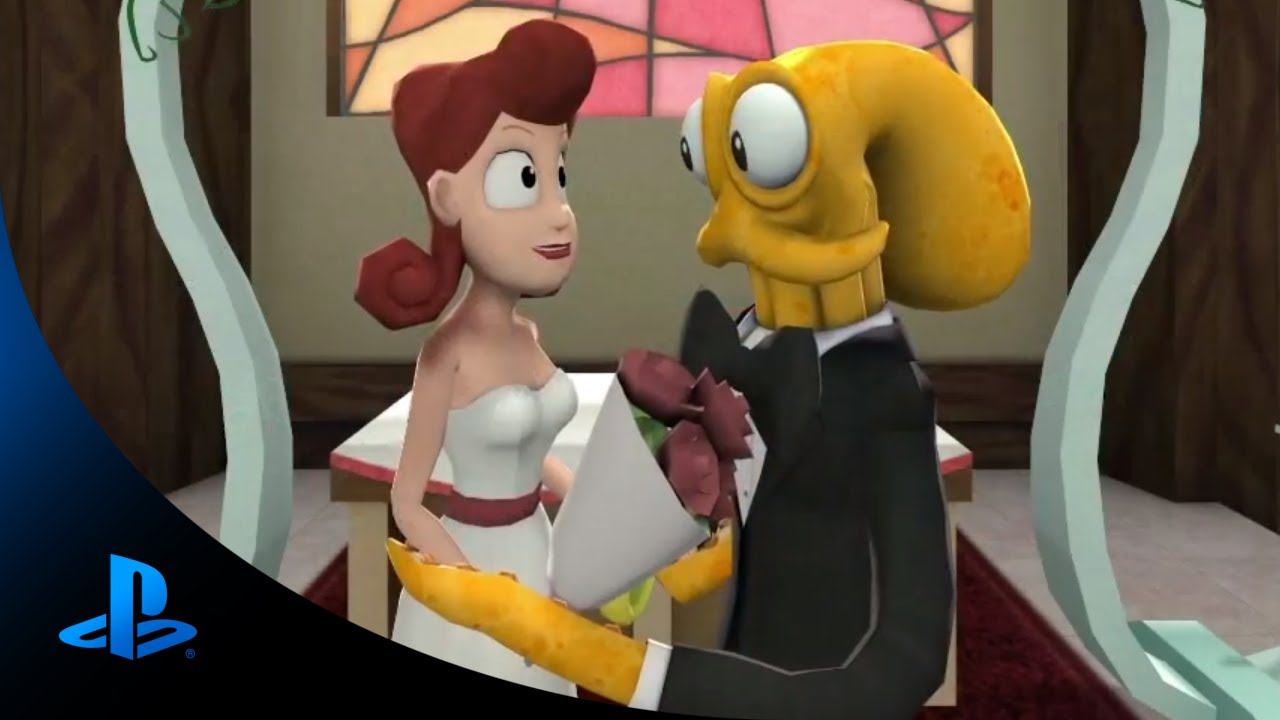 Have you ever felt out of place? Just don't feel you're good enough, no matter how hard you try? Maybe you've got something to hide from the world. Maybe you're not really the perfect human husband and father of three, but actually an octopus. This is what Octodad: Dadliest Catch is all about. You have a loving wife. You have adorable kids. They, however, have no idea of your secret cephalopod nature.
Octodad: Dadliest Catch is the first slapstick fatherhood simulator, and we're excited to say that we'll be bringing it to the PlayStation 4 in 2014.
You may be asking yourself, "Well, what's so difficult about being an octopus?"Well, first off, you're an invertebrate, so you have no bones. Your body is gelatinous. As you can imagine, that makes it hard to simply move around outside of water. All those things we humans take for granted, like counteracting gravity, are a constant challenge. Oh, and you have eight arms you've managed to stuff into a fancy suit to form a human shape. There are hardships in Octodad's life, to say the least.
The way Octodad: Dadliest Catch is played communicates this struggle through the control of Octodad's body. Conquering the movement of this marionette made of jello is at the core of the game.
Each of Octodad's limbs can be independently articulated in order to attempt to accomplish seemingly mundane tasks. Want to walk across the room? You get to control each wobbly step. Need to open a door? Navigate his tentacle…ahem…I mean arm to the knob and grab hold for dear life. It's not easy to control a flopping ragdoll of a humanoid.
All of this comes together as an [in]elegant dance that often ends in the destruction of your surroundings. You'll know when Octodad has been in a room: toppled bookshelves, broken dishes, flipped tables and every piece of furniture rearranged, as if by a bulldozer. All of this is accidental of course. You don't like breaking things, do you?
While navigating the world, you must try not to be too conspicuous while others are watching, or do anything to draw suspicion from your family. If they find out that you've only been masquerading as a human, it's game over. You love them, and it would be devastating to have them turn their backs on you for being the odd octopode out.
Octodad's entire existence is a spectacle, and we hope that with the help of things like the sharing features of the PlayStation 4 you'll be able to spread this insanity to your friends to brighten their day (or raise their awareness of the challenges of the octopus everyman).
If accidentally demolishing a kitchen while trying to grab a plate as a yellow flailing ragdoll makes you laugh as much as we still do after two years of development, we at Young Horses will have achieved all we've aspired to.
Make sure to leave any thoughts or questions below and we'll answer them the best we can!