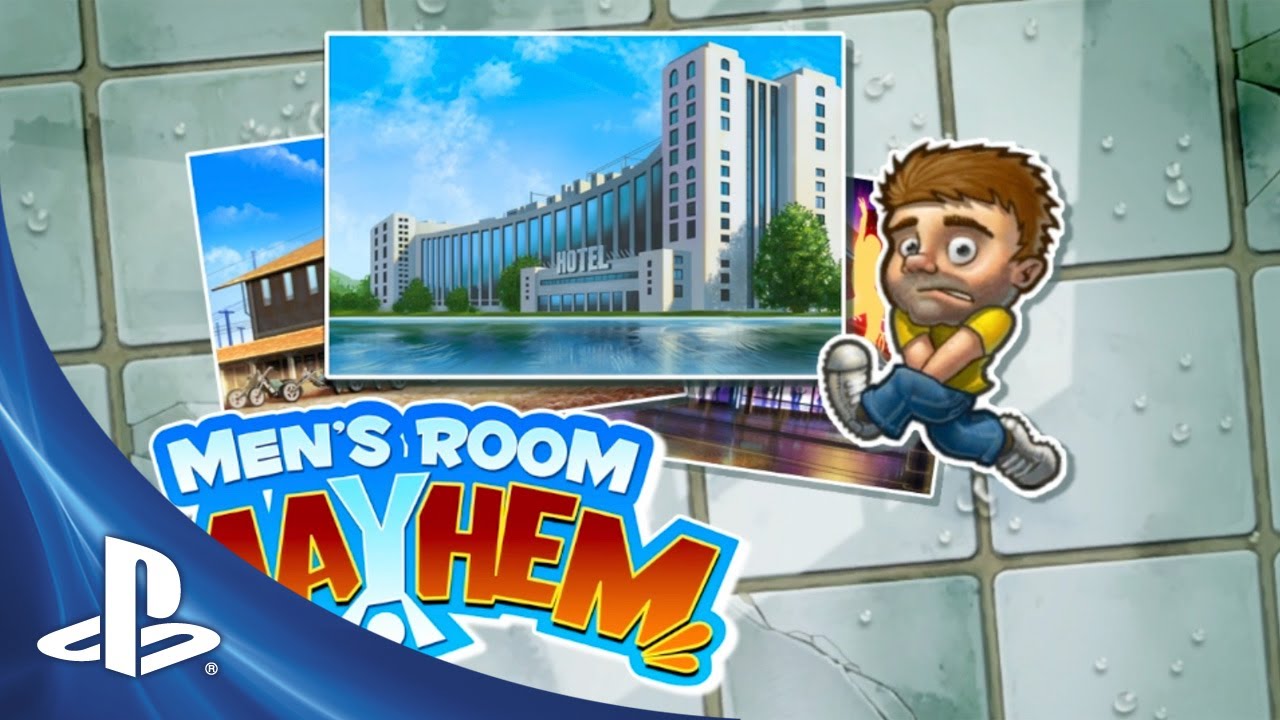 I've been bursting for this moment — Men's Room Mayhem is finally launching on PlayStation Vita today!
For anyone unfamiliar with the game: you're hired as the janitor of your very own chaotic men's room. You're responsible for directing patrons, keeping everywhere sparkling clean and steering patrons away from trouble! You need to get your customers safely to the urinals and stalls in time – otherwise there'll be a few nasty accidents for you to clean up! You can get bonus points for guiding patrons close to each other, but don't collide or there'll be fisticuffs; maintaining proper men's room etiquette (always leave a gap), as well as for demonstrating good personal hygiene and making sure patrons wash their hands. All this is done using simple line drawing touch gestures on PS Vita's front screen.
Since my earlier post, people have been asking me about what else to expect from Men's Room Mayhem. The game begins in the Country Pub location where you learn the basics, and are eased nicely into the action. The gameplay is broken into waves of customers that you have to attend to against the clock, with each wave requiring you to survive for longer periods. Making a mistake leads to a nasty stain on the floor and a similar splat on the mayhem meter. If you're unfortunate enough to make more than 5 mistakes in a round then it's game over. However, if you can survive long enough and see the wave out, you get the chance clean up by furiously rubbing away any indiscretions before the next bout of mayhem ensues.
There are six further locations to unlock, each with a unique layout, and each with a surprise special patron to deal with. Your precision steering skills will be pushed to the limits by the drunk in the Biker Bar who just can't walk in a straight line, and you might be shocked to hear a woman has been seen in the Nightclub toilets. There must have been a queue in the ladies!
As well as the standard mode of play, we've included a Blitz mode where you get two minutes to serve as many customers as you can, with them stacking up patiently at the door ready for you to pull them in and see that they make it to the porcelain in time. There are also 14 Trophies to unlock, and countless in-game challenges to satisfy so you can level up and become a gold standard janitor!
We hope you have as much fun playing Men's Room Mayhem as we did making it. You can download it from the PlayStation Store for $1.99, and we're also offering some launch discounts for the first month as a special Ripstone treat!
Make sure you check out our Twitter account for some cheeky giveaways!