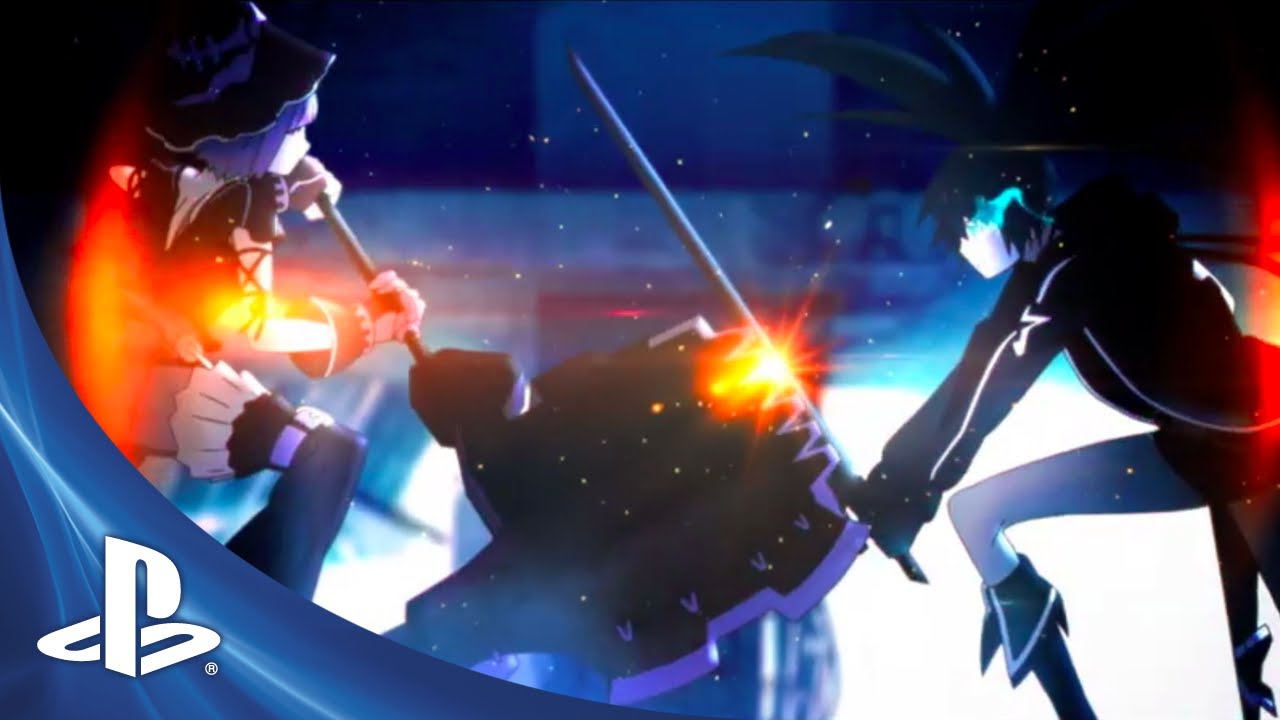 Greetings, doods! My name is Chris King; I recently joined the awesome team here at NISA. I'm here today to talk about Black Rock Shooter The Game, which hits PSP via PSN next Tuesday for $19.99. Shall we get started? Splendid!
Let me give you a quick rundown of the history of Black Rock Shooter. It all began as a simple illustration by renowned artist Ryohei "Huke" Fuke. The mysterious yet appealing design of the character inspired the creation of a Black Rock Shooter song (voiced by the ever popular Hatsune Miku), an original video animation, and even an eight-episode anime series. Starting off as a single character design, it has now evolved into an explosive Japanese RPG – not bad!
Alright, let's talk story. The year is 2032 AD, and Earth has been ruthlessly assaulted by alien forces. Nineteen years of nonstop battle now threatens the very existence of humanity. The last hope for human survival is Black Rock Shooter (BRS), a heroine created solely to save planet Earth — she is the ultimate battle android. But when she is awakened to end the battle once and for all, there are only twelve human beings left on Earth, and a ton of bad guys to fry. As BRS, it's time for you to lead the fight to save mankind!
As you explore ghostly city ruins, you'll come across plenty of enemies that will stop at nothing to keep you from completing your objective. Battles will begin the moment you come into contact with an enemy. Aim and shoot down your enemies, or use precise reaction and prediction skills to block or sidestep enemy attacks. During these real-time battles, you will have to strategically position yourself to dodge and avoid the enemy. As you continue to defeat enemies and level up BRS, you will be able to equip her with a bevy of attacks and skills to make full use of her superhuman abilities and gigantic cyber-cannon! Be careful though – If you use your attacks and dodge moves too much during battle, you will reach "overheat" status, temporarily paralyzing BRS until she recovers. So you'll have to be smart with your moves and manage your heat level throughout each fight.
Aside from the main story, there are plenty of sidequests and mini-games to keep you occupied as you progress through the game. You'll love the sweet visuals and awesome cutscenes as you engage in lightning-fast battles against various types of enemies and bosses. Complete missions and reveal more of the dramatic story in Black Rock Shooter The Game — your choices and reflexes are the only thing standing between you and total annihilation!
Thanks for sticking around to hear about Black Rock Shooter The Game! We'll be back soon with more Time and Eternity news for PS3! Until next time, doods!