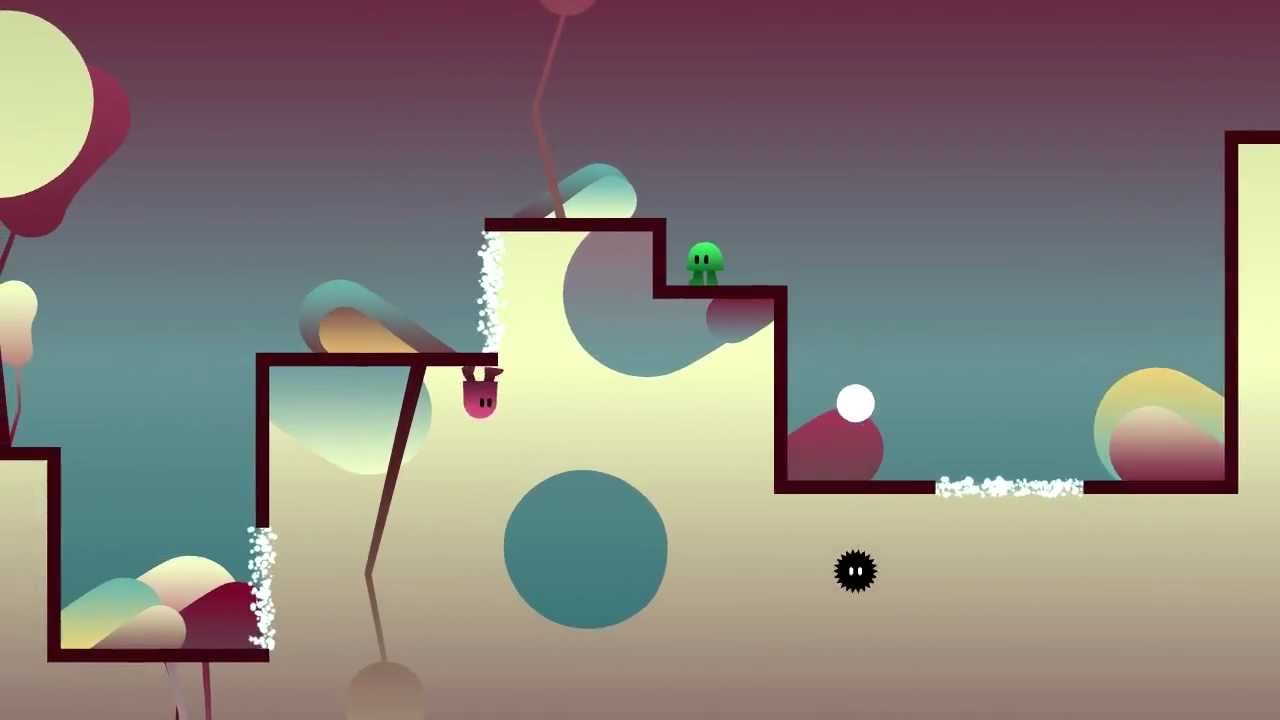 We're almost there. ibb and obb is nearing completion and we hope to release the game on PSN this May.
Getting to this point has been quite an adventure. Currently there are between four and ten people working on the project, but around seven years ago this all started with my graduation project and I could only dream of where it is right now.
I studied Industrial Design and always thought I would become a product designer. But over the course of my studies my interest for product design faded and at the same time it felt like something new was happening in the game industry.
It was around the time that Katamari Damacy made its first appearance on Playstation. I loved it and to me it signalled a start of more original titles finding their way to a larger audience.
I strongly wanted to be part of this change and decided to focus my graduation project on game design.
Part of the project was to design a game concept myself. I was convinced that the best way to design games is to work with prototypes as much as possible. The moment I had the idea for this double gravity world, I built it.
The first prototype was extremely rough. I had some experience with modding Unreal Tournament, so the first prototype became an Unreal Tournament mod. I inverted the gravity in the bottom half of the screen, made the character flip upside down and fixed the camera to the side so it looked somewhat like a platform game.
That first prototype didn't look like much, but it already told me two important things:
The continuous flow of falling up and down feels really nice.
You can reach unexpected places, which makes it suitable for puzzle design.
From then on I kept iterating. I added a line in the middle with warp holes, put in the second player, enemies, trampolines, diamonds and so on. I made sure to continuously let other people test the game, which immediately tells you whether something works or not. Gameplay always came first. It's a lot easier to add nice looks to gameplay than the other way around.
At the end of my graduation I had a playable prototype, about the length of one level. Hoping to find some attention for the game I submitted ibb & obb to IndieCade and to my surprise they selected it for their E3 2008 showcase.
This was my chance and I booked a ticket to Los Angeles. Being there at the E3 felt really great and weird at the same time. Weird because I didn't really know what I was doing. I had no plan and mostly just wanted to find out if the world was interested in ibb and obb.
But already on day one adventure kicked in. I remember showing the game to a gentleman who kept asking questions. How did I get there? What were my plans for the game? Etc.
In response to my question: "And what do you do?", he handed over a business card saying Sony Computer Entertainment and stated he was looking for new games to bring to Playstation.
I wish I had a picture of my face on that moment. Trying to look cool, but probably looking more like a five year old unwrapping a ninja turtle helicopter.
Back home me and Roland IJzermans founded our studio called Sparpweed. We finalized the plan with Sony, found the financial means and found partners to develop the game with. A little over two years ago all was ready and together with Codeglue we started the production that is now nearly done.
If you want to know more about the development, feel free to ask anything in the comments below.
You can also keep track of the development through Facebook and Twitter.