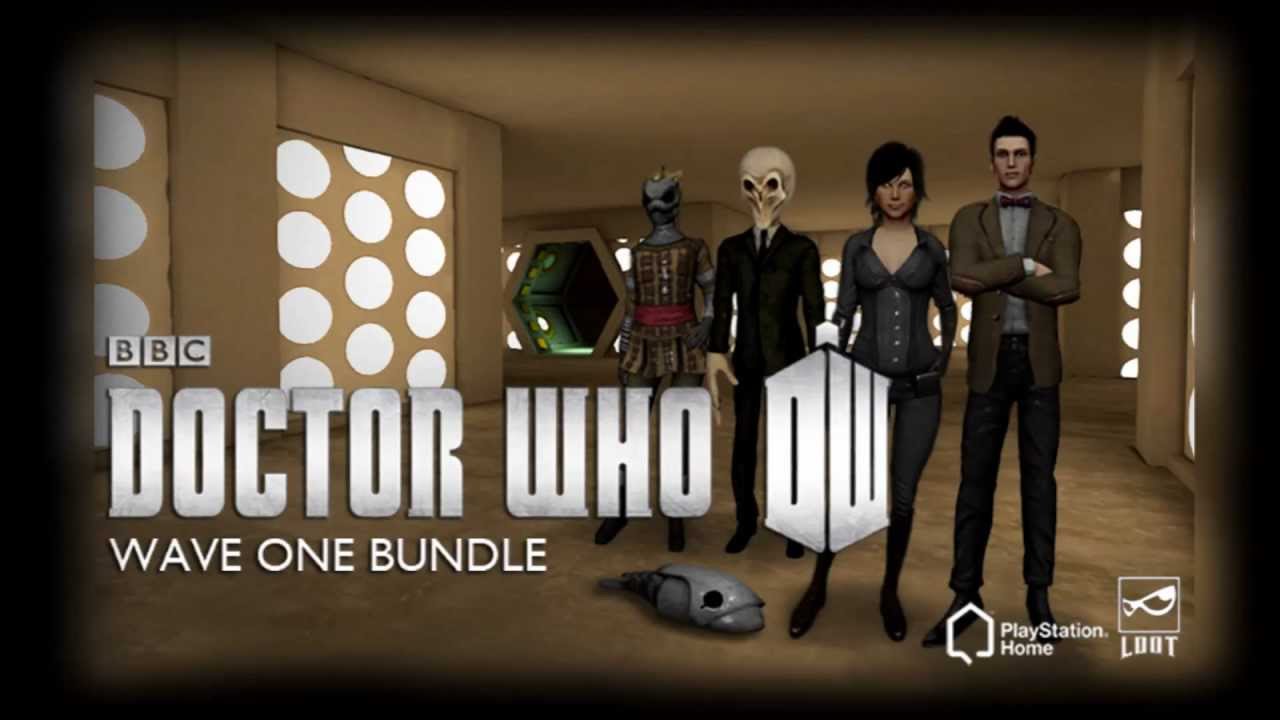 This week in PlayStation Home, Doctor Who items materialize, there are tons of new locomotions, Aurora update 1.7 is here and much more!
BBC – Doctor Who
BBC Worldwide is bringing their iconic series, Doctor Who, to PlayStation Home this week! In Wave One fans have the Eleventh Doctor, River Song, Silent, and Silurian costumes to choose from, plus a TARDIS private estate and clubhouse. Included with both TARDIS spaces is the LOOT™ Active Camera to capture all of your fantastic adventures! Are you ready to be a Time Lord? This is one interstellar adventure you don't want to miss out on! Geronimo!
JAM Games – Easter Egg Heads
Are you wondering how you are going to eggs-press yourself in style this Easter? JAM Games has eggs-actly what you need! We bring you our bunny-eared Easter Egg Heads!
nDreams – Aurora 1.7 Update + The Complex
Aurora 1.7
Players can now reach level 120 with new rewards every five levels. Rewards include two locomotions, an active item for your apartment and for the true Aurora veterans that make it to the top, the Aurora Showcase Apartment. To help you reach level 120 we have upgraded Orbrunner with new visuals, sounds and a consumable items. For more details please visit AlphaZone4.
The Complex Modular Apartment
If you visit Aurora starting today, you will be rewarded with The Complex HUB Personal Space. The Complex is a new modular apartment from nDreams that has four additional sections available for purchase. If you own all five section of The Complex you will be rewarded with some fantastic furniture items.
HellFire Games – Home Improvement Week
It's Home Improvement Week in Home Tycoon! The Hellfire Games team has DOUBLED the Worker regeneration rate in Home Tycoon from March 24 to March 31 in honor of AlphaZone4's 4th anniversary. Mayors can now build more and collect revenue faster than ever before, but only for a limited time. Visit Home Tycoon today to take advantage of this free promotion while it lasts!
Atom Republic – Comedy Moves + Rock, Paper, Scissors
Comedy Moves
If you like having fun and don't take yourself too seriously, this week Atom Republic brings you Comedy Moves avatar animations and two hilarious locomotions! With the Comedy Moves, you can be sure to raise a few smiles: do the chicken dance, the conga line, the mime behind a glass wall, and last but not least, the famous Harlem Shake! And if you love horse-riding, but can't afford the real thing, just pretend to ride an imaginary steed with the Pretend Horse-Riding locomotion!
Finally the Silly Walk is probably the most ridiculous locomotion you can buy in Home… You have been warned!
Rock, Paper, Scissors
Play Rock, Paper, Scissors with your friends anywhere in Home, with this new avatar animation pack!
Granzella – Casual Cardigans
Enjoy the spring dressed in a cardigan set! For women this 3-piece set includes the Bowler Hat, Long Cardigan Outfit, and Open Toe Pumps and is available in 3 colors. For men this 4-piece set includes the Felt Hat, Cardigan & Dress Shirt, Zipper-Pocket Chinos, and the Fold-Down High Cut Trainers, available in 3 colors. In addition, matching hairstyles for men and women are available separately.
Konami – Vehicle Locomotions + Raver Update
Konami adds to their raver line with a huge update! In addition to clothes, Konami releases all new vehicles! Intimidate with your very own mini-tank or fly around in your glowing space fighter. There are multiple colors of each, so collect them all!
Lockwood – Motorbikes
You look like the kind of person who loves power! Lockwood's LMO Motorbikes pack that power. Their horsepower is so powerful, it hoofs horses out of the way to make room for unicorns. That's right, Lockwood's Motorbike engines run on unicorn power. You want to see the unicorns? Well, you can't! They're tiny and they live in the engine and make the bike vroom! You'll just have to be content with vrooming.
What's that? You love power, but not as much as you love gifts? Well that's good too, because Lockwood's LMO Motorbikes also come in gift flavor! Okay so it isn't a flavor, it's just an alternative but equally convenient way to get hold of an awesome motorbike. Stop licking the gift machine already! You'll just get a sore tongue.
Also, the ever popular Baron's Eggcellent Plan active item gets re-released for a limited time. Pick yours up and enjoy all the shenanigans that Easter was meant to be.
x7 Update
This week in exclusive VIP nightclub x7, there is a new exclusive value bundle, a new freebie, plus new "Flaming Hair" items from Lockwood, and new hairstyles from Konami! Head to x7, take the elevator upstairs, check out these fine items, then dance the night away!
Mall Update – The Virtual Item Showcase, Volume 80
Magnus is back again, sharing with us all the hottest new items this week. Check out the video below for all the details. Highlights include Easter Egg Heads, Egg-inspired companions made in-house by two of our talented Home QA guys (props to Sean and David!), funny new walking styles, positively glowing new Raver clothing items and Flaming Hair and Eyes in x7. Enjoy this week's Virtual Item Showcase.
See you in Home!
Want to chat more about PlayStation Home? Hop on over to the Home Forums! If you're having trouble with Home, head to the Home Support forum.