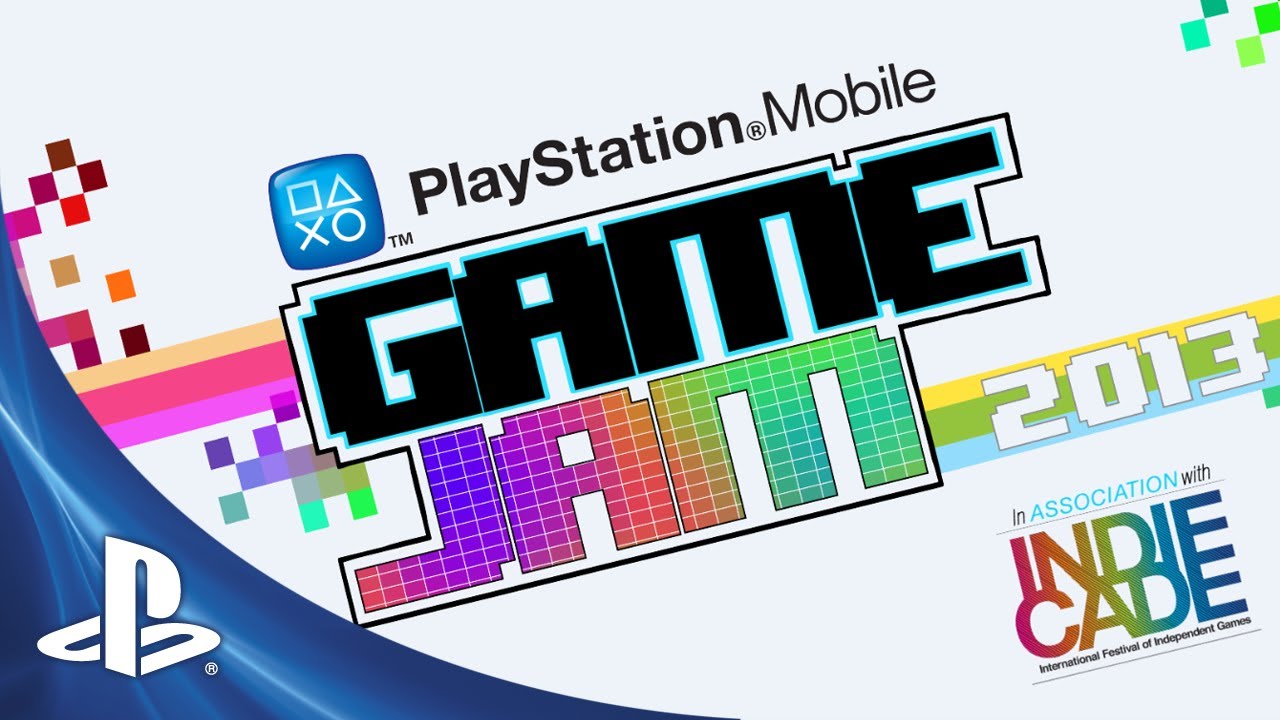 PlayStation Mobile had quite a presence at yesterday's Indie Arcade event at GDC. On top of all the awesome games out on the floor available to play, we announced the winner of our NYC GameJam, which took place last month at IndieCade East. The four semi-finalist games–Crystallon, Hermit Crab in Space, Crumble, and Don't Wake the Bear–were all showcased at the event and Hermit Crab in Space, developed by Golden Ruby Games, was crowned as the first PSM GameJam winner. Hermit Crab in Space will be featured in the PlayStation booth at E3 June 11th through 13th. Let's give a big shout out to all the semi-finalists and huge congratulations to Golden Ruby Games on their big win. These are incredible games developed by extraordinary talent and we look forward to seeing more at future GameJams.
We captured our very first GameJam on film and want to share that experience with you. Twelve amazing indie teams competed at the Museum of the Moving Image in New York working with the theme, "Evolution." All teams who participated in the event produced remarkable games and it was tough to pick the four semi-finalists. This video gives you a deeper look into the event and everything PlayStation Mobile. And for those of you who are interested to know more about the finalist's games, we have all the details below.
GameJam Winner:
Hermit Crab in Space

Developed by: Golden Ruby Games
Hermit Crab in Space pits one lost crab against a hostile galaxy, forcing the player to fight their way home in an ever changing, improvised ship scavenged from the refuse around them. Using the salvaged parts of his enemies' spacecrafts, the player slowly builds his ship for protection. Reinforce your ship with shields, cannons, power tiles, ramming tiles, and more–and discover new powers and strategies by combining them in different ways. You'll have to think on your feet, though: any part of your own ship can be blown off too, leaving you to pilot a fraction of your once mighty ship until you can rebuild your ship like a space phoenix rising from the ashes. Hermit Crab in Space brings together the dogfights of Star Fox with the creativity, construction and infinite possibility of Minecraft.
GameJam Semi-Finalists:
Crystallon
Developed by: Team Dozen Eyes
Crystallon is a touch-controlled match-3 game where players are challenged to create isometric cubes out of floating pieces. Pieces have different qualities: Color, pattern, animation, and sound. In order to successfully create a group, the three pieces must be all the same or all different for each quality. Pieces also have a fixed orientation: Left, Right and Top. You can only use one of each orientation per matched set. When pieces are successfully combined, they create cubes. Cubes may also be combined together into sets of three for extra points. You can advance to the next level only when there are no remaining possible sets in the current level.
Crumble
Developed by: Team Snakesss
Crumble is a highly conceptual puzzle adventure inspired by classic arcade games like Helicopter and Doodle Jump. Players guide an avatar, a block-like cell, which changes shape as it brushes against walls and obstacles. In one gameplay mode, the end goal is to match the block's shape to a receiving pad at the end, which requires simultaneous attention to moving through the level and awareness of shape. In a second gameplay mode, users navigate through adventure levels, using the block's falling rubble to grow shooting flowers in order to break through walls and hopefully, beat the level. If the player's core touches an obstacle, the player loses control of their core for a few seconds, and the game restarts from the title screen.
Don't Wake the Bear
Developed by: Back Pedal Games
Don't Wake the Bear is a multiplayer game reminiscent of "hot potato" that only requires one PlayStation Vita to play. Be the last camper standing by strategically teasing or soothing a sleeping bear, but whatever you do… Don't Wake the Bear! Players take turns adding items to the cave they are trapped in, some of which soothe the bear, like the tranquilizer dart, while others agitate him, like a death metal station on the radio. One wrong move, the bear can wake up, and that player will be eliminated. Players must also handle the PS Vita carefully during a pass as both players are vulnerable to attack.
In addition to the GameJam semi-finalists that were featured at the Indie Arcade event, we also showed several other fun and addictive PSM games that have released on the platform recently and that will be coming out in tin the next few months. If you own a PS Vita or a PlayStation-certified device I highly encourage you to check out PlayStation Mobile. Here's a list of the games that we had at our event:
Lemmings
Release Date: December 4, 2012
Developer: d3t Ltd.
Platforms: PlayStation Mobile
First released by Psygnosis in 1991, this popular puzzle game is now retrofitted for the PS Mobile platform. After several sequels, remakes and spin-offs of Lemmings, the wacky, adorable rodents are back and they are as puzzled and confused as ever. Players help guide as many of the lovable creatures to safety as possible by guiding them to build, bash, block, float and explode their way through a multitude of puzzling levels. In order to win, players must determine which lemmings to assign eight different skills to, which can help alter the landscape, affect other lemmings' behavior or clear obstacles in order to create a safe passageway.
Haunt the House Terrortown
Release Date: January 8, 2013
Developer: SFB Games
Platforms: PlayStation Mobile
In Haunt the House Terrortown, players float around as a ghost, who hides in an abandoned clock tower by day and haunts the town by night. Possess any and all objects seen and use these objects to frighten any unsuspecting humans nearby. In this side scrolling action puzzle game, the aim is to scare every townsman and townswoman out of town and reclaim what has been lost before sunrise returns.
Life of Pixel
Release Date: January 8, 2013
Developer: Super Icon Ltd.
Platforms: PlayStation Mobile
Life of Pixel is an old-fashioned platform game with plenty of modern twists and puzzle elements. Players jump in the role of a little green pixel named Pixel who is tired of being part of the crowd. With luck on his side, a videogame museum is just next door, so under the cover of darkness, Pixel sneaks in to take a look. It is at this time where the magic begins and the world of gaming comes alive.
Dedicated to the brilliance of classic gaming machines, Life of Pixel was designed using the exact palette limitations and pixel resolution of the Commodore 64. The game is comprised of 64 levels spread over eight different game machines— Atari 2600, ZX81, ZX Spectrum, Commodore 64, Amstrad CPC, BBC Model B, Nintendo Gameboy and NES. Each machine features eight levels where players must collect a specific amount of gems to open the EXIT door. The aim is to complete each level in the fastest possible time. Make use of moving and destructible platforms, double jumps, and gravity inversion to escape the many enemies attempting to thwart you.
Gun Commando
Release Date: January 22, 2013
Developer: Ripstone Ltd.
Platforms: PlayStation Mobile
Gun Commando is a distinctly classic first person shooter that combines 8-bit graphics with visceral game-play. Players jump into the role of Jack Bennett, a weapon-loving bounty hunter of sorts, who must save the world from alien invaders. Reminiscent of old school classics like Wolfenstein and Duke Nukem, Gun Commando features a unique weaponry upgrade system that rewards skill and accuracy. And you'll need the big guns to take down the ruthless aliens!
Chimpact
Release Date: February 12, 2013
Developer: Yippie! Entertainment
Platforms: PlayStation Mobile
In Chimpact, players help a little monkey bounce around and collect items like bananas and diamonds through a variety of levels (48 in all) to make it home safely. Each level is made up of smaller segments that intertwine with each other making for an interactive and addictive game. Chimpact is a simple, yet challenging new age platforming game reminiscent of similar games from the 16-bit era.
Switch Galaxy
Release Date: March 5, 2013
Developer: Atomicom
Platforms: PlayStation Mobile
Switch Galaxy is a futuristic survival racing game based off its parent game, Switch. The game features a level structure, lots of pick-ups, power-ups, new enemies and upgraded graphics and has two modes: original Switch Survival Mode where players have one life to get as far as they can and Mission Mode where players travel from one side of the Galaxy to the other in the fastest time possible. In Mission Mode, players are called on to find Tantallum, a metal that can only be collected at very high speeds. Players must deliver this to Dakur Technology's secret research base, where they will earn a jump drive to win gold trophies with.
Forevolution
Release Date: March 12, 2013
Developer: Pygmy Studio Co., Ltd.
Platforms: PlayStation Mobile
Forevolution is a classic real-time strategy game inspired by the natural cycle of life. The player is the ruler of their own world with the power to influence everything— animals, plants and the natural elements all living things need to thrive. After an inspirational trip to Laos, the game's creator developed Forevolution where others take control in creating the right balance in a complex eco-system.
Rymdkapsel

Release Date: April 2013
Developer: Webfarbror
Platforms: PlayStation Mobile
In Rymdkapsel, players take command of a space station and its minions. Carefully plan your expansion and manage your resources to explore the galaxy.
Ten by Eight
Release Date: April 2013
Developer: Action Button Entertainment
Platforms: PlayStation Mobile
In Ten By Eight, players match groups of tiles by chaining up multiple groups with wildcard stars and attempt to find the longest paths possible. This is a puzzle game strong enough for a brain surgeon, yet PH-balanced for a rocket scientist.
Magic Planet Snack Deluxe
Release Date: April 2013
Developer: Wolfgame
Platforms: PlayStation Mobile
In Magic Planet Snack Deluxe, Players take on the role of a wizard who has cast an unfortunate spell upon himself, turning into a giant space worm. Travel through the cosmos to devour wizards in other worlds for points and gather orbs to power up your hyper gauge. Be sure to avoid things like trolls, lava and satellites and look to make some key allies along the way!
Sully: A Very Serious RPG
Release Date: Summer 2013
Developer: BreadBrothers Games
Platforms: PlayStation Mobile
Sully: A Very Serious RPG is a JRPG-style game made by some plucky Americans trying to bring back the "lighthearted romp" to an increasingly serious genre. Join Crystal and Darin as they deal with their last summer together before going to different colleges, and the adventures they have trying to make sense of growing up in a JRPG world.
PS Vita owners will be able to download these games from the PS Mobile section of PlayStation Store; owners of PlayStation-certified devices (see full list here) can obtain it through the PlayStation Mobile Store – click here for full instructions.