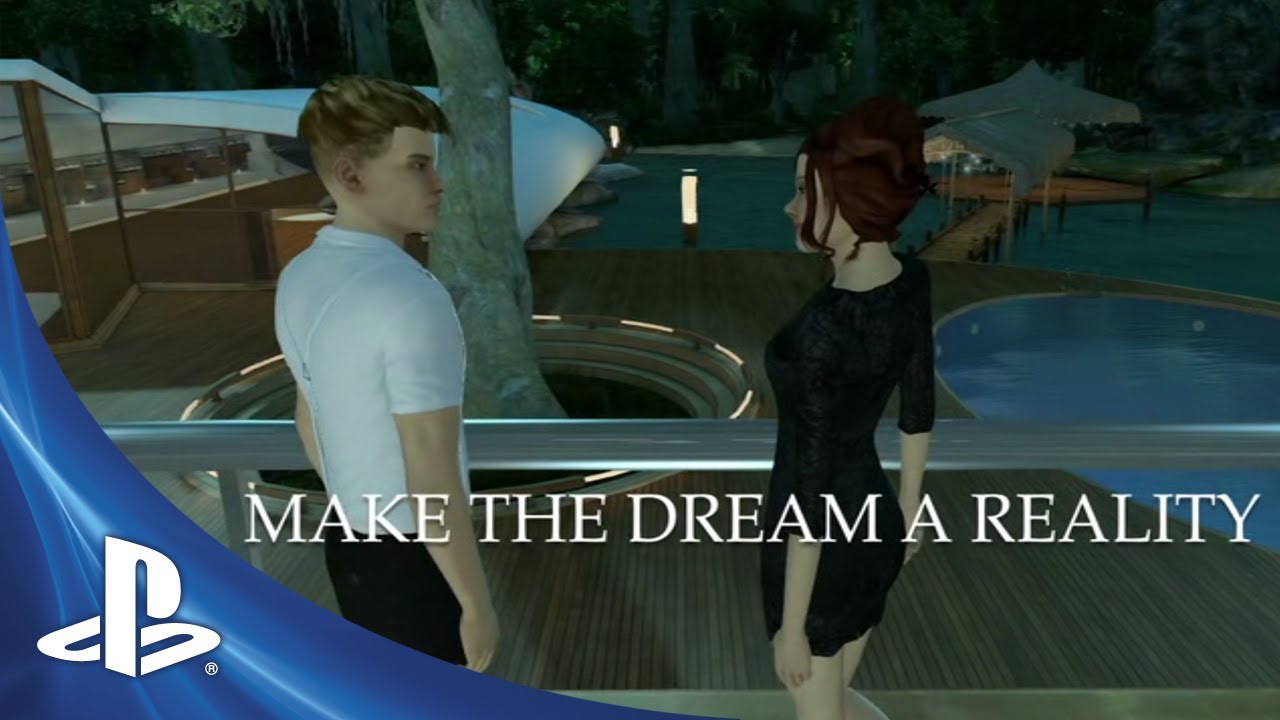 This week, Valentine's Day culminates in a bunch of fun. Head to the Activity Board first to start the Valentine's Day quest, then check out the cool themed content from several of our amazing developers. Check it all out this week in PlayStation Home.
Home 1.75 Platform Update Today
Today, the Home 1.75 update will arrive, bringing with it several new features including several for PlayStation Plus members. Also new is the fact that all current save data for your account will be uploaded to the server cloud, so your experience will be smoother, faster and more streamlined. For full details, check the patch notes posted here.
As usual, if you are updating from an old version of Home (1.40 or earlier), please wait for the orange "hard drive activity" light to stop flashing on your PS3 before commencing the patching process.
Codeglue – u love green Valentine's Day Kits
As promised Codeglue continues the successful collaboration with u love green, and brings you a new limited edition Valentine collection this week. This unique collection comes in pink and black and includes a dress, pumps with legwarmers and gloves with lovely animated hearts! You can grab any of these as individual items or go for one of the discounted bundles!
Digital Leisure – Casino Updates
Digital Leisure has also updated Craps so now you can bet more and win more. They have doubled the limit, so now you can bet 400 chips at once! The stakes are now higher for those who want to feel the rush of rolling the dice.
You will be breaking hearts with the new Lucky Fountain reward at The Casino. The Hearts Bra, a female only reward, will be available just in time for Valentines. This is the perfect item to surprise your special someone with, or if you just want to turn heads. Head to The Casino, toss a chip or two into the fountain, and get this reward for this special day!
Game Mechanics – Stock Cars
With racing season starting soon, Game Mechanics is releasing four stock cars you can put in your personal space or club. While you cannot drive them, you can sit in them and start the engine. They are full-size and make any space look good.
HellFire Games – Home Tycoon $ale
Celebrate Valentine's Day this week in Home Tycoon! From Feb. 11 to the 18th, all pink cars in Home Tycoon are 50% off, including the pink Cilantro compact, pink Nexus LX sedan, and pink GS 828 convertible. Don't forget to gift some Gold Coins to that special someone this Valentine's Day, no matter where they are in the world!
JAM Games – Desire Collection
In perfect time for Valentine's Day we bring you our Desire Collection. Whatever your romantic mood we have the outfit to suit. If you want to soar on the heavenly clouds of love, choose our angelic ensemble in pink and white or do you want to show your more devilish passion for another in our little red devil number?
For the guys we have pure enigmatic style! Burn with desire in red and black or show your romantic side in white and pink, in either you'll certainly have angels and devils falling at your feet.
Konami – Fashionistas + Polygon People
Fashionista
Looking to dress to impress? Konami has just the wardrobe you need. Check out the ever fashionable line of dresses being released under the Fashionista line.
Polygon People
Pixel art never goes out of style! Check out Konami's latest outfits with their custom unique animations that are reminiscent of 8 bit charm.
Lockwood – Dream Hideaway, Iron Fusion Wraiths + Screen Sirens
Dream Hideaway
The latest addition to the Gift Machine is something special. The Dream Hideaway incorporates all the high quality fixtures and fittings you've come to expect from a Dream apartment, but in a rather different setting. Sequestered in a tranquil, twilit forest, the Hideaway's sleek interior and peaceful exterior provides your friends the perfect location for rest and relaxation.
14 hidden rewards provides them with everything they need to furnish this halcyon bolthole, from an avante-garde egg chair to a futuristic fridge.
Iron Fusion Wraiths
Request assistance from all IFL Mech Units for deciphering radio recordings previously dismissed as static, now believed to be extraterrestrial declarations of aggression. High Alert Status granted. Move to Severe Alert Status pending. Wraiths have been unleashed in PlayStation Home!
The Screen Siren
She's got the va-va-voom curves and is just as happy draped across a piano singing her heart out as she is basking in the light of paparazzi camera flashes. Now you can steal her style with the Screen Siren dress and hairstyle from Lockwood.

The daring cut of the dress and tantalising sweep of the hair are not for shy wallflowers. Be ready to be the centre of attention.
nDreams – Jetpack + MiniMotors Locomotions
Everyone wants a jetpack to fly around wherever they want, right? nDreams are bringing you two styles of jetpack in their Bladestream Corp Range. The A3000's have a futuristic design with extendable arms where the J3000's are a little more old school and use propellers to get you off the ground before kicking in with the flame powered speed boost.
Also nDreams is bringing it's take on MiniMotors this week. Hop on and ride around Home and even pull off the special Donut emote to run rings around others.
Atom Republic – Companions
Don't be alone this Valentine's day: the life-size boyfriend or girlfriend companion will always be by your
side!
Granzella – Collection Updates May Doll
In Japan, on May 5th, Boy's Day is celebrated. Heroically decorated, the Boy's Day Doll creates the mood of a sunny summer-time day.
This Boy's Day Doll fights alongside its owner in the Mononoke extermination game, Operation: Defend Edo. It's like having a friend fighting beside you!
You can also view this great doll in your room, where it is sure to grab the attention of your guests.
Paris Kitchen
Granzella introduces a variety of furniture items for the City of Flowers Penthouse Personal Space.
In addition to the stylish Built-in Kitchen, there's a kitchen counter and additional kitchenware, such as frying pans, saucepans, etc… A table decorated with pizza and also ham and baguette, along with condiments such as olive oil, and lots of other tableware such as knives and forks.
Poncho Sets
The Poncho Outfit Set has arrived from Granzella. This large Poncho comfortably covers the upper body, giving a warm and cute impression. The bottoms are denim with leg warmers, and the cute Knit Beanie covers the ears like ear muffs. Available in brown, black, blue, and red varieties.
Community Theater Update
PSTALENT.COM is proud to share its latest chapter of The Spotlight. Head to the Community Theater (auditorium 1) starting tonight for all the fun.
Mall Update – The Virtual Item Showcase, Volume 75
Magnus is back again, sharing with us all the hottest new items this week. Check out the video below for all the details. Enjoy this week's Virtual Item Showcase.
See you in PlayStation Home!