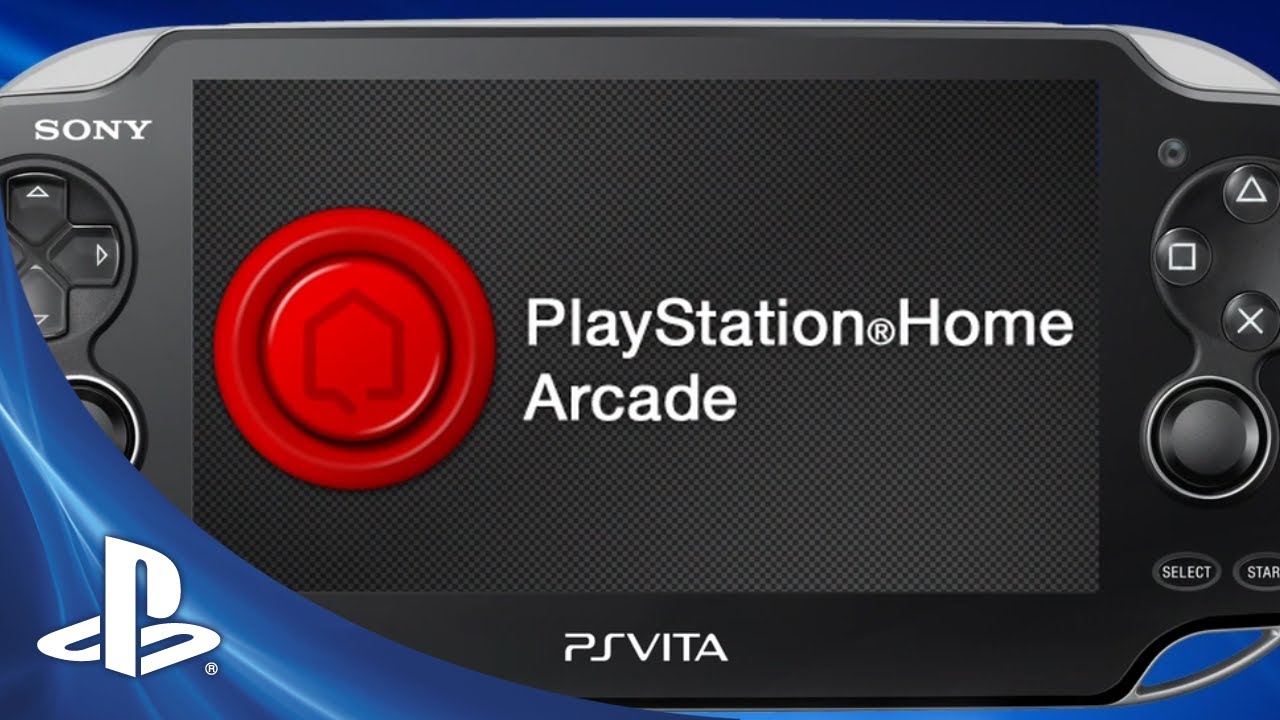 This week, retro Home arcade games go portable via the new PS Vita PlayStation Home Arcade application, Granzella showers us with tons of new content including a Parisian-themed personal space, there's a Valentine's Day kick-off celebration in Pier Park and more. Check it all out this week in PlayStation Home.
PlayStation Home Arcade App Available For PS Vita
As mentioned in this announcement post yesterday, PlayStation Home Arcade is available now and serves as a portal for some of your favorite arcade classics like Centipede, Asteroids, and Frogger. We're also offering more recent Home titles, like Icebreaker and the very addicting Scribble Shooter, which was previously only available in PlayStation Home.
The PlayStation Home Arcade app is a free download in the PlayStation Store, and you can purchase games from directly within the app, starting at $1.49 each. To celebrate the launch, we're offering Ice Breaker, WipEout 2D and a demo of Scribble Shooter absolutely free!
Full list of titles include:
Icebreaker (Free)
WipEout 2D (Free)
Scribble Shooter (Demo available for Free) – $1.49
Frogger – $1.49
Time Pilot – $1.49
Asteroids – $1.49
Centipede- $1.49
Astrosmash Gen2 – $1.49
Shark! Shark! Gen2 – $1.49
Mad Blocker – $1.49
Also, these games are all Cross-Buy, meaning that if you purchase them in Home, you get a copy for free in the PlayStation Home Arcade app or vice-versa! Download the app from the PlayStation Store today or head into Home and collect all these new arcade cabinet games.
nDreams – Los Penguini Brothers Arcade Cabinet + Xi: Continuum Update
Los Penguini Brothers Arcade Cabinet
It's time to hit the slopes again but this time from the comfort of your personal apartment with the Los Penguini Brothers Arcade Cabinet. You can play the Los Penguini Bros Arcade Cabinet as many times as you want without the need to buy Los Penguini Bros tickets. You can earn the rewards if you missed them in Aurora.
Xi: Continuum
After 47 Days Xi: Continuum came to an end. For those of you who didn't play along live you can now experience Xi at your own pace. As a single player experience you can go through the game as quickly as you like. This week also sees an update to Xi: Continuum that updates a number of things including the addition of two rewards. The first reward is available to all players who complete the introductory level. The second reward is available to those who continue with Xi: Continuum and reach Day 7. The rewards are both locomotion items and are available to new players as well as those who played Xi: Continuum live from the beginning.
If the game itself isn't for you there is also a nice amount of items available including clothing, full body outfits and furniture that just look awesome and would be great for anyone on Home. Here's a preview of some of the items:
Valentine's Day Event
Love is in the air, and a lovely and romantic stir has taken over Pier Park. Everything from the full moon to several love-themed mini-games have landed, helping set the mood, including a kissing booth to open only on Valentine's Day, February 14th. If you check back, there will be a quest popping into the Activity Board the day before Valentine's with an additional reward to commemorate this year's day of love.
Also, the Home Community Volunteers are planning their very own Valentine's Day Flash Mob on February 13th. Be sure to check the Message of the Day in Home later this week for details.
BOOM Corp. – Galaxy Express 999 Line Expands
Next in Boom Corp.'s Galaxy Express 999 line, we are proud to release the Captain Harlock and Emeralda's costumes. Continue playing out the classic masterpiece of Galaxy Express 999, by renowned manga artist Leiji Matsumoto, in PlayStation Home with these stunning outfits!
HellFire Games – New Animal Cars, v2
Get wild in Home Tycoon with three new zoo animal cars this week: the Maroon Giraffe Car, Light Blue Bear Car, and Yellow Bear Car! These new speedsters can be found in the Home Tycoon store under Vehicles Animals. Ride alongside your favorite zoo animals today!
Konami – Motorcycles
Konami releases their new line of racing motorcycles. Ride around with your friends in eight different colors!
Lockwood Publishing – Fairytales + Valentine's Day Gift Shop
Introducing Fairytales
Lockwood's latest collection shows that when you wish upon a star, magical things truly can happen! Jennifer was just an ordinary Home user with a talent for drawing, but when she sent her pictures to Lockwood, they waved their magic wand and made them a reality! Jennifer's Fairytale King and Queen of Hearts are marching off the sketch pad and into PlayStation Home this week.
Down the rabbit hole, over the rainbow, through the magic mirror… getting into that Fairytale Kingdom was never easy. Until now. Who knows what else awaits in this magical world?
Valentines Gift Shop
The Gift Shop returns, and with Valentine's Day just around the corner, all you romantics had better check it out!
Long term love, or a new object of your affection? All the usual romantic favorites are available, plus a few new treats to sweep them off their feet. The Swan Boat Seat and Valentine's Balloon will help set a romantic tone in their apartment, and Roux the Stitchkin Fox will help them feel all warm and snuggly!
Granzella – A Romantic, Vigilant Update
Valentine's Day
On Valentine's day 2013,
Let's get together in the Southern Island Hideaway and try the
Valentine's Super Flight with someone special!?
Flying in the sky with the power of love.
Lovers and friends, holding hands, huddle together and experience the
thrill of flying through the pink floating island and heart-shaped
objects in the air.
If the chemistry between the two of you is good, youÅfll both receive
ValentineÅfs special rewards only available during the event.
City of Flowers Penthouse
Granzella presents the City of Flowers Penthouse "Window to the World" personal space. In addition to the luxurious modern dining room, kitchen, and living room, there's also a comfortable spacious bathroom which includes a washroom and toilet. The wallpaper can be changed to suit your preference. If you have the curtains or carpets (sold separately) you can further broaden the interior. Additionally, things such as changing the time of day, choosing background music, adjusting the lighting, and being able to wear a towel are all features you're sure to be happy with. With a bath and Jacuzzi overlooking the city and a spacious balcony, you can live a rich life.
*Toilet is sold separately.
Nobility Set
Granzella introduces the Nobility five-piece Set. For men, the set includes the Noble Tricorne, Swept-back Hairstyle and Noble Curled Wig, Noble Coat, Noble Pants, and Noble Leather Shoes. For women,The Noble Brim Hat, Braided Bob Hairstyle and Braided Up-do Hairstyle, Noble Dress, Noble Gloves, and Noble High Heels are included in the set.
Magic Umbrellas
Fly around like a floating fluffy cloud with an umbrella. The color variations include Chic Black, which gives a mature impression, and the cute Frill Pink. Also included in the set is an umbrella stand as furniture, for you to place your umbrella in. Why not try the Magic Umbrella and drift around at your leisure?
Setsubun Ogre Extermination
Setsubun 2013, evil spirits that were sealed inside a bewitched sword have been unleashed and converted into ogres. Great Edo of Nippon is full of ogres! Come on, join the battle with a Metal Rod to defeat the ogres! Battle soon because this event ends February 27th, 2013.
New Weapons for Edo
Overthrow the horrible demons! Granzella introduces the Metal Rod and Demon Cutter Yorimitsu Sword.
A new profession with overwhelming earth shaking power, the Metal Rod Warrior is able to wield 3 types of Metal Rods. The Metal Rod (Black Metal) has a strong attack power, the Metal Rod (Flame) is imbued with a fire element, and the Metal Rod (Ice) is imbued with a water element.
Boasting tremendous power against demons, the Demon Cutter Yorimitsu Sword has also arrived! I ain't afraid of no demon!
Yo-yo Warrior
In a red scarf, worn out loafers, and a long skirt… When she comes by, tension follows. Available in white and navy blue with both a classic long skirt and a miniskirt. This set includes an elegant long style and a strong minded short hairstyle.
The long awaited new class for Granzella's Operation: Defend Edo, the Yo-yo warrior is here! Exterminate the Mononoke using a Yo-yo. With the devious Yo-yo's winning style, the Mononoke will be at your mercy. Hit with continuous brilliant attacks from outside the enemy's range!
VEEMEE – Diesel Museum
Arriving last week, Diesel is proud to welcome you to the Diesel Museum and Gallery. A public space located precisely at the midpoint between Here and There. A limbo in which the physical rules that govern everyday life are cast aside like the mauve and mustard chequered sweater your Gran knitted you for Christmas last year.
To coincide with this publish Diesel are also bringing a new 15 item clothing range to PlayStation Home. The items, from the renowned Spring Summer collection, range from a selection of Diesel denims to the more exotic T-Lyy Dress with G-Diagonal Jacket and L-Vasti Jacket and Blue Denim Shirt combination items.
Those with the wisdom to comprehend the true nature of the exhibits displayed in the Museum receive a series of reward items and in doing so will open the doorway to the Diesel Gallery, a place of quiet contemplation for the select few who have the ability to see things for what they really are.
Mall Update – The Virtual Item Showcase, Volume 74
Magnus is back again, sharing with us all the hottest new items this week. Check out the video below for all the details. Enjoy this week's Virtual Item Showcase.
See you in PlayStation Home!