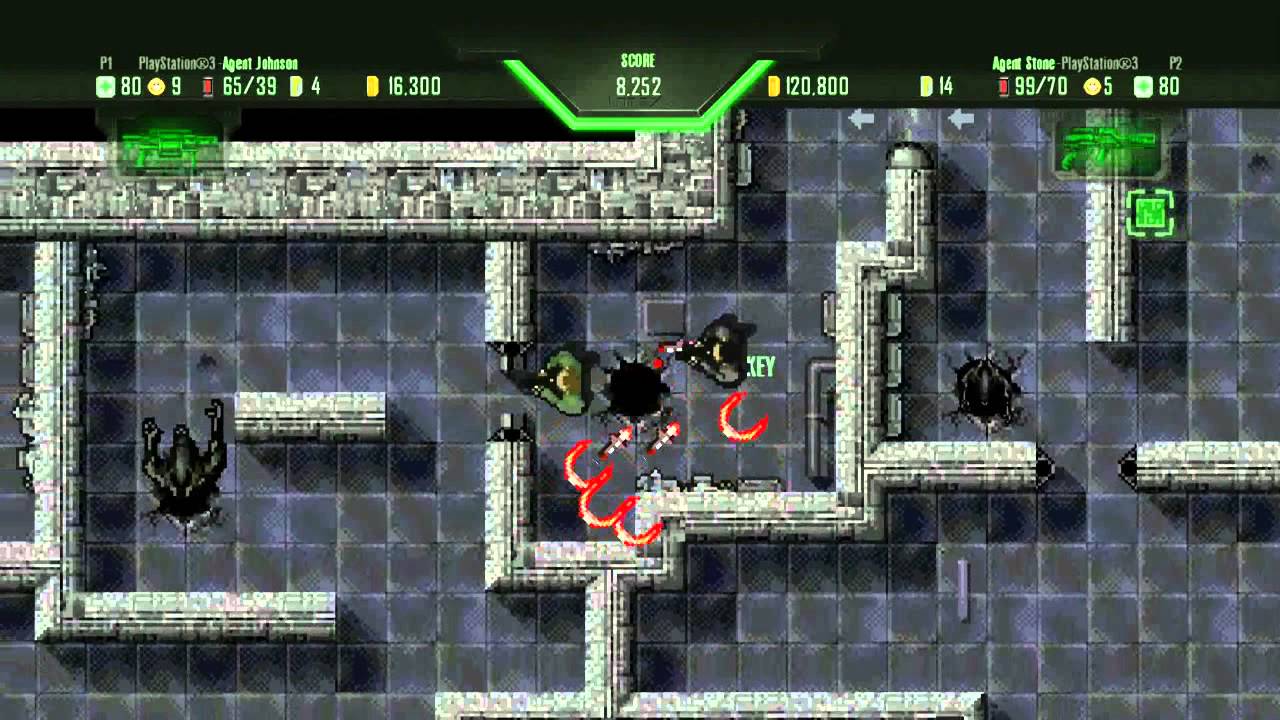 Alien Breed, our new survival horror game, is due for release on PS3 and PS Vita on February 12th via PlayStation Store for $9.99, with a 20% launch discount available for PlayStation Plus members! Last year we celebrated the 21st anniversary of Alien Breed and brought the title to PlayStation Mobile. With the PS3 and PS Vita version we wanted to introduce more cool features, such as the ability for players to team up on either system via cross-platform play.
There is also ad-hoc and online co-op multiplayer for PS Vita, and local and online co-op multiplayer for PS3. We've also got Cross-Platform Continuation Play in the mix too, allowing players to carry on their PS3 save game progress on their PS Vita and vice versa.
Alien Breed is fondly remembered by its fans, especially in the UK where the Special Edition stayed in the "All Formats" charts for over a year. We were really proud of the 2009 version of the game, but a remake of the original game turned out to be a much better fit for the platforms it was appearing on.
The gameplay has held up remarkably well, and with a few new features and tweaks to the control scheme we've made the game feel a little friendlier without removing any of the challenge.
The first new feature is the most obvious: the game has had a full HD graphical overhaul, with the original graphics being an optional toggle. Two things that made a direct remake a frustrating experience were that the player could find themselves getting lost easily and could also run out of ammunition and door keys. To remedy this we added a toggle-able map screen and a persistent shop, to allow player to replenish supplies whenever necessary.
This sounds like it'd make the game too easy, but we spent time balancing the levels to retain the challenge and improve the difficulty curve.
Back when the original Alien Breed was released, controllers only featured one set of directional buttons. This remake allows for dual stick control, so the player can walk in one direction and fire in another. This change makes a huge difference to the gameplay, opening up more possibilities for the player to deal with waves of aliens and helping bring the remake up to date.
Succeeding at Alien Breed requires the player to not only kill waves of aliens, but also to manage their resources. Try to spend a little bit of time learning the maps, and be sure to collect everything that you can. When you're low on keys don't commit to opening that door until you've fully explored the area – there might be another route into the room. Also experiment with the different types of weapons — try to find the one that best suits your style of play, and gives you the strongest attacking option.
Sometimes I'm asked whether players can expect any more retro revivals from Team17. I was personally a huge fan of Team17 games growing up, and I'd love the opportunity to work on some of those old titles. All I can say at the moment is there may be another princely character due to leap onto PS3 and PS Vita at some point in the future.