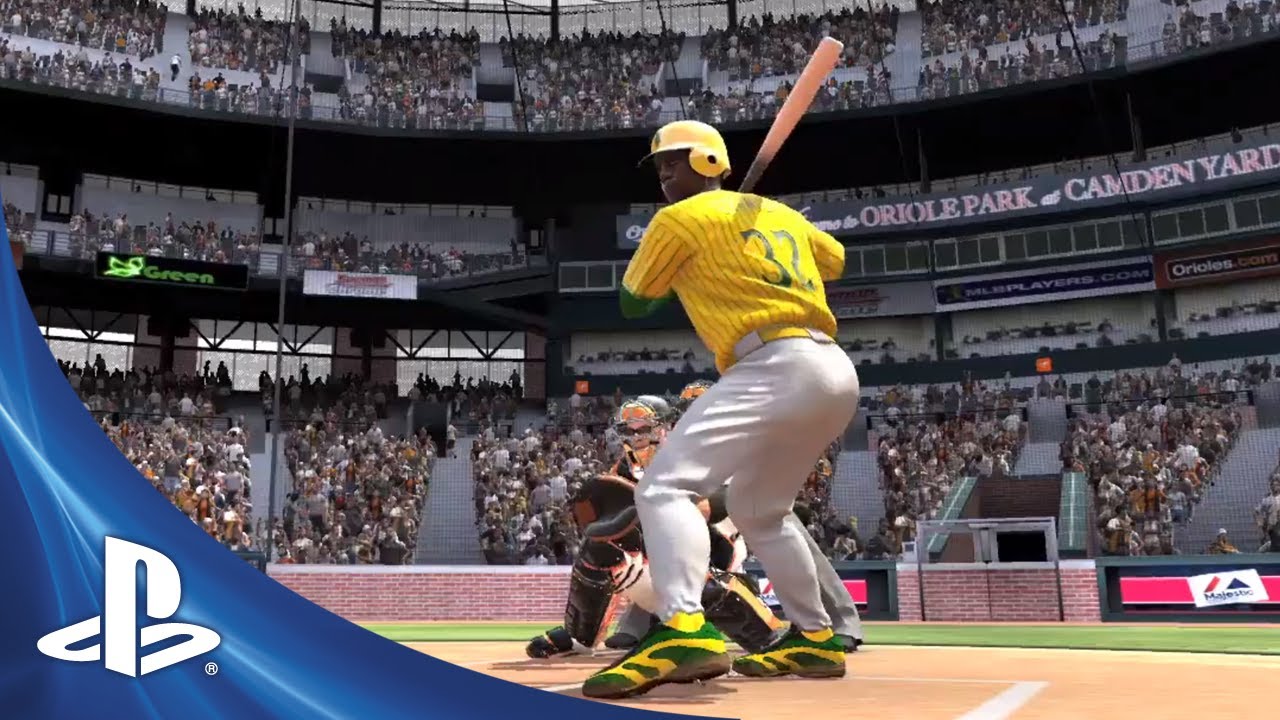 Hello friends, Nick Livingston here. I am a designer on MLB 13 The Show. First, I brought you a blog about the new Universal Profile. Now, I want to talk about Diamond Dynasty.
Tons of feedback from TheShowNation.com has driven us to expand, improve, and fine-tune the systems that make up Diamond Dynasty. Take a look at the content below for a preview of what you can expect from Diamond Dynasty in MLB 13 The Show. Please note that the video footage is of a work-in-progress, and many things will update before we hit the shelves.
We're really excited about how the Dynasty Card has evolved. They now display more information about the player's abilities, which will give you an idea of what you are getting right away, but more importantly how good a player can get. Be aware that each Dynasty Player has maximum thresholds that he can reach in each attribute, so picking which cards you want to activate to your team has become much more important. We really want to drive the point home that cards now distinguish between Starting Pitchers, Relievers, and Closers. This is one area where we really took fan feedback to heart to improve this year's version of The Show.
One issue we had last year was with players quitting. We want you to know that all systems are now compatible with partial games. For example, any systems that earn you Budget for playing a game are displayed and resolved on a per inning basis. We've made a number of efforts to encourage players to finish games without dropping out. For example, the Mercy Rule is in play (10 runs after three innings). Of course, someone is going to want to quit if they are getting obliterated. Now you just need to grin and bear it for a little while, and mercy will be had.
So, you saw what was in the video. But, what improvements weren't covered?
Well, we decided to introduce the Designated Hitter in MLB 13. Users can choose whether they want to play by American or National League rules. Are you a baseball tactician who wants to use small-ball tactics and challenge your opponent to make strategic substitutions? Or will you stack nine sluggers and let your bats do the thinking?
If you love customizing, the Logo Editor got a handful of new tricks and a boatload of new samples. The Expand tool allows you to expand the borders of selected layers without skewing the core of the layers. This is perfect for quickly making borders, or altering fonts. Easily choose between MLB Team primary colors to exactly match your team with the team you love.
And finally, Diamond Dynasty Home provides at-a-glance information about the status of your team to help you stay on top of your managerial responsibilities.
We hope you enjoyed hearing about all the improvements and additions in Diamond Dynasty. What are you looking forward to the most?