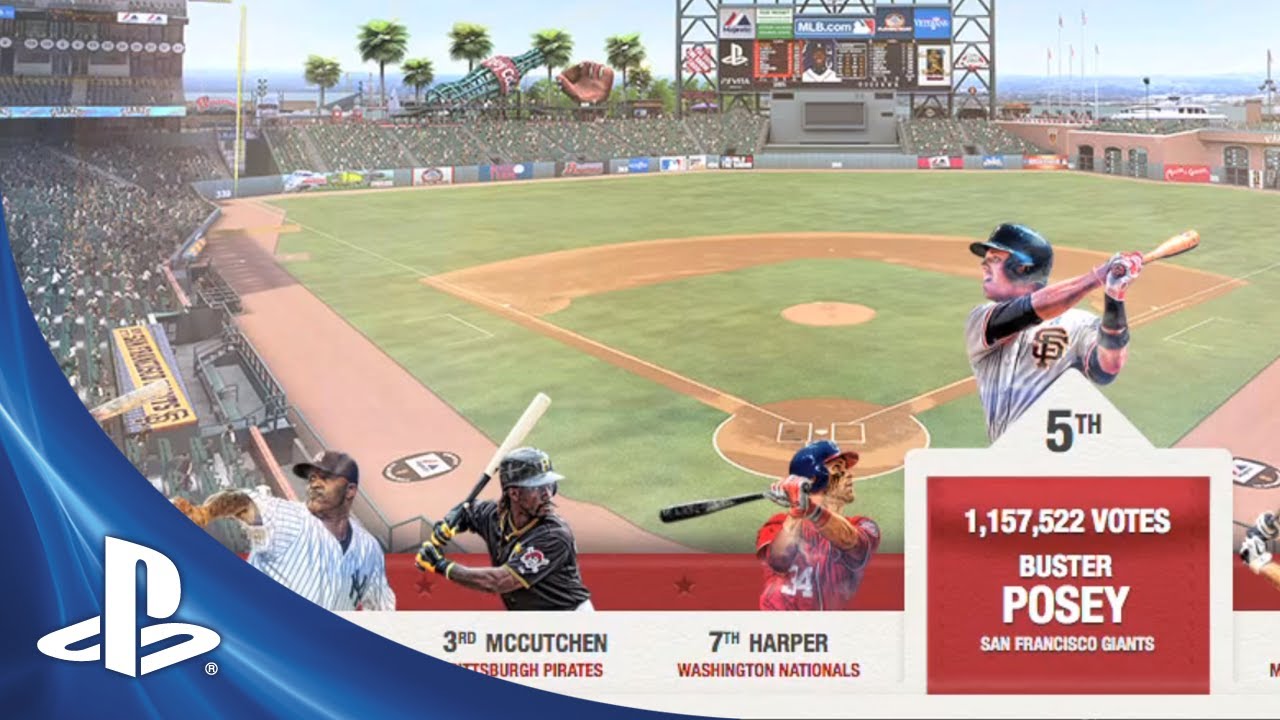 This past week has been a whirlwind for MLB 13 The Show. We kicked off our first-ever cover contest on Monday and the response has been overwhelming. So far, over 300,000 votes have been cast in the cover showdown and over 750,000 total tweets from fans have been sent in support of their athlete.
Don't forget, you have until 5:00pm PST Friday, January 11th to cast a vote. Voting takes place at mlb.com/covervote, where you can send a tweet or make a Facebook post in support of your favorite player. You can also vote directly from twitter, just by including an athlete's unique hashtag in any tweet.
All seven of the cover candidates have been getting the word out of why you should vote for them on their social platforms. Celebrities have even taken sides to get their favorite player to be on the cover of The Show including Dallas Mavericks owner Mark Cuban, television personality Larry King, film director Spike Lee, Minnesota Vikings running back Adrian Peterson, chef and television personality Anthony Bourdain, and Los Angeles Lakers' guard Kobe Bryant.
The current leader, Pittsburgh Pirates' outfielder, Andrew McCutchen (#MLB13Cutch) hosted an ESPN chat on Wednesday to talk to fans about why he's the best option for the cover of MLB 13 The Show.
New York Yankees' starting pitcher, CC Sabathia (#MLB13CC), was at ESPN all day on Wednesday to talk about why he should be on the cover. He sat down with fans to talk about The Show.
Even Vibe has gotten involved pushing for people to vote for Los Angeles Dodgers' Matt Kemp (#MLB13Kemp) to be on the cover.
Washington Nationals' outfielder Bryce Harper (#MLB13Harper) joined PlayStation at CES this week in Las Vegas to tell everyone at the conference to vote for him.
Miguel Cabrera of the Detroit Tigers has even gotten his local beat reporter to get out the word on his campaign.
San Francisco Giants' catcher Buster Posey (#MLB13Buster) and Milwaukee Brewers' outfielder Ryan Braun (#MLB13Braun) both spoke to Jon Robinson of ESPN about how they have each dreamed about being on the cover a video game since they were kids.
Visit mlb.com/covervote to choose who you want to be on the cover of The Show. After you vote, you'll get the running tally of who is currently in the lead. For more information about MLB 13 The Show, visit www.theshownation.com, facebook.com/mlbtheshow, and @mlbtheshow on Twitter.