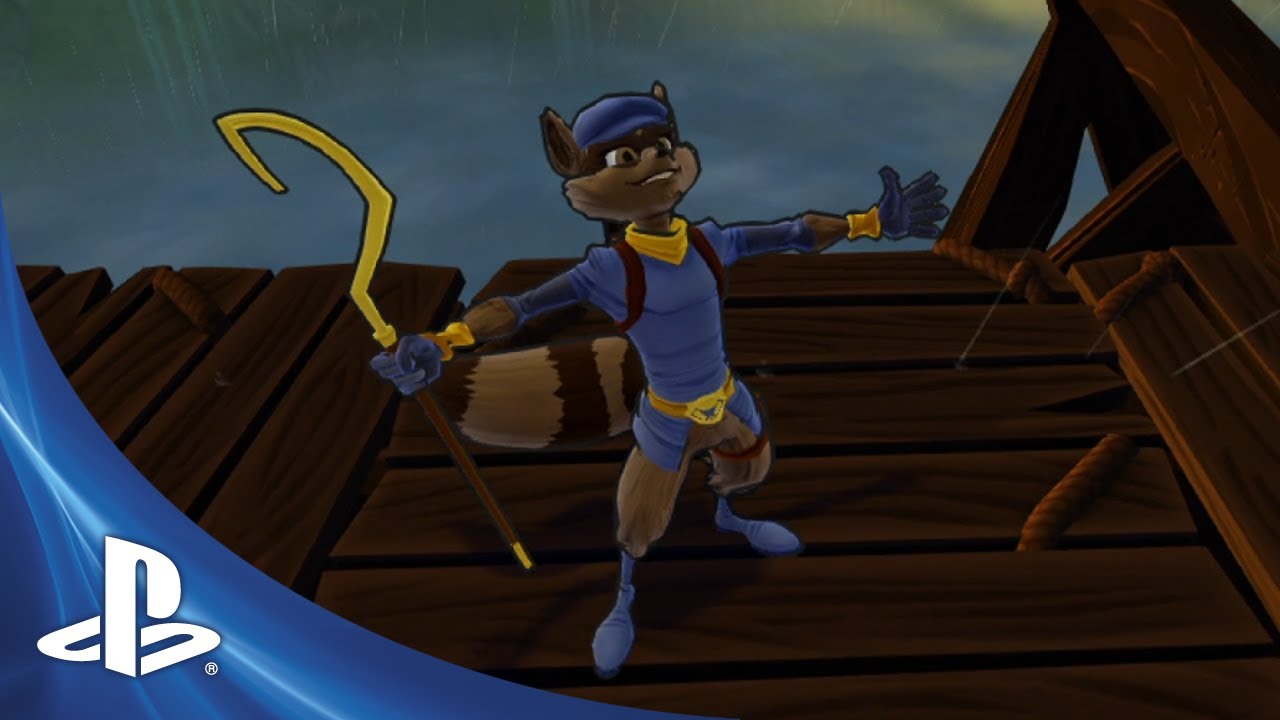 Happy New Year from the Sly gang! 2012 was full of fantastic gaming goodness. Hopefully you've found some favorites (I know I have – Persona 4 Golden, anyone?) that you're still playing, but we're sure you're already looking ahead to what's landing in 2013.
By the looks of it, 2013 is looking just as good with the upcoming release of Sly Cooper: Thieves in Time! Sly and the gang are back on February 5th for $39.99 on PlayStation 3 and $29.99 on PS Vita. If you buy the PS3 copy, you'll receive the digital PS Vita version from PSN at no additional cost.
Today we're here to give you a taste of some of the new gameplay you'll get to experience. In case you missed it, we had an IGN Live session right before the holidays, with Glen Egan and Mat Kraemer from Sanzaru Games showing off the first few hours of the game. In that preview you got a glimpse of some of the gameplay mechanics, Sly's samurai costume, his Japanese ancestor Rioichi Cooper, and a look at one of the vibrant lush environments Sly will be visiting as he travels through time. In this new gameplay video below, you'll get to see how the team works together to pull a heist on El Jefe, the epic boss you'll meet during your travels to Feudal Japan.
This is just a slice of how the game is going to break down but there will be plenty to do aside from that, including earning all of the costumes — which you'll be able to replay the game with to find new collectables and hidden treasures. Speaking of collectables, we'd like to take a minute to announce the winners of our Sly Cooper Treasure Design Contest! It's been quite a while, but we finally got a hold of the winners and are happy to reveal the two winning designs. Both the items below and their descriptions will be included as collectable treasures in Thieves in Time:
–By Case M.
–By Jaime P.
We had tons of entries and the team had a tough time choosing these winners, but we want to make sure everyone got to see their designs! Big congrats as well to our runner-up winners, who were also notified. We hope you've been enjoying the fantastic prizes!
Bet you can't wait to start playing, right? Well good news — we'll be releasing a new downloadable demo, so you can get some hands-on time with Sly before the game hits store shelves. Starting January 22nd, the new demo will be available exclusively for PlayStation Plus subscribers. Then, on January 29th, it will be available publicly to all PSN users. For those of who got early access to the first Sly demo from the Ratchet & Clank Collection, this demo is brand new — so be sure to check this one out as well! Stay tuned for lots more on Sly as we head toward launch, and don't forget to pre-order your copy today.