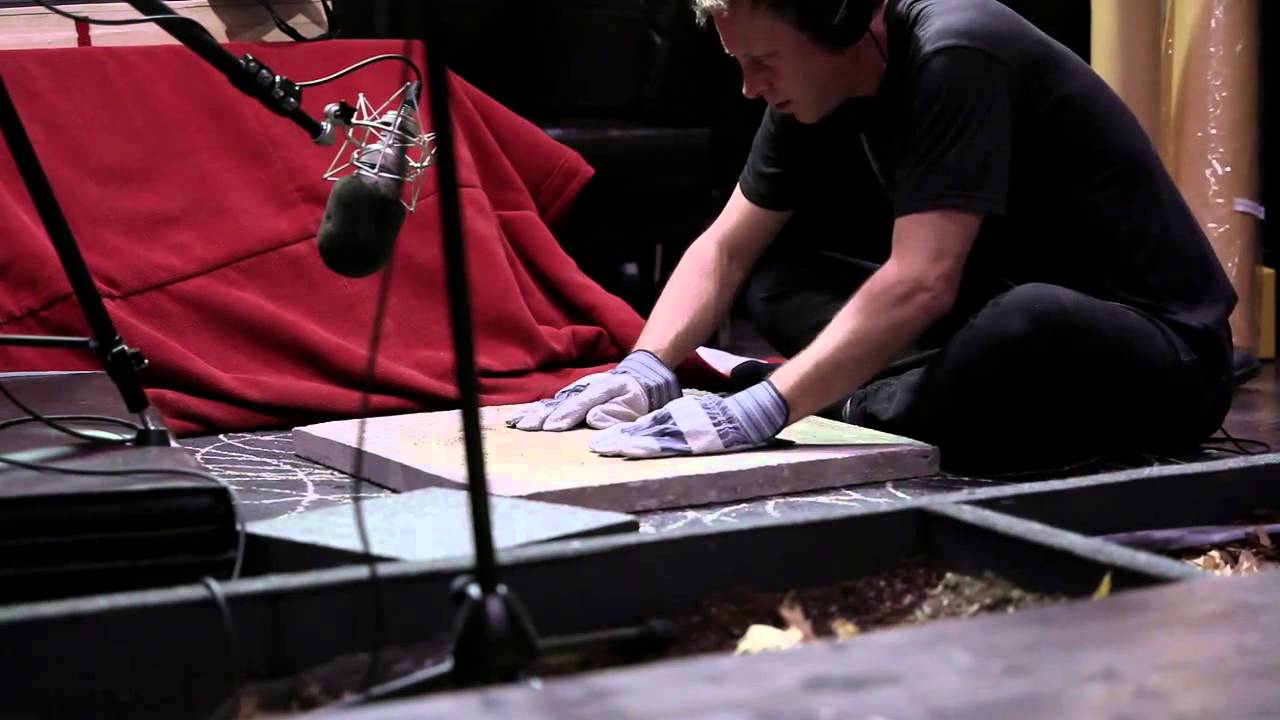 Just as I wrote about graffiti in Papo & Yo back in July, I wanted to share another story and video diary about how we captured the unique music and sound to transport players deeper into the South American favela of Quico's imagination. And with the flood of requests we've gotten since launch, I'm excited to announce that the Papo & Yo soundtrack will be available for purchase starting tomorrow on PSN in North America! As a special release day promotion, it will be on sale for 15% off the regular price (30% off for Plus members) until January 4th.
Over the past few months, some of you may have caught my tweets about our brilliant composer and sound designer, Brian D'Oliveira from La Hacienda Creative. Fun facts like "Brian D'Oliveira learned about 15 new instruments to play for Papo & Yo!" or "when Monster runs, the sound effect actually comes from hitting a fridge," are just a glimpse of the music's backstory in Papo & Yo.
Many people won't realize that the soundtrack of Papo & Yo is actually dynamic and interactive, triggered by actions such as Quico moving, standing still, and pulling levers, and Monster getting angry. In some levels, there are up to 30-40 layers of music and 60-70 layers of sound effects, all blended together. When Quico pulls the first lever to build the stacking snake ladder in the puzzle we call "Bend Them to Your Will" (seen in the picture below), players trigger the drums and the music builds as each house is added on.
Bend them to your will, Papo & Yo
As you saw in the video diary above, the majority of the sounds in Papo & Yo are as authentic as can be, since Brian actually traveled to the Amazonian rainforest to record ambient noise in the field. Venturing out in the middle of the night, he was able to capture wildlife sounds like monkeys howling, frogs croaking, and birds chirping. Hiking through the land, Brian recorded waterfalls, scurrying ants, and whatever else he thought he could use, layering it into an immersive soundscape players can get lost in.
Brian D'Oliveira, capturing ambiance
For Foley (the sound effects track in the game), Brian and his team at La Hacienda had to think "outside of the box" to avoid using pre-mixed sounds that wouldn't do the story justice. They had exploratory sessions where they would just improvise and see what sounds could be made, or captured on the fly, like recording the noise of a demolition site down the street. Driven by a deep love for the project, Brian and his team went the distance, importing roof shingles from Texas, buying rare instruments, and even building makeshift instruments to create the right sounds. Here is a great example in the video below.
For the music in Papo & Yo, Brian used a fusion of rhythm, melodies, and sounds from South American countries like Brazil, Colombia, and Venezuela, but also drew influences from India, Africa, and even early European Baroque music. It's really evident in the variety of instruments he used –- from a rare, 100-year-old Sarangi, to an African Kora and Brazilian hunting whistles, all paired alongside traditional instruments like guitars, flutes, violin, and cello.
Preparation for recording Foley
Brian plays approximately 80% of the instruments you hear in the game, but he also collaborated with great musicians like Orlando 'VoVo' Conceinçao on percussion (pictured below), Loga Ramin Torkian on Bowed Guitar Viol & Kamaan, Kamal Sabri on Lead Sarangi and Elinor Frey on Baroque Cello.
Orlando 'VoVo' Conceinçao on percussion
All of the music in Papo & Yo was recorded live, track by track, because Brian "wanted the music to be honest and fragile, with all of the beautiful imperfections that come with live playing." With a troubled childhood and an absentee father of his own, Brian says he identified with the story of Papo & Yo, and it pushed him to grow both personally and musically as the game developed. In his words: "I feel like I composed the soundtrack to my life."
Brian playing an African kora
If you have questions for Brian or Minority, please write them in the comments below or Tweet them to @we_are_minority and @La_Hacienda, and we'll be glad to answer them. Don't forget that the soundtrack goes on sale tomorrow — get yours ASAP! If you haven't had a chance to play Papo yet, the game itself will also be on sale from December 24th to 30th in North America as part of this year's PlayStation Essentials promotion, so keep an eye out over the holidays!
Soundtrack and PlayStation Essentials details
From December 18 to January 4th in North America, the Papo & Yo Original Soundtrack will be on sale for 15% off the regular price. If you're a PS Plus member, you'll save 30% off the regular price! And in North America from December 24 to December 30, Papo & Yo will be part of PlayStation Essentials. Save 30% off the regular price, or if you're a PS Plus member, you can save 50%. Papo & Yo also makes a great gift – no wrapping required!