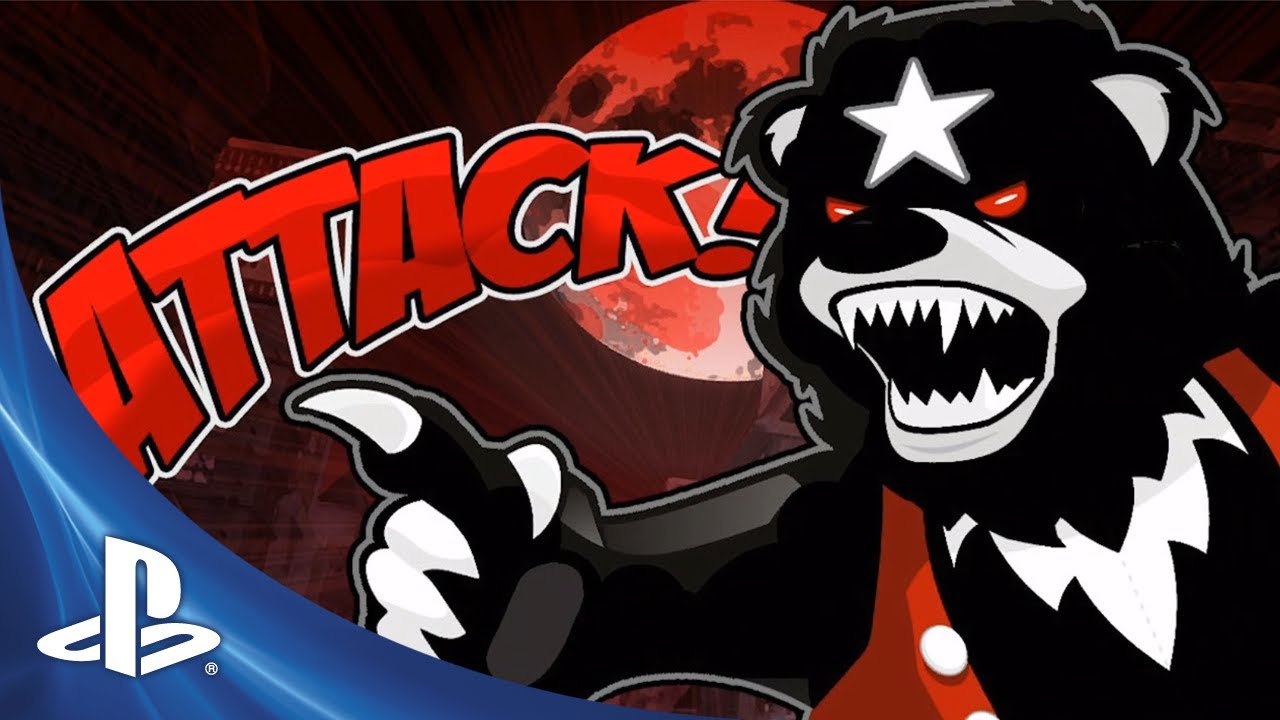 This Wednesday, November 28th, a new episodic, story-driven game launches, new supermodel animations prep you for the catwalk, the Teahouse personal space arrives, FUEL TV brings UFC sports entertainment to PlayStation Home via LOOT's EOD TVs, and more!
Heavy Water – Emo Ray Vs. The Intergalactic Teddy Bears
Emo Ray Vs. The Intergalactic Teddy Bears is the first full-fledged, story driven game to reach PlayStation Home. Take on the role of the unlikely hero, Raymond Radd, and rescue friends while stopping the evil teddy bears from taking over the city. Learn how to handle driving the E-Mobile and using its weaponry against the teddy bear threat through free-to-play tutorials and Action Mode. Purchasing the game will offer you hours of unique gameplay, uniquely themed rewards and Emo's Garage Loft personal apartment.
Emo Ray is an episodic game. The story will unfold over multiple Volumes and Mission Packs. Every couple weeks or so, new content will release to progress the story.
Visit the Radd&Son Garage Rooftop to gain access to Emo Ray Vs. The Intergalactic Teddy Bears, or take the teleporter to the Garage Rooftop via Mr. Radd in the D2O District.
JAM Games – BeeBee Bots
This week JAM Games brings you the BeeBee Bots! The BeeBee Bot suits and heads will add that little something special to your wardrobe! These costumes are made from the old scrap metal that nobody wants. Just watch them dance, you can't help but smile!
nDreams – Xi: Continuum Teaser, Sci Punk Clothing + Aurora 1.65 Update
Some of you have already seen some strange anomalies in and around the Home core spaces and Aurora. Speculation has been rife that this was the beginning of something. It looks like you may be right.
nDreams presents Xi: Continuum, coming soon to PlayStation Home.
Sci-Punk Clothing: Some great new clothing this week from nDreams with a Sci-Punk theme. With a lot of leather and some interesting new hairstyles these are some gorgeous looking clothing items for male and females.
Aurora 1.65: Aurora sees a new update this week with the trap-o-matic receiving some attention as well as the inclusion of The Gateway. The trap-o-matic has two new prizes included for you to catch and if you are unsuccessful in catching an item that day you will receive Aurora XP.
nDreams brings you two new companions this week. nDreams take on interns every now and again and these fantastic new companions are the first creation from their most recent intern Dan and is his first items that will be released. It's going to be interesting to see what he comes up with next!
HellFire Games – Cyber Monday $ale in Home Tycoon
Home Tycoon is having a Cyber Monday sale! For a very limited time, save 50% on all additional cities, and get 35% off the population-boosting Luxury Life Tower. There's never been a better time to stake your claim in Home Tycoon!
Don't forget to check out the Synergy Tower in Home Tycoon, new this week from Hellfire Games! This ultra-efficient high-rise designed by GloboSyn will have you raking in the profits in no time. The Synergy Tower is now available in your Build menu under the GloboSyn category.
Lockwood Publishing – Supermodel Animations, Maliki Lion Mount + New Wings
If you're a fashion fanatic, the Supermodel animation pack from Lockwood will really help to spice up those photo shoots. The pack contains a selection of poses for both males and females.
After wowing your friends with the sheer size of Maliki the Lion companion earlier this year, take things that one step further by riding him around PlayStation Home. As well as his usual relaxed stroll you can press square to give Maliki a speed boost.
Lockwood Wings are now available in the store. Look out for the particularly special Fairy Wings with either a blue or gold glittering effect!
This week, members of x7 can get early access to the Iron Fusion Envoy – sleek space wear with ice blue glowing details.
Granzella – The Teahouse + New Clothing
The Granzella Teahouse is arriving this week. On this secluded wilderness mountainside, through the gate and down the stone walkway lies a small teahouse. Host a tea party and welcome your guests. Forget the hustle and bustle of the city for a little while and enjoy a peaceful moment. The Tea Ceremony Tool Set includes a Japanese Teacup, a Japanese Teakettle, and a Dango.
To accompany this personal space, the Tea Ceremony Kimono, Japanese Sweets, and Flower Arrangements have arrived in the Japanese Teahouse personal space from Granzella. Also, there are sweets that go well with the green tea, and colorful flower arrangements decorate the teahouse.
If preparations are in order, it's time to welcome the guests.
Next, for women, there's the Dress, Clutch Bag, Stiletto Heels, Earrings, etc. All available in fully coordinated red and black 7 piece sets. For men, the 4-piece set includes both the top and bottom of a magnificent Black Suit, matching Black Shoes, and a Hairstyle. Why not choose the Chic look and stand out from others?
Overflowing with energy and casual fashion, the Overall Series has arrived. For men, there is the standard design, and for women the half overalls make for a skinny silhouette. A variation combined with a tube top is also available. Also released simultaneously are Low-cut Sneakers and Multi-strap Mules.
Why not explore the outdoors dressed in overalls?
LOOT – FUEL TV Now Available on the LOOT EOD TVs
Starting Wednesday, FUEL TV brings UFC sports entertainment to PlayStation Home, delivering a whole new dynamic of social sports entertainment to the LOOT EOD system. With not just one, but three new channels available on both the portable TV and in the public space, users can enjoy everything from fights and weigh-ins to official UFC news and behind-the-fights footage. This channel lineup will satisfy even the most fanatic UFC fans. Channels include:
The UFC On FUEL TV: UFC On FUEL TV is home to more UFC programming than any other source has ever offered, including fights, weigh-ins, preliminary bouts, pre- and post-fight shows, and specials.
UFC Tonight: UFC Tonight is the official source for the latest news and information of the Ultimate Fighting Championship.
UFC Ultimate Insider on PlayStation: Go beyond the Octagon, as "UFC Ultimate Insider" delivers an all-access pass with unparalleled coverage of the Ultimate Fighting Championship. Tune in for unprecedented access, including in-depth profiles of the UFC's biggest stars, tell-all features, and compelling backstage footage.
PlayStation Home Mall Update
Magnus is back in his 68th volume of the Virtual Item Showcase. This week he showcases new BeeBee robotic outfits, some new anime-inspired outfits, new Wings from Lockwood, some slick new formalwear from Granzella, and more. Check out the video below for all the details.
Where will your week begin? Jump into the first episode of Emo Ray Vs. The Intergalactic Teddy Bears or invite some friends over to check out some UFC on your LOOT EOD TV? There's so much to do. See you Wednesday in PlayStation Home!