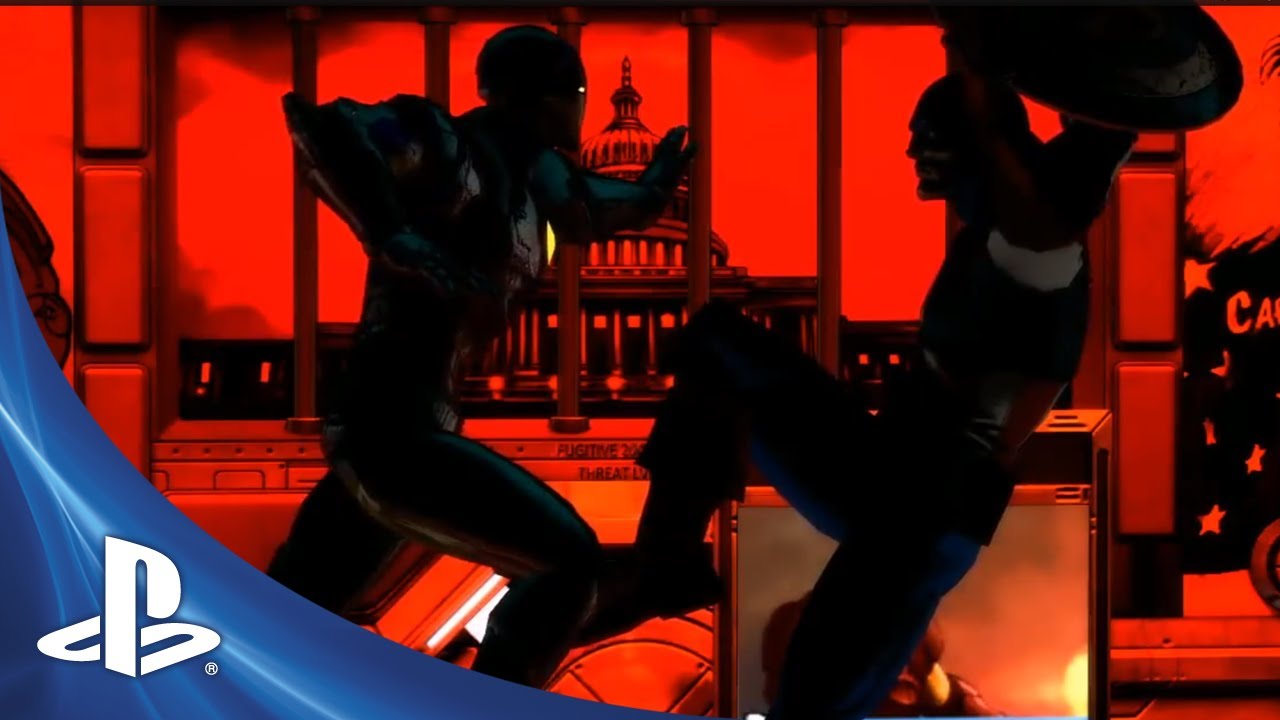 For well over two years now, I've had the honor of working with Zen Studios on video pinball tables based on Marvel characters and events. It seems only appropriate that Marvel Pinball: Civil War should release the week of Thanksgiving (as part of PSN's Zen Pinball 2) – 'cause I'm plenty thankful for these guys and everything they've done with Marvel Pinball so far.
Civil War is one of the biggest events ever told in comics, and as you'd suspect, Zen takes representing it in pinball form very seriously. Here are a just a few reasons why you, the fan, will be thankful that's the case…
Whose Side Are You On? No, really… When Zen and Marvel decide what tables to do, it's a truly collaborative process. Sometimes they're Zen's idea initially, sometimes they're ours – it's Avengers-level teamwork, I tell ya! The idea to do a Civil War table came from us, and with it a mandate: If you choose to do Civil War, you have to let the player decide if he's with Iron Man and Pro-Registration or with Captain America in opposition to the Superhuman Registration Act. "Whose Side Are You On?" was the slogan for the event, and it's the event's central theme – choosing sides simply had to be there. And, after a bit of a prologue involving the Stamford incident, that's exactly what you'll do…
Your side determines your experience. Choosing sides doesn't just reflect your beliefs on who's right – it also affects gameplay. Most of these are quite subtle (different bonuses and ramps to hit and such), but you'll also see a story-based link: Go Pro, you'll get help from the Thunderbolts; side with Cap, Mr. Frank Castle comes along to lend a hand (whether Steve likes it or not).
Your skill recruits undecided heroes to your cause. See those fine folks on the Allies/Enemies board above? They're all up for grabs to be recruited to your side, and doing so – by nailing ramps and targets, of course – helps to affect the difficulty of the epic one-on-one battles between Iron Man and Cap. According to this particular play-through, Iron Man has recruited Spider-Woman, Tigra and Vision, while Spidey, Human Torch, Ms. Marvel and Luke Cage favor Cap. Sentry? Still deciding. (Oh, I suppose I should also mention that your actions can steal a character's allegiance…)

[audio:https://blog.us.playstation.com/wp-content/uploads/2012/11/Spider-Man1.mp3|titles=Spider-Man]
You'll relive huge moments from the story. If you've read Civil War (and if you haven't, do it now!), you'll remember some huge events, from – SPOILER ALERT – the fall of an Avenger to the wedding of Storm and Black Panther. And the one that made national headlines, of course, as you see (and hear, if you click it) above – which of course only plays if Iron Man recruits him from the Allies board.

[audio:https://blog.us.playstation.com/wp-content/uploads/2012/11/vo_intro_Both_011.mp3|titles=Registration]
You'll relive not-so-huge moments from the story. We worked with Zen to dig really deep throughout the entire epic Civil War event – not just the core six issues, but the tens of issues spanning other Marvel series as well – to jam in as much authenticity as possible. Above, you can see Iron Man and Cap discussing Tony's decision to go Pro via Iron Man/Captain America: Casualties of War, and you can hear it come to life as you will in the Civil War table by clicking on the image. Needless to say, this is by no means the only nearly verbatim conversation of this type that you'll hear play out between the two.
You'll experience things you've probably never seen with any pinball table, real or video. Without fail, Zen continually impresses players with their ability to innovate with each new table. That's no different with Civil War. In addition everything I've mentioned so far, you'll also get to do things like start the whole thing with a two-ball multiball (representing the cleanup after the Stamford incident), or marvel (heh) as tracks manifest from thin air (above) – the kind of thing only possible in videogame pinball.
It's made by a bunch of really nice Hungarians. I realize this has absolutely nothing to do with how Civil War plays, but I just have to point out how great the Zen guys are to work with. They're awesome, and not just because they have names like Viktor with a K and Zsolt with a "rhymes with 'jolt' so you know he's a badass." They deserve to be thanked in public for doing such a great job, not just on Civil War, but for all their Zen Pinball greatness. So… Thanks guys!
If you're as big a fan of Zen Studios as I am, go ahead and let 'em know in the comments below. Ask questions, too! I try to respond to everyone…