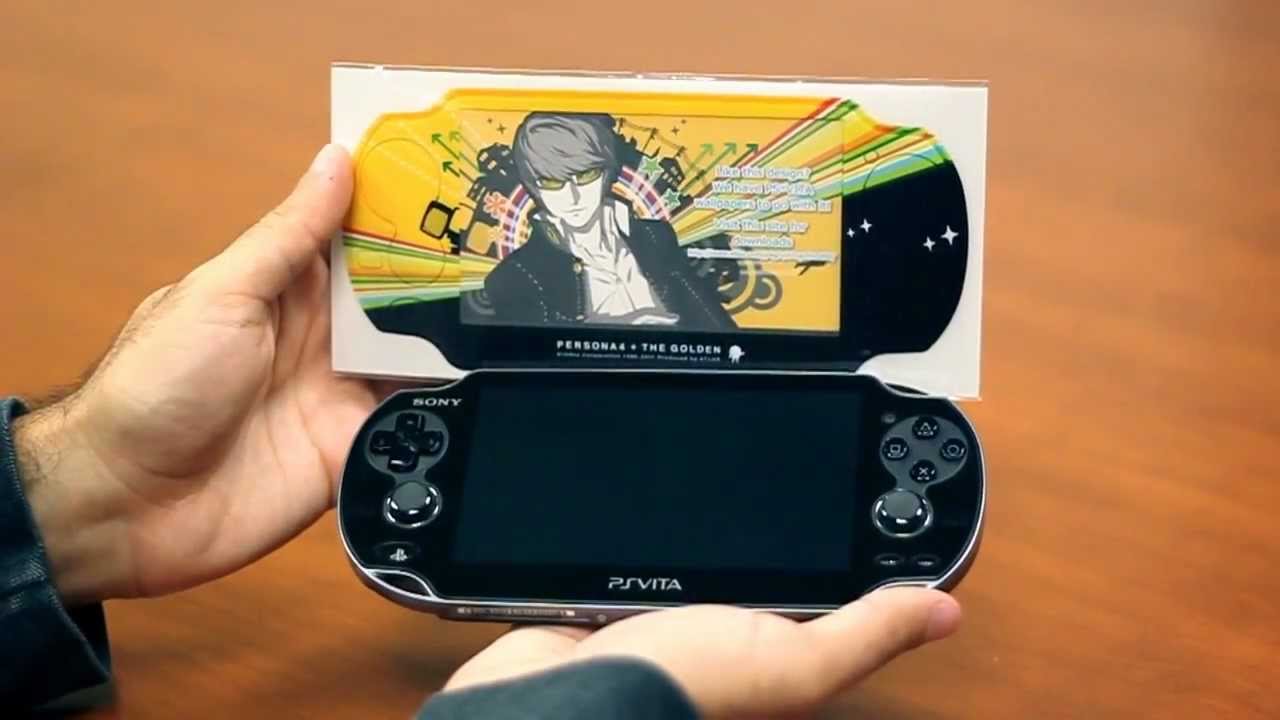 PlayStation(.Blog) Nation,
Did you know that Persona 4 Golden is only 18 days away? That's 432 hours. 25,920 minutes. 1,555,200 seconds. THAT'S PRACTICALLY NOW, FRIENDS.
Seeing as how P4G's unique blend of social-life-developing and evil-shadow-defeating roleplaying gameplay is a must-own for PS Vita owners (YEAH, I SAID IT), and it's arguably reason enough for those pained on-the-fencers (Seriously, it must be getting super uncomfortable by now. We have soothing balm on the PS Vita side, come join us…) to hop off already and snag themselves a sexy new PS Vita, we figured why not pimp out the special pre-order bonus PS Vita skin while we're at it?
Oh, you haven't heard of the pre-order bonus? Well, that's quite a pity, because while supplies last, folks who pre-order Persona 4 Golden from participating retailers will receive a DezaEgg protective skin for PlayStation Vita. Yes, the same DezaEgg skin that's also included in the completely awesome, completely sold out Solid Gold Premium Edition of the game, which also includes a custom HORI Hard Pouch, HORI Face Cover, and a set of nifty stickers. It's understated, stylish, and pretty much the best way to tell your friends, "Why yes, I do own Persona 4 Golden and I was cool enough to pre-order it." You're also telling them, "Oh, PS Vita? Yes, I have one. Didn't you know I have excellent taste?" It ALSO happens to be the exact same item given to Japanese customers for the game's release in that region.
To add even more fuel to this fire of awesomeness, this classy and vibrant PS Vita skin also comes with a selection of Persona 4 Golden wallpapers that seamlessly mesh with the skin's design. With a wallpaper for each of the main characters, you'll be able to personalize your Vita even further.
The DezaEgg skin is so darn cool-looking and so easy to apply… Well, we decided to make a handy-dandy video (up above) that shows you exactly how easy the whole process is. Watch former ATLUS PR Manager Aram Jabbari (hey, that's me!) give you pro tips and walk you through the simple steps to get P-4-G all over your P-S-V.
Persona 4 Golden releases on November 20th, in stores and via PlayStation Network, exclusively for PS Vita. Please note that the pre-order bonus offer only applies to the physical version of the game (available on Amazon for example), seeing as how it'll be centuries until transporter technology is a real thing (according to Star Trek, anyway). Transparent aluminum, on the other hand, we've had for a couple decades. Thanks, Scotty!