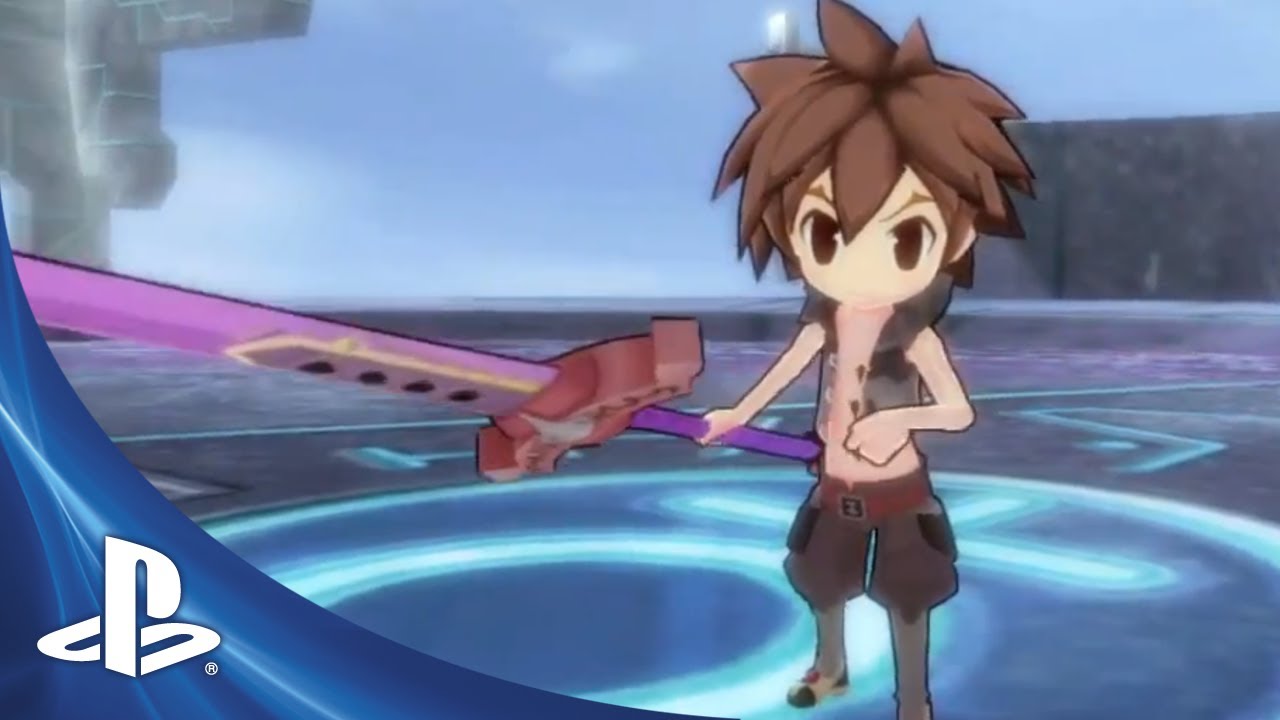 Howdy, doods! I'm dropping by today to briefly talk about our upcoming RPG title Mugen Souls, developed by Idea Factory and Compile Heart. Mugen Souls is set to release next Tuesday, October 16th, so I'd like to go over a few of the game's awesome features and game mechanics. Afterwards, I'll recap a few of the announcements we made at Tokyo Game Show 2012 a few weeks back. Here we go!
Story-wise, in Mugen Souls you can expect the typical humor and zaniness you've come to expect from NIS America titles. You'll enter a small galaxy in the universe containing seven worlds, shimmering in seven colors… These worlds exist and act independent of one another. This has allowed them to develop and nurture rich, unique cultures. One day, a decree was sent out… "I'm gonna make everything in each of these worlds bow to me!" This reckless statement came courtesy of the egotistical, yet strangely cute, "Chou-Chou." As Chou-Chou, it's your mission to travel to these seven worlds, conquer them, and make everything and everyone on them your peon! Worldly domination for the win, dood!
Mugen Souls plays out in a turn-based fashion and with free movement on the battlefield. For a visual reference, the free movement side of the battle system resembles that of Hyperdimension Neptunia mk2 for PS3. When it comes time to do some damage, there are many ways to make it happen. Players can experience group attacks inspired by the Disgaea series, where once triggered you and your party, for instance, are suddenly transported into green army tanks and begin raining explosive rounds on your enemies. Or, you can merge with your teammates to form a giant spinning character windmill, which allows you to fly around all fancy-crazy while racking up a bunch of damage on your opponent. If that isn't enough, you can always launch your enemies into the crystals set in each battle to watch them bounce around like pinballs, or if that still isn't enough, you can launch them into the air and knock them around for even more damage! When you aren't conquering worlds and making enemies into your peons, you will be on your ship, known as the "G Castle," which serves as your transportation between worlds. While traveling, you will also encounter ship battles against enemies, so make sure you have plenty of peons to help out!
One of the most noteworthy and important mechanics of the game is called the "Moe Kill." Essentially, in order to bolster your G Castle, you will be using the Moe Kill to enslave enemies into being your peons. It's performed during battle against enemies, and the way you do it is by changing Chou-Chou's personality to match that of the enemy. After that, depending on that enemy's mood, you'll have to use small phrases that coincide with their mood. Successfully doing this a few times should make enemies your peons! On top of the Moe Kill, another important game system is called the "Mugen Field." If you're familiar with Disgaea's Item World, you should feel right at home. The Mugen Field is an area consisting of multiple "floors" where you go to level up your weapons to help aid in conquering worlds. Much like the Item World, the Mugen Field allows you also to unlock upgrades for your character and customization as you progress through it, and clearing it will challenge even the most hardcore RPG fans.
Again, we're really excited and hopeful that everyone will enjoy this title! It has a lot of great elements from both the Disgaea series (Disgaea artist Takehito Harada provided the art for Mugen Souls, and Disgaea composer Tenpei Sato created the soundtrack) and from standard turn-based JRPGs in general, so definitely give it a try next week on October 16th, dood! Keep your eyes peeled for a lot of DLC also, as we have big plans for the near future!
Lastly, a quick blurb on some new announcements from Tokyo Game Show 2012! First off, we are happy to announce that we'll be bringing Hyperdimension Neptunia Victory exclusively for PS3, to North America and Europe this spring! Also, we will be launching Generation of Chaos: Pandora's Reflection for PSP (via PSN) in early 2013! Lastly, we are super happy to announce that we will be bringing Persona 4: Golden for PS Vita to Europe, dood! I'll be back to touch more on all of this in the future.
That's all for this time, thank you again for all your support! I'll be back in a few months to chat, I promise, dood!