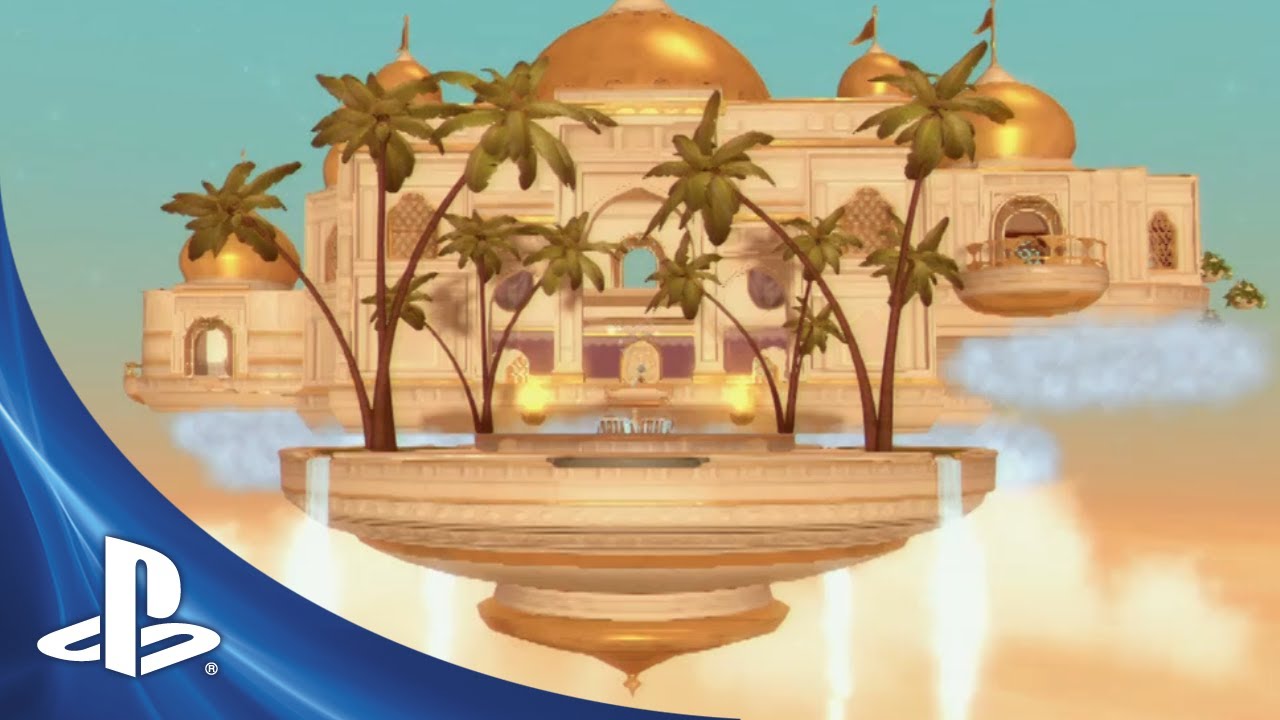 This Wednesday, September 26th, Juggernaut Games releases the Palace of the Seven Winds, nDreams makes dreams come true with the first new avatar locomotion options (hello, skateboarding!), and Granzella releases another large batch of goodies. Check out all this and more this week in PlayStation Home. Here's this week's update:
1. Juggernaut – Palace of the Seven Winds
Juggernaut Games introduces the Palace of the Seven Winds personal space, clubhouse, clothing and furniture items.
For the first time ever in PlayStation Home, break free from your earthly shackles and explore the entirety of the space from the air. With rewards for guests and owners, your own personal genie, unique interactive features and furnishings, the Palace of the Seven Winds adds an exotic touch to your personal space collection or next club meeting. Also released is the "Essence of the Seven Winds" active furniture item, allowing flight in any personal space! Visit the limited-time open house to experience it for yourself!
2. nDreams – Locomotion Items
With the Home 1.7 update comes the ability to equip inventory items that affect the way that your avatar moves. The very first set of Locomotion items available in Home are available for use on your avatar regardless of what outfit you are wearing. The first set includes:
Super Dash – Allows your avatar to run faster than normal.
Zen Flight – Instead of walking or running you will float in the air in the lotus position. You can also travel faster than the normal run.
Super Flight – Majestically fly through the air like a super hero at different speeds.
Ninja Run – Your run animation will become a slick ninja run and can change into a Ninja Sprint.
Inferno Hero – A fantastic fire will swarm around your avatar and you can fly through the air surrounded by flames.
Ice Hero – You can ride the ice coming from your hand and move quickly through whichever space you are in.
Skateboards – With four different styles you can skate around Home and go quicker than you have ever been able to before. These also come with an 'Ollie' emote animation.
Equip these items in your inventory and see what effect they have. When running forward, keep hold of the square button to change the way your avatar moves.
You can pick up any of the new Locomotion items by visiting the nDreams store in the Mall or any commerce point within Aurora. Speaking of Aurora, rumor has it that some details surrounding the next update will be available via the nDreams newsletter, which you can sign up for here.
3. Lockwood – American Wildlife Companions
Sssshhh! Walk quietly, or you'll scare them. If you keep downwind and crawl through the bracken with binoculars to hand, you might be lucky enough to spy a skunk, bear cub and wolf playing together. You wouldn't usually expect to see these guys getting along, but Lockwood's captive breeding program has resulted in more docile examples of the species. Sammy the Skunk, Bartholomew the Bear Cub and Wulfred the Wolf are available now in a woodland near you!
Sammy the Skunk is cute, fluffy and friendly, but don't annoy him, 'cos he'll kick up a stink! Bartholomew's a playful little chap who sometimes forgets he's a bear and tries to walk like a person. Wulfred enjoys human company, but sometimes he misses life with the pack and howls to make sure he doesn't lose touch with his wolf brothers.
So whether you prefer your companion cute, funny or enigmatic, one of these three is sure to be the perfect match for you! But don't keep all the companions for yourself; visit the Gift Machine to adopt Nanook the Polar Bear cub for a friend.
Halloween kicks off early for members of x7 with some creepy content from Lockwood including the FREE Homelings Headextender, plus PODI gets a Halloween makeover.
4. Granzella – Weekly Update
Even more items for summer! Tropical palm trees, beach chairs and a barbecue set have all become available this week! With the beach chairs you can enjoy lying in the sun wherever you like. Call some friends and have a party outdoors!
Embroidered with gorgeous butterflies and flowers, the shining Mandarin Dress is here. The red and black Mandarin Dresses are decorated with pretty gold embroidery and the blue Mandarin Dress gives a noble impression, decorated with silver embroidery. We also offer 2 hairstyles, which perfectly complement these dresses. Matching high heels and pumps are also available, for the complete look.
You'll look beautiful, elegant, and noble in a Mandarin Dress.
Get ready for an even cuter summer—the neck strap bikini has arrived! This cute neck strap bikini lineup includes red, orange, and grey with geometric print. Different from other swimwear's silhouettes, this exudes adorableness!
It's cute to expose some skin to the sun, let loose and enjoy your summer at the beach!
5. Midway – Ca$h Carnival Update
This week you'll have the chance to win yet another prize at the Midway Ca$h Carnival Sweepstakes! Go to the Hot Zone in Midway 3 to sign up for the Midway Ca$h Carnival Sweepstakes. Every green ticket you purchase to play the Midway games earns you an entry into the weekly drawing for a special prize — this week, it's a Sony 10″ Widescreen LCD Portable Blu-ray Disc Player and $1,000.00 cash prize!
Every weekly entry counts toward the Grand Prize drawing for $15,000! Real prizes! Real money! Real fun! For official rules, click here.
6. PlayStation Home Mall Update
Magnus is back in his 59th volume of the Virtual Item Showcase. This week he showcases items from the new Granzella Neck Strap Bikinis to the newest Geisha Bot: Ume to new Chignon hairstyles to some fierce Globosyn looks from the upcoming game, Home Tycoon. Check out the video below for all the details.
See you in Home!