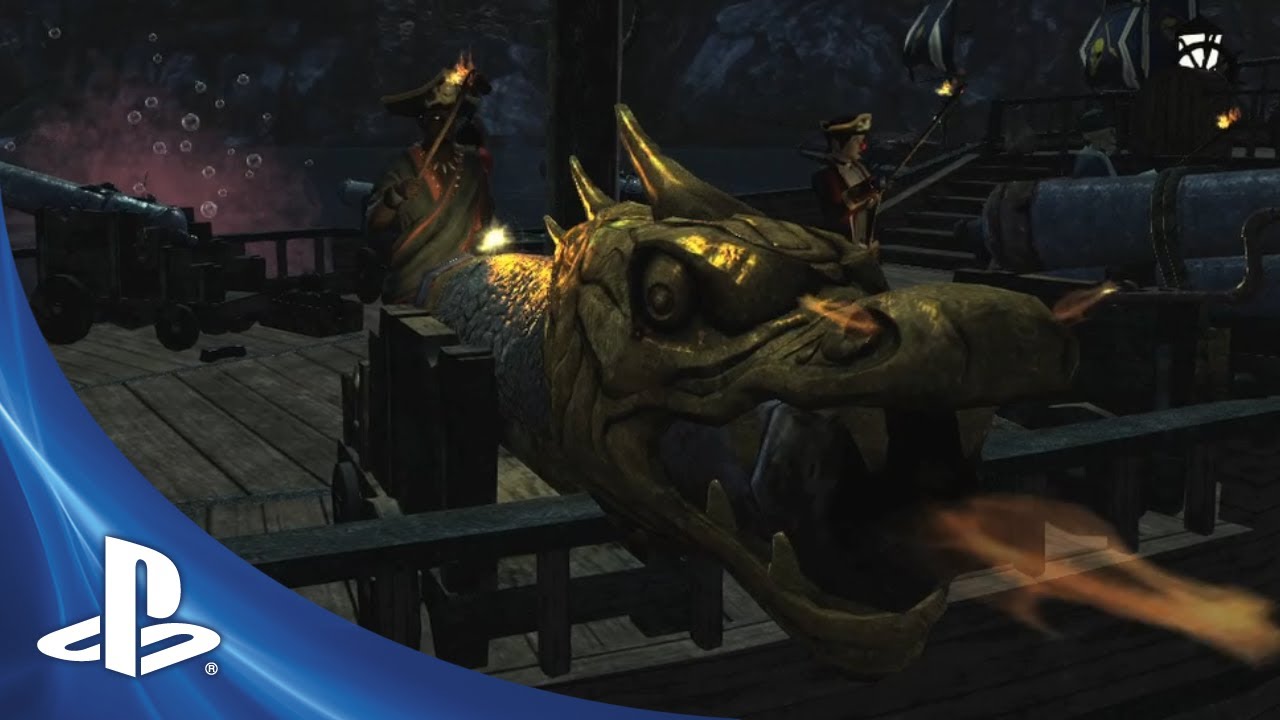 This Wednesday, September 5th, our pirate-loving developers give Cutthroats: Battle for Black Powder Cove a wicked update, Digital Leisure brings us the Space Station apartment, Granzella updates the Lagoon, Fossil Museum arrives to great anticipation and more!
Here's the list of what's new and happening in PlayStation Home.
1. Cutthroats 2.0
An all-new Cutthroats: Battle for Black Powder Cove is making its way to PlayStation Home! See what's new and get free coins by visiting the newly updated Armory, Clothing store, Game Board, Info Table and News Board.
New Armory: All Cannon balls and power ups are discounted. The addition of 4 new and unique looking weapons will require some strategy if you want to rule Black Powder Cove! All weapons have been retuned with varying ranges and damages. Be sure to visit the revised store to stock up on ammo and new power-ups, such as teleportation and mines!
Improved User Interface and expanded game play Experience: Select cannons, ammo and power-ups by using the new quick select menu. Ship damage indicators so you can see where the enemy fire is coming from. Repair your ship to keep it afloat. Communicate with everyone on your ship through Voice Chat.
Clothing Store: Check out the clothing items Male and Female pirates are wearing. Some of them even give you special power ups when you wear them while playing!
Still Free To Play: You can still play for free and collect coins to power up you ship, or purchase any upgrades through the store.
Set sail in this massive update to Cutthroats: Battle for Black Powder Cove.
2. Digital Leisure – Space Station Apartment
The Space Station needs a crew, and you've been selected to take part in an all-new out-of-this-world experience. Your Space Station adventure will have you defending your new home against incoming asteroids in the fully interactive Station Defense turret center. On top of defending the station your tasks will also include lowering and raising the external shutters so you don't get blinded by the sun and you'll even have to evacuate the garbage you produce in to the vacuum of space.
Also included with the Space Station are a variety of furniture, science theme props, a custom space helmet for him or her and even a UFO Sidekick to follow you all around PlayStation Home!
Your shuttle is cleared for arrival so head over to the Estates Shop in the Hub, starting tomorrow!
3. Granzella – Lagoon Update 3 + Office Lady
The cave next to the cottage leads to the Paid Excavation Site. Purchase a ticket and give it to the woman standing at the entrance in a swimsuit to gain entry.
Super Tropical Points are available from various mini-games in the lounge.
Collected Super Tropical Points can be exchanged with the Tropical Girl on the swing for a Home Reward.
The Fossil Museum is a gorgeous 3-story fossil exhibit personal space. You may now visit it, where your collected fossils are automatically housed in the display case.
Also, coming to the Southern Island Hideaway is an underwater swimming mini-game. Swim freely, exploring the ocean's floor while becoming familiar with the local fish.
4. Tight, Sophisticated Silhouette
Introducing the Tight Office Suit series for PlayStation Home. The cool, tight silhouette gives off the impression of intelligence and sophistication. The line-up consists of 3 items, Tight Office Suit, Tight Office Skirt, Office High Heels. Any woman dressed in this sharp suit is surely ready for business with a professional attitude.
5. Lockwood – Uproar Tease + Season Sale!
Just after bringing you Mercia: Fractured Realms, Lockwood have another surprise up their sleeves! Later this year the new, free-to-play, fast paced, action packed 3rd person shooter Uproar will be released in PlayStation Home!
This proper shooter allows you to free roam various maps, playing as the renowned Swyfts or the notorious Outlaws. There are a wealth of customisation options to look forward to including clothing items, projectile and melee weapons and more! Interact with other Home users in a whole new way in an experience unlike anything seen on the platform before.
Reinvigorate your wardrobe and your apartment with some end of season bargains from Lockwood. More than 50 items are discounted for a limited time, including companions, hairstyles, clothing and furniture packs. Pick up the Dream Yacht for $7.99, the incredibly popular Beauty hairstyle for just $0.49, or a Stitchkin Unicorn or Pegasus for $0.99!
Save 50% on many items, with other great savings on many more. Get a bargain before the sale ends!
6. nDreams – Street Moves Volume 3 + Blueprint Desert 1995 Environment and Apocalypse Style Pack
It's been a busy six weeks for nDreams. With the release of Blueprint: Home at the beginning of July there has since been a constant release of extra style packs to help you create and customize your apartment however you wish. This week is no different with the release of the Desert 1995 Environment and the Apocalypse Style Pack.
The Street Moves collection has been making a splash with eight characters dancing in Home. This week sees five new characters released ready to be collected: Cheerleader Chic, Dance King, DJ Spanner, DJ Wrench and Pom-Pom Princess. Check out their unique moves below.
Head to the nDreams shop in the Mall or shop in any commerce point within Aurora to find all these fantastic items.
7. Heavy Water – Avalon Keep Fancy Pack
The kingdom of Avalon is really showing its diversity in the furniture department and this week will bring you the finely crafted wares from one of the local artisans. He has created 7 unique furniture items with a distinctive style and flare that goes well in any medieval setting. Head to the Mall and find the Fancy Furniture Pack in the Heavy Water store under the Avalon tile.
8. Community Theater Update
Join us this week in the Community Theater (theater screen 1 for any newbies in the house, er… Home)! Back again with us is PS Nation, sharing another episode from their visit to E3 this year. They snagged an interview with a developer from Vblank Entertainment about their upcoming title Retro City Rampage—coming to both the PS3 and PS VITA, and will even use Cross-Save to take your gaming wherever you are. Then Glenn interviews Ian and Ben from Giant Sparrow on their exciting new title Unfinished Swan. Head there tomorrow with some friends and enjoy the show!
9. Midway – Ca$h Carnival Update
This week you'll have the chance to win yet another prize at the Midway Ca$h Carnival Sweepstakes! Go to the Hot Zone in Midway 3 to sign up for the Midway Ca$h Carnival Sweepstakes. Every green ticket you purchase to play the Midway games earns you an entry into the weekly drawing for a special prize—this week, it's a Sony Cyber-shot 16.2-Megapixel Digital Camera and $1,000.00 cash prize!
Every weekly entry counts toward the Grand Prize drawing for $15,000! Real prizes! Real money! Real fun! For official rules, click here.
10. PlayStation Home Mall Update
Magnus is back in his 56th volume of the Virtual Item Showcase. This week he showcases things from a Wrangler denim items to athletic plimsolls. Tune in now for all the details.
See you in Home!