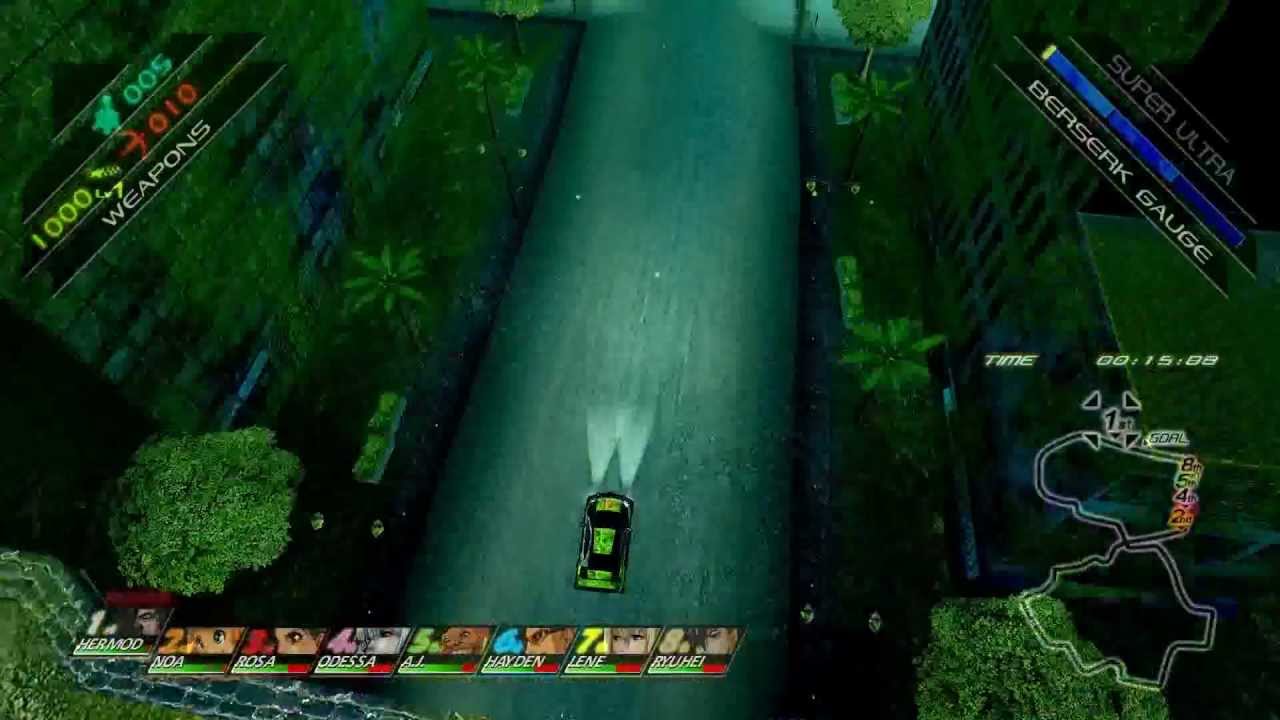 In 2010, we started the development of Fuel Overdose with the ambition of offering a new kind of solo and multiplayer action racing experience, by bringing more variety to the combat gameplay as well as a tactical approach to the genre. That's why we like to think of Fuel Overdose as a "Tactical-Action-Racing" game.
Our first decision was to go for a top-down/isometric perspective, as we wanted to have a camera system that gives you the innovative features that make Fuel Overdose feel unique. Today, with the first official trailer, we're introducing the racing component of the game.
When we decided to go for a top-down/isometric camera system, we pulled our old consoles out of the closet to try to recapture the spirit of classic racing games. We immediately remembered that what we loved about them is that balance between the immediate fun they deliver and the depth of their gameplay. With Fuel Overdose, we want to deliver a game that walks the line between arcade and simulation. In order to show their edge, the best drivers will have to master many different vehicles, each with its own specific handling.
Because Fuel Overdose has always been about playing the game the way you want to play it, each vehicle has its own distinctive handling method. Turns can be taken by either adjusting your speed, or drifting arcade-style. Each player will find their own driving style, and they'll be able to improve the performance and handling of their vehicle by investing in customization upgrades.
The game has some advanced driving techniques, too. By pressing R2 (accelerate) and L2 (brake) simultaneously, you'll activate the handbrake and start skidding. You can then make your vehicle start spinning with the left stick while your trajectory remains unchanged. This technique is not only useful when trying to take sharp turns, but masters of it will be able to regain control of their vehicle even after being hit. This feature wouldn't have been that cool if we hadn't gone for a top-down/isometric camera system. Finally, as we want to let race purists show their skills, we created a series of challenges and game modes — both offline and online — such as the drift and time attack modes, where the use of weapons and other action techniques is disabled.
Here's one of my favorite features of the game: Grappling hooks. There are something we've seen for years in video games, but — correct me if I'm wrong — I think it's the first time we've seen them implemented in a racing game. Imagine that you just had an accident, and there's another vehicle coming. You can grab onto it and quickly get back on the track. You can then even trigger a boost and overtake the vehicle you grabbed onto! You can also grab other vehicles to benefit from their speed, and even quickly overtake a group of opponents by performing multiple grabs and boosts.
Grappling hooks will also allow you to perform perfect turns at full speed by grabbing corner poles — but miss your timing or miscalculate your angle, and you'll end up being hurled across the track and smashed spectacularly.
This is only the first component of the Fuel Overdose formula. Keep an eye out for our upcoming "Action" and "Tactical" announcements, and you'll understand why Fuel Overdose is not only a driving experience, but a combat racer that doesn't feel like any other game.
You can follow the development of Fuel Overdose on Facebook and Twitter, or by visiting our official website.