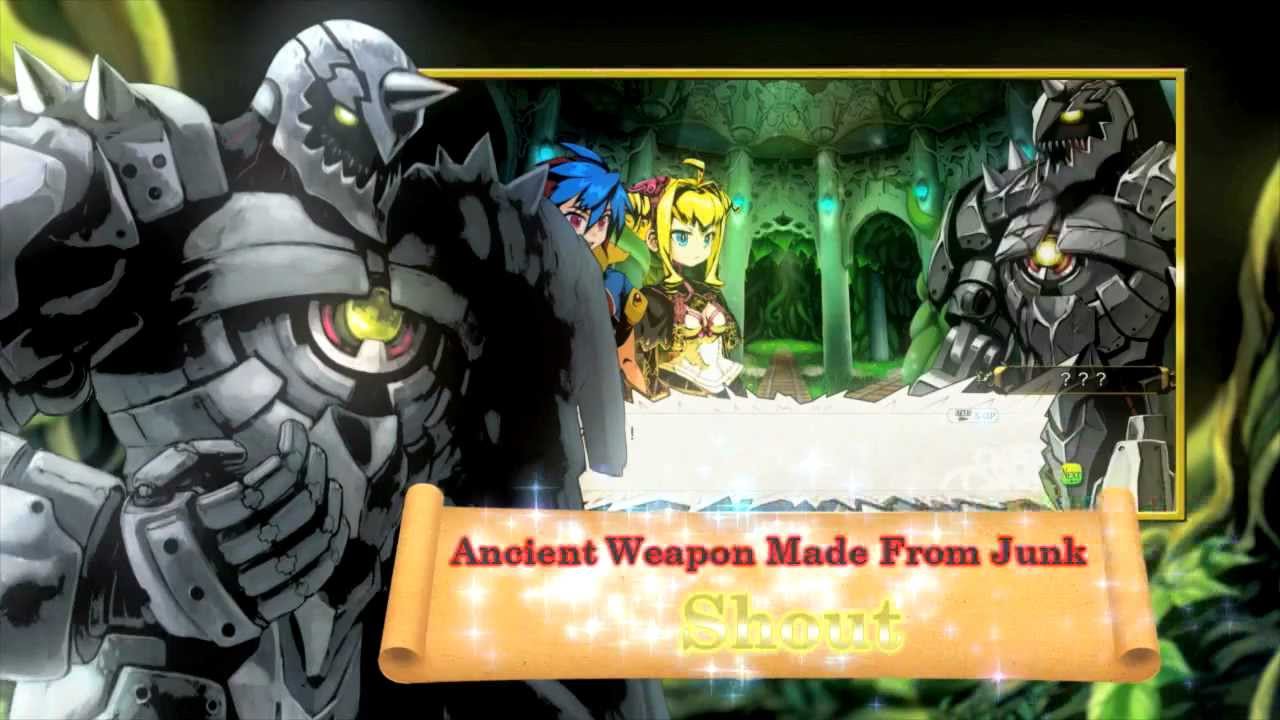 Howdy, doods! I hope everyone has been having a great summer! Ryan from NISA here, dropping by to talk about Legasista's release tomorrow exclusively on PlayStation Network! For those unfamiliar with Legasista, it's an action/survival RPG developed by Nippon Ichi Software, Inc. and System Prisma (ClaDun and ClaDun x2). We wanted to talk a bit more in-depth about some of the game characters, features, and more – so here we go!
First off, I'm sure a lot of you are wondering about the origins of the name Legasista. Well, the name is derived from combining the words legacy and sister.
You see, the main character, Alto, is looking for a way to save his sister, who was turned into a crystal by a curse. He discovers that the artifact that can do it lies in a ruin called the Ivy Tower. While searching the tower, he meets Melize (an ancient weapon), Leina and Shout (a witch and another ancient weapon that was rebuilt from junk parts), Mimily (a dragon-human hybrid), and Volks (a justice-loving thief).
Now that we've covered some of the characters, let's jump right into a few of the noteworthy game features. Legasista utilizes a roguelike dungeon-crawling action/survival RPG battle system. You make your way through dungeons floor by floor, killing monsters and grabbing loot. Beware the poison traps, though, as there are a full dozen different symptoms you can come down with! There's also a Ran-geon (Random Dungeon) system where you can get better equipment drops and fight stronger enemies to level up faster, but the dungeons delve deeper and you have a higher risk of dying. However, dying isn't all that bad. Sure, you lose all the equipment that you would've looted from that dungeon, but you still get to keep half of the experience you earned from fighting. And you can try again, only you'll be slightly stronger this time!
One of the awesome points about the game is how much character customization is available. You can create your own characters by choosing their Name, Job, Personality, Voice, what they look like, and more. Once you create your character, you can head into Edit Mode to personalize them even more! You can also export your character's graphic template, load it into your favorite image editing software on your computer, draw your character precisely how you want it to look, and then import it back into the game (digital photos are fair game too). You can even edit your weapons' appearances! Not only that, you can trade your characters with your friends to spread the madness! Whew, I got a little excited there…
We're definitely stoked for Legasista to launch tomorrow on PSN, and our European fans will be happy to know that Legasista will be available for download on PSN in Europe this Wednesday! With a ton of customization, loads of dungeons to crawl through, and awesome action-RPG elements, we really hope RPG fans all over the world will really enjoy what Legasista has to offer!
Before I leave today, I also wanted to provide everyone here on the PS.Blog with an exclusive battle trailer for our upcoming PS3 title Mugen Souls! Hitting store shelves soon, Mugen Souls is a turn-based RPG that touts the ability to do billions of points of damage, has tons of quirky characters bent on world dominance, and features the beautiful art of Takehito Harada (Disgaea series).
This trailer should help you get acquainted with the flow of battle, which plays out in a turn-based fashion and with free movement on the battlefield. Notice how you can knock your enemies around the battlefield like sentient pinballs to break item crystals and get extra items!? You'll also see the awesome "Moe Kill" command in action, where Chou-Chou turns her enemies into subservient peons. Did we mention the gigantic spaceship battles!? We just did, dood! Thank you for reading and be on the lookout tomorrow on PSN, as Legasista will be available for purchase! We'll be back in about a month to go a bit more in-depth on Mugen Souls! Later, doods!