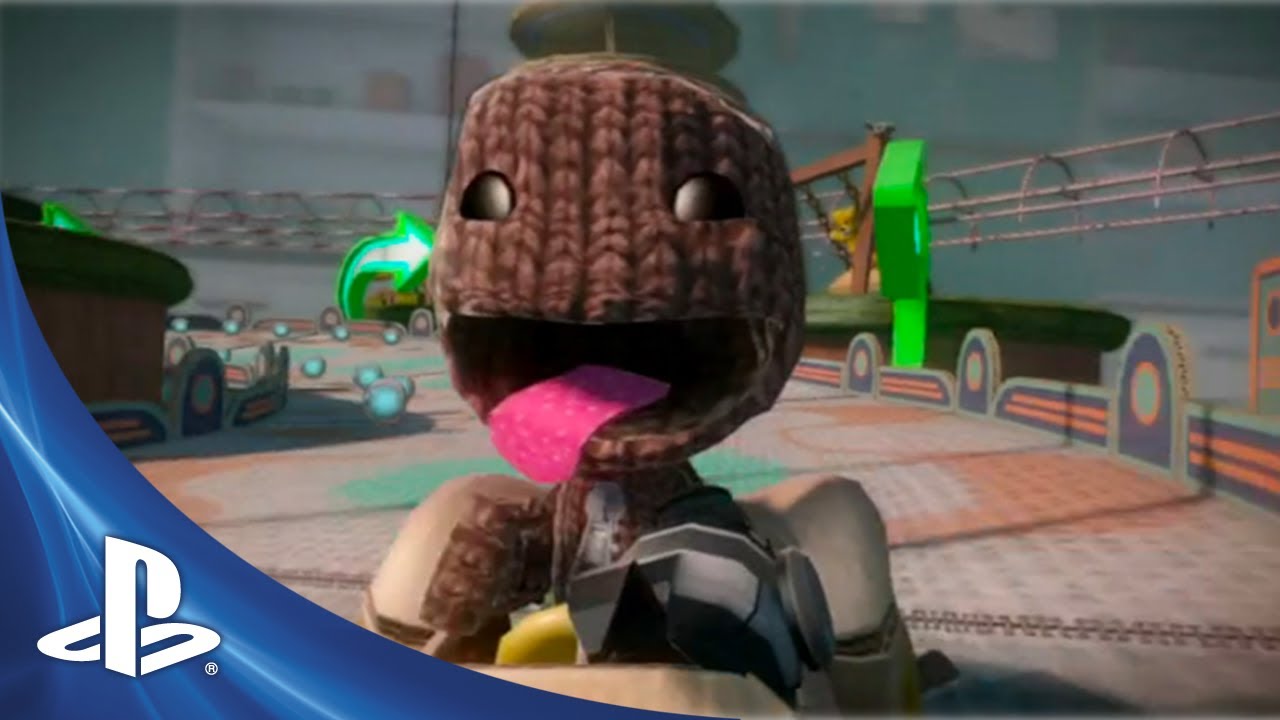 Gamescom 2012 is currently in progress and LittleBigPlanet is the height of popularity there, thanks to our brand new titles LittleBigPlanet PS Vita and LittleBigPlanet Karting. To celebrate the occasion, we have a few treats for you!
LittleBigPlanet DLC Costume Cross-Compatibility!
Customization is a BIG part of LittleBigPlanet. Being able to modify your Sackboy or Sackgirl is a way for players to personalize their experience, while also bringing a variety of different franchises and entertainment properties into the LBP universe. We recognize this and have decided that we can't ask all you LittleBigPlaneteers to fully enjoy the upcoming LittleBigPlanet PS Vita and LittleBigPlanet Karting without an amazing assortment of costumes at your disposal.
So, we're going to let you bring the costumes that you bought for LittleBigPlanet and LittleBigPlanet 2 along with you… at no extra cost!
Not only that, but for any new costumes that take your fancy, you will only ever need to purchase the costume once and you'll have access to it across LittleBigPlanet 2, LittleBigPlanet PS Vita, and LittleBigPlanet Karting!
If you've forgotten just how fabulous you can look in LittleBigPlanet, check out all the costumes we've released to date here and have a little window shop, whilst we rush back to LittleBigPlanet HQ and make everything just perfect for you*.
*Here's the fine print: There are a heck of a lot of costumes and it's going to take us a little while to get them all tailored, pressed, and packaged up. You will get some at launch and then we'll be adding the rest later on, but rest assured you will get them!
We're not going to be able to bring either of the Assassin's Creed costumes (the Ezio Auditore Costume from Assassin's Creed Revelations and Ezio Auditore Costume from Assassin's Creed II) or the April Fools Fragrance Costume (Hessian Sackboy Fragrances) to LittleBigPlanet Karting at this time, but all the other downloadable costumes will be available so there's no excuse for not turning heads as you gad about and race through the Omniverse.
For more information, check out our FAQ.
LittleBigPlanet PS Vita Gamescom Trailer
LittleBigPlanet PS Vita will be released September 25th, which means you only have to wait a few more weeks! To tide you over, we have a brand new Gamescom trailer for you.


LittleBigPlanet Karting Gamescom Trailer
Last week, we announced the release date for LittleBigPlanet Karting in all regions — you can get behind the wheel of Sackboy's fast-paced new game on November 6th.
In the meantime, we'd like to take this opportunity to share our awesome Gamescom trailer for LittleBigPlanet Karting.
LittleBigPlanet Karting is definitely Sackboy's fastest adventure to date! We can't wait to see the creative new level types our community will create after the game is released.