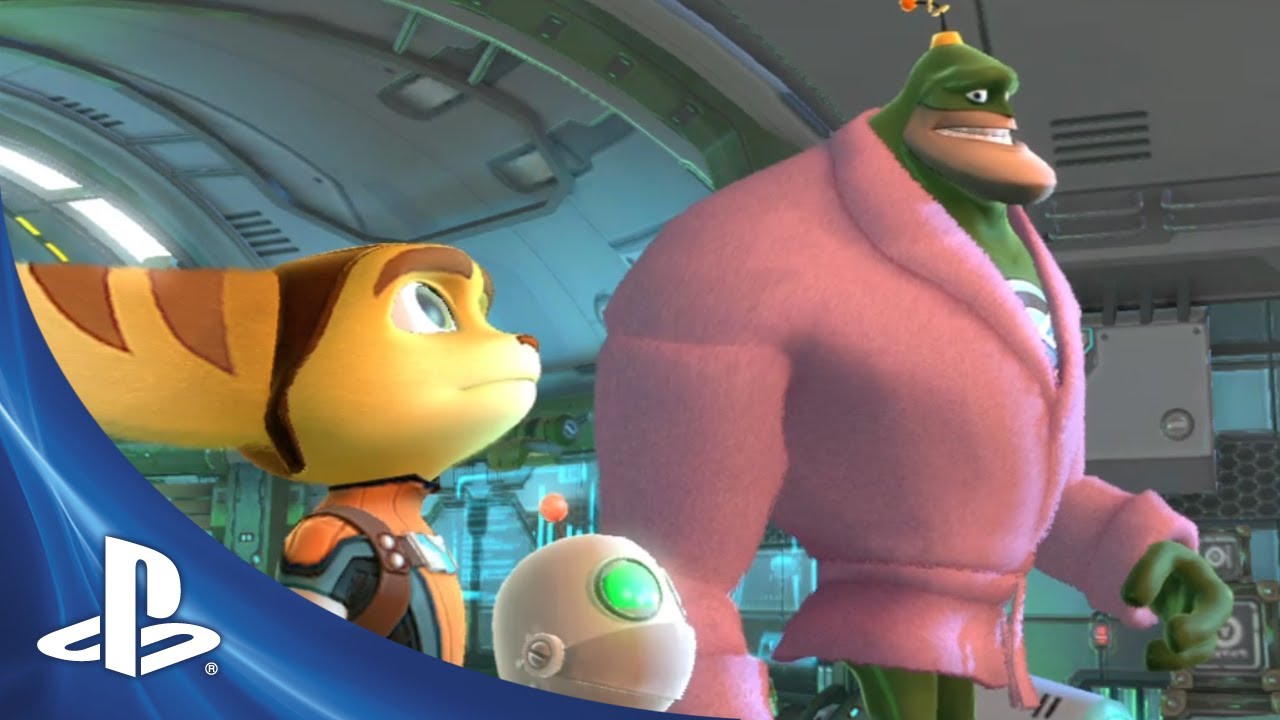 Hey everyone, I'm Shaun McCabe, production director at Insomniac Games' North Carolina studio. Since this is my first PS.Blog post, I'll briefly introduce myself. I joined the company in 2003 during the development of Ratchet & Clank: Up Your Arsenal, but I've been an Insomniac fan going all the way back to Disruptor on the PlayStation.
As you may have heard, yesterday we announced that our dynamic duo's latest adventure, Ratchet & Clank: Full Frontal Assault, is coming to both PS3 and PS Vita! Working closely with our friends at Tin Giant, who are helping bring the game to PS Vita, we're delivering full cross-play and cross-save support. So, the ever-popular, "Well, I'd love to be playing Ratchet & Clank right now, but am stuck at the bus stop/office/police station/etc." can no longer apply. Not only will the game feature cross-play and cross-save, but it's also part of a super-cool promotional offer where anyone who purchases Ratchet & Clank: Full Frontal Assault for PS3 via PlayStation Network will be able to download the PS Vita version of the game from PSN at no additional cost and vice versa.
And today, we have even more news to share. A few weeks ago, we revealed the first gameplay details about Ratchet & Clank: Full Frontal Assault. We even teased a new online mode, and now it's time to expose it all right here.
Ratchet & Clank: Full Frontal Assault is returning to the classic camera, weapons and third-person Ratchet gameplay that the series is known for, while adding a new base defense element that will have you building and defending a base against invasions using your ultimate Ratchet & Clank arsenal.
Well, the further we got into development, the more we felt like we just had to add a player vs. player mode. We're big fans of the multiplayer modes in Ratchet & Clank: Up Your Arsenal and Ratchet: Deadlocked and got excited about the opportunity to bring back competitive play to the franchise. The result of our efforts is an intense, strategic and "Ratchet-y" experience that combines classic Ratchet & Clank mechanics with MOBA-style head-to-head action.
The Full Frontal Assault competitive mode will support 2-4 players and feature ranked and custom games. A match will consist of rounds that are divided into phases. First, there's a Recon phase where you'll capture nodes in the battlefield. Then, in the Squad phase, you'll build your base defenses and minion squads. Finally, it's time to get nasty. In the Assault phase you'll annihilate your opponent by attacking their base. The game ends when one side has destroyed all the generators in the opponent's base.
The game has really taken on a life of its own, and we can't wait for you to experience it for yourself when Ratchet & Clank: Full Frontal Assault launches this fall. Of course, if you really can't wait, just remember that the Ratchet & Clank Collection hits the U.S. on August 28th.
Stick to this space for all the latest Ratchet & Clank news this summer and fall as we continue to celebrate the 10th anniversary of our favorite Lombax and his diminutive robotic pal. You can also like Insomniac Games on Facebook and follow us on Twitter.