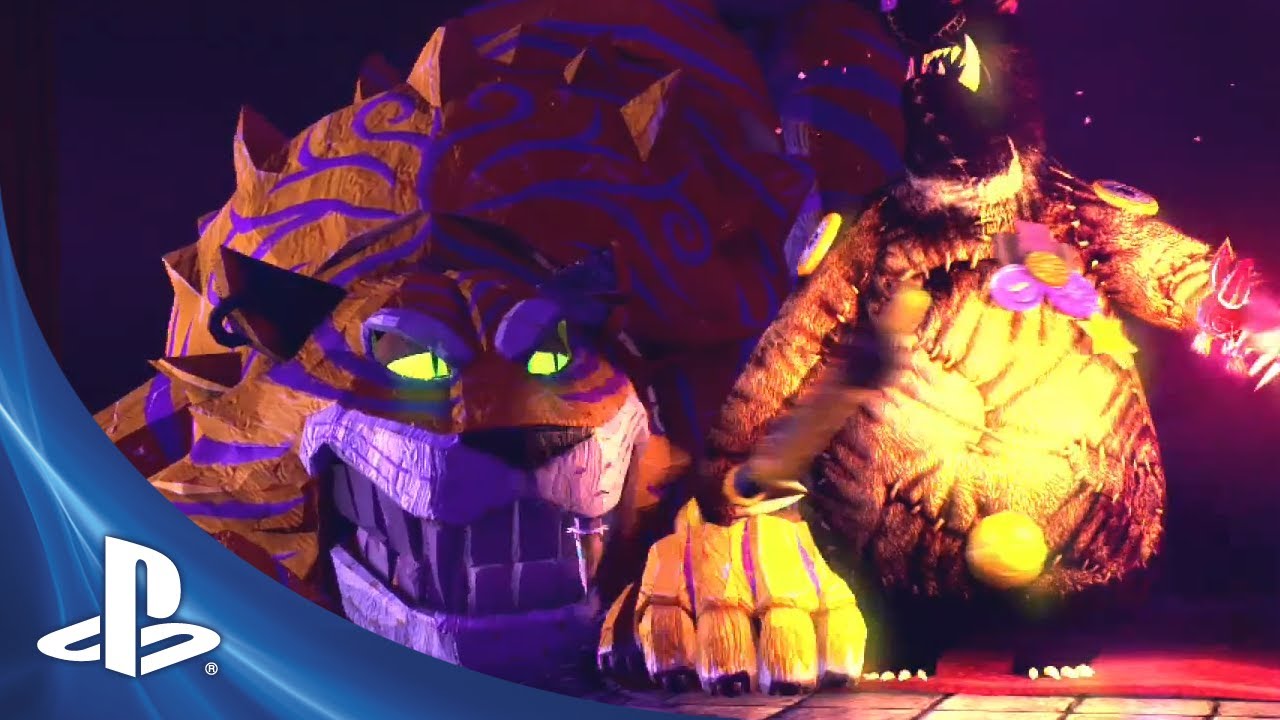 Hi guys. Let's get the introductions out the way so can get right to the exciting stuff. My name is Gavin, and for the past nine years I have been living in Tokyo working for Sony's Worldwide Studios.
Recently, I and a small — but incredibly talented — group of game makers have been hard at work on a new PlayStation 3 game called Puppeteer. I'm excited to be able to talk directly to you guys, the heart of PlayStation, and give you the heads-up on the game first.
Puppeteer takes place in a magical puppet theatre, owned and run by the slightly eccentric but thoroughly charming Professor Gregorious T. Oswald. His latest production is the weirdly titled "The Perilous Journey of a Boy Named Kutaro."
On one dark, moonlit night, the star of the show, a young boy named Kutaro, is carried away by the maleficent Moon Bear King to a black castle, where the unlucky lad is transformed into a puppet. Kutaro then displeases the terrible tyrant who duly devours the boy's wooden head and casts away his body. But the headless hero is not alone, for he discovers a very special pair of magic scissors, which will help him on his harrowing quest to find his head — and his way home.
To show you what I mean, here's a look at our announcement trailer and the first glimpse of Puppeteer:
Unlike most games where you move through the world, the world of Puppeteer actually moves around you, with all the action taking place on the same stage. The sets are continually moving and changing, taking you on an adventure with surprises in every scene. It's packed full of weird and wild situations that we think you're going to love.
I'm a big fan of old school platform gaming, which we feature in abundance here, but we've added a twist — Kutaro's scissors give him the power to cut his way through this dynamic world. You're going to have a blast slicing your way through Kutaro's adventure, or taking out one of the game's numerous bosses with a few deft cuts.
That's all I can share for now, but I'll be back to keep you updated on what's happening with Puppeteer in the near future. For now, I'll leave you with a few words from the Professor himself…
"Prepare for an astonishing adventure full of mystery, danger and artistry meant to astound the eye and capture the human soul."
Check out all the news coming out of Gamescom 2012 on PlayStation.Blog

Media Molecule's New Project Revealed: Tearaway for PS Vita

See the First Trailer for Call of Duty: Black Ops Declassified on PS Vita

PlayStation All-Stars Gamescom Reveal: Dante, Sackboy, Spike, Ratchet and Clank

Gamescom: New The Last of Us Trailer

Watch the GamesCom Trailer for Killzone: Mercenary

PSone Classics Coming to PS Vita via the latest System Software Update (v1.80)

Until Dawn — New PS Move Horror Game — Announced for PS3

PlayStation Plus Coming to PS Vita, Online Game Save Storage Getting Upgraded

Are You Ready for the God of War: Ascension Multiplayer Beta?