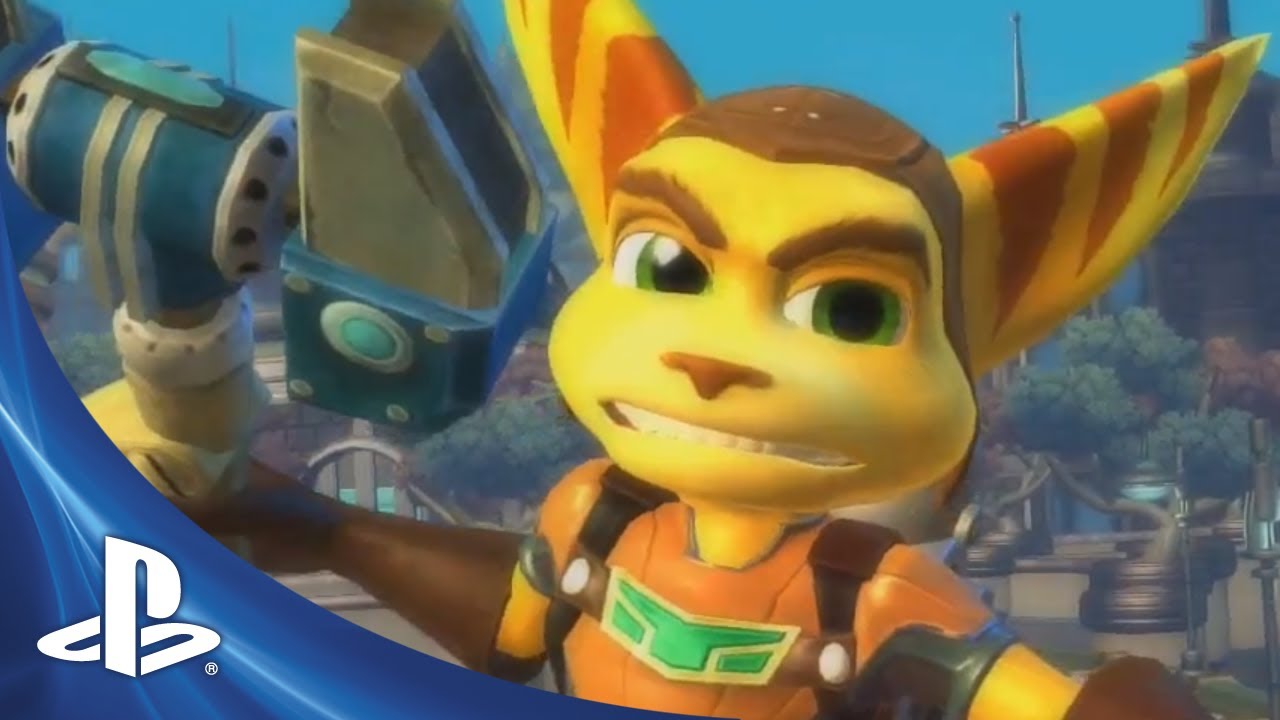 Yo PlayStation.Blog readers! Gamescom is finally upon us, and you know what that means: time for some highly anticipated Playstation All-Stars Battle Royale reveals!
We're thrilled to announce the inclusion of Insomniac's Ratchet and Clank in PlayStation All-Stars! Given the wealth of tools and gadgets at their disposal, it made perfect sense to us to include them in our roster. This duo is strongest at mid-range, and they can cut off many points of entry with varied angles of attack. We made sure that iconic Ratchet and Clank weapons such as the Combusto Pistol, the R.Y.N.O., and Tesla Spikes are available for players to utilize on the battlefield. Clank joins in on the fight wielding his powerful Chronoscepter, and even Mr. Zurkon can be summoned to lend a hand!
Also joining the cast is Spike from Sony Computer Entertainment's franchise Ape Escape — a character that was on our radar from early on. We here at the studio have fond memories of the original Ape Escape on the PlayStation, which was revolutionary at the time for introducing unique gameplay elements facilitated by the first Dual Shock controller. The Ape Escape series has cemented itself in PlayStation's history, and it's our pleasure to have Spike as part of our roster. He's a well-rounded character that can compete at close range, or from a distance with traps and projectiles, including the classic R.C. Car. He comes brandishing not only his signature stun clubs, but also peculiar gadgets, crazy weapons, and, of course, apes!
Dante from Capcom's Devil May Cry has also made his way into PlayStation All-Stars Battle Royale! It was imperative that a character with such a rich history and dazzling play style was part of the cast, and Dante fans can finally pit their favorite demon hunter against heavy hitters like Kratos and Heihachi. Dante's offensive capabilities and mobility allow players to be creative in their assault, ensuring Devil May Cry fans will feel right at home hacking, slashing, and shooting their rivals into oblivion with devastating weaponry and stylish combos.
Lastly, we are pleased to announce that Media Molecule's Sackboy from LittleBigPlanet is joining the rumble! Fans have been clamoring for his inclusion in our roster, and we're more than happy to oblige. We had a panoply of items and gadgets to draw inspiration from in forming Sackboy's moves for our game, so we eventually decided we'd give him a quirky and curious moveset that makes him stand out from the rest of the cast. He can produce various objects, gadgets, and tools that have varying effects when in play, affording him a distinct playstyle that is likely to catch foes off guard. Sackboy can pester enemies from a distance with his Cakeinator, and bounce them back to a non-threatening distance with a bounce pad!
We are also excited to show you our newest level, Stowaways, taken straight from one of the more frantic sequences in Naughty Dog's Uncharted 3: Drake's Deception. Stowaways is a unique stage that forces players to adapt to both long-range and close-quarters combat. The environment is constantly moving and changing, benefiting those who can quickly adapt. As usual, players can expect this Uncharted-themed level to be mashed up with elements from another franchise — which will it be this time?
We're also really excited about the promotional pricing announcement for PlayStation All-Stars that was made at today's press conference. For all of you that purchase the PlayStation 3 version of PlayStation All-Stars – at retail or digitally through the PlayStation Network – you will be able to download the PS Vita version of PlayStation All-Stars from the PS Network at no additional cost. How awesome is that?!? Now you'll be able to experience all of the great cross-save and cross-play features that PlayStation All-Stars has to offer on both the PS3 and PS Vita at one great price. So if you haven't pre-ordered your copy yet, perhaps this news will pique your interest.
That's all for now! We appreciate the continued support for PlayStation All-Stars Battle Royale from the fans. We still have plenty more surprises in store for everyone between now and our November 20 release date, so keep checking back for more news!
Check out all the news coming out of Gamescom 2012 on PlayStation.Blog

Media Molecule's New Project Revealed: Tearaway for PS Vita

See the First Trailer for Call of Duty: Black Ops Declassified on PS Vita

Gamescom: New The Last of Us Trailer

Watch the GamesCom Trailer for Killzone: Mercenary

PSone Classics Coming to PS Vita via the latest System Software Update (v1.80)

Until Dawn — New PS Move Horror Game — Announced for PS3

The Curtain is Raised on Puppeteer, a New PS3 Adventure

PlayStation Plus Coming to PS Vita, Online Game Save Storage Getting Upgraded

Are You Ready for the God of War: Ascension Multiplayer Beta?