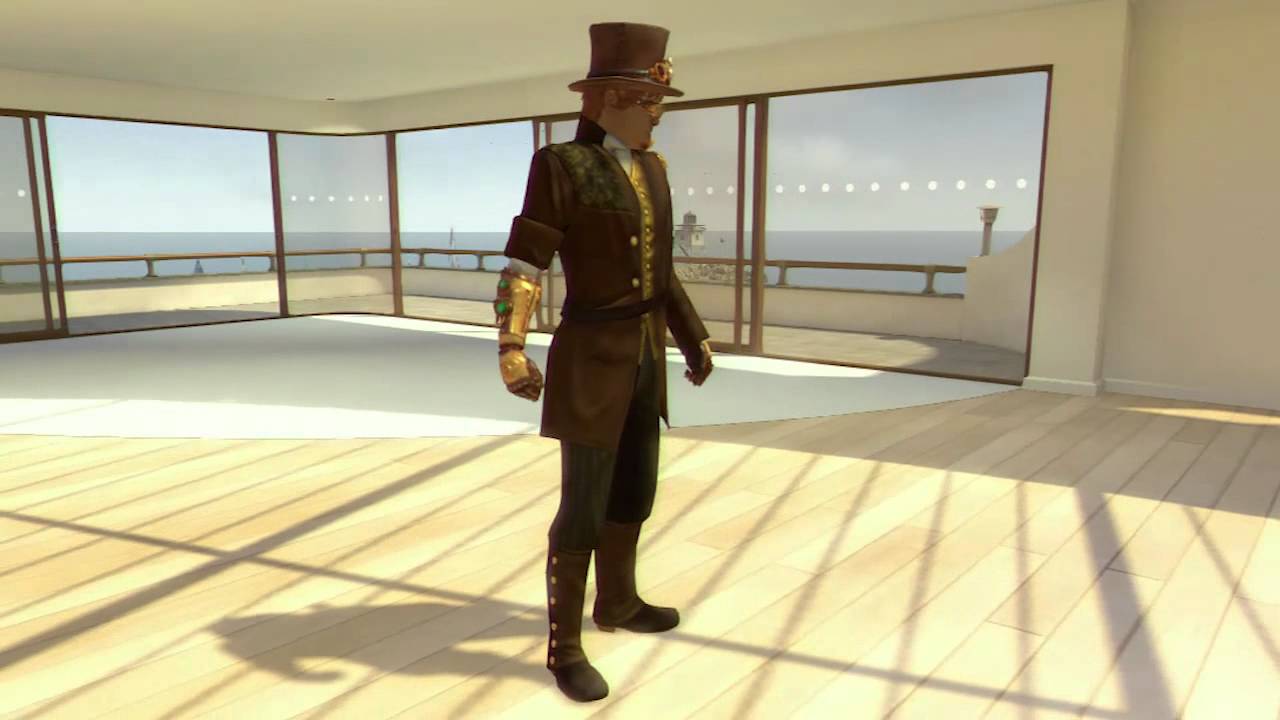 This Wednesday, July 11th, brings a ton of summer fun to PlayStation Home. Here's your weekly to-do list:
1. Juggernaut Steampunk Adventure Pack
Juggernaut Games introduces the Steampunk Adventure pack bundle that includes clothing, furniture, a companion, a clock that tells real time (using only three furniture slots) and an animated clockwork table (only two slots). Adventure awaits!
2. Crystal Seashores Personal Space and Clubhouse
Members of x7 were able to check out and pick up this stunning new personal space and clubhouse design last week, but it is making its public debut this Wednesday. Reminiscent of classic European estates, the Seashores Personal Space and Clubhouse evokes an Old World charm that is destined to put you at ease. Complete with a spacious interior, upper balcony, stunning pool and even lounge chairs you can fully relax in, you will be king (or queen) of your castle. Own your own little piece of stately paradise with the Crystal Seashores Personal Space and Clubhouse, available this Wednesday.
3. Lockwood July Medusa Collection
Over the past year, Medusa's hair stylists have provided you with a style for every season. Now they're branching out with a range of styles intended to help you fulfil your fantasies.
Always dreamed of being a high flier? Then you need the sleek, feminine Socialite, or the tough, business-like Power Broker. Maybe standing in front of hordes of screaming fans is more your thing? Charlotte and Sebastian know a thing or two about fame and their luscious locks are all part of the rock star look! Maybe you long to be an iconic actor like the Legend, or appear in a fantasy epic as the Elven Princess. Whatever you've dreamed of being or doing, Medusa has the look to help you get there.
4. Lockwood Wedding – Early Preview
The special day is fast approaching – look forward to the Lockwood Wedding set next week! If it's not your special day, then you'd better send a little something so they know you're thinking of them. The Gift Machine has plenty of knick-knacks available this Wednesday to make sure the happy couple can start furnishing their new apartment together after their fantastic wedding! Member of the exclusive nightclub x7 can take advantage of early access to the Lockwood Wedding Set this week.
5. Heavy Ink Reining Blades Tattoos
Heavy Water, continuing their release of the new Obsidian and Ivory tattoo collection, the Reining Blades designs bring the perfect edginess any dungeon warrior craves. These tattoos are meant to be worn with your existing clothing, and if you don't have clothing that matches, Heavy Water has provided Bare Canvas torsos free of charge for male and females to proudly display your ink!
[m2]
6. VEEMEE's Medieval Collection
This week VEEMEE brings the Age of Swords to PlayStation Home! These beautiful items are the perfect way to give your avatar and personal space a sumptuous medieval look. Invite your friends to your Medieval Banquet and share a delicious meal of Roast Suckling Pig, a Selection of Pies, Roast Chicken, Spit Roast Lamb, Bread Baskets, Fruit Bowls and Cheese Boards. The Knight outfit is perfect for courtly gentlemen, or hardened warriors. The King and Queen outfits combine elegance and lavishly intricate detail. And what kind of a monarch would you be without a Throne? Now you just have to decide who gets to sit in it!
7. Granzella Spring Swimwear
Granzella introduces a lush spring-leaf collection of swimwear this week. It features two styles for both men and women. For women, two styles are available in both a bikini top and bottom combination (each offered separately) and also in one-piece swimsuits, as well as a total of eight bracelets and anklets to accessorize. For men, there are two types of trunks and neck towels, and a total of five bracelets and anklets. All in all, this collection is a great value. Your wait is over — it's time to hit the beach in a lush new suit!
8. Konami Raver Items
Konami is releasing some new Raver items and outfits this week, further expanding the hugely popular underground dance scene items. This week, check out the three new female Go-go Dancer outfits, the new Neon Man outfit and a few other individual items. Light up the night!
9. x7 – Exclusive Access
Members of exclusive nightclub x7 get access to a new bundle as well as early access to a large collection of wedding items from Lockwood, as well as dozens and dozens of modular kitchen furniture from VEEMEE in an assortment of colors including red, white, black, gold, and steel. Head to x7 this Wednesday and take advantage of your members-only perks today!
10. The Midway Ca$h Carnival
This week you'll have the chance to win yet another prize at the Midway Ca$h Carnival Sweepstakes! Go to the Hot Zone in Midway 3 to sign up for the Midway Ca$h Carnival Sweepstakes. Every green ticket you purchase to play the Midway games earns you an entry into the weekly drawing for a special prize—this week, it's a silver Sony Cyber-shot 16.2-Megapixel Digital Camera. Every weekly entry counts toward the Grand Prize drawing for $15,000! For official rules, click here (LINK: http://bit.ly/midwaycashcarnival).
11. Community Theater Update
This week, our hardcore (yet sweet) gamer girl Luge from The Tester, season one, brings her newest episode of Luge Control. Head to the Community Theater (auditorium 1) and check out her update on Home, the newest app to hit the PS Vita and more!
See you in Home!