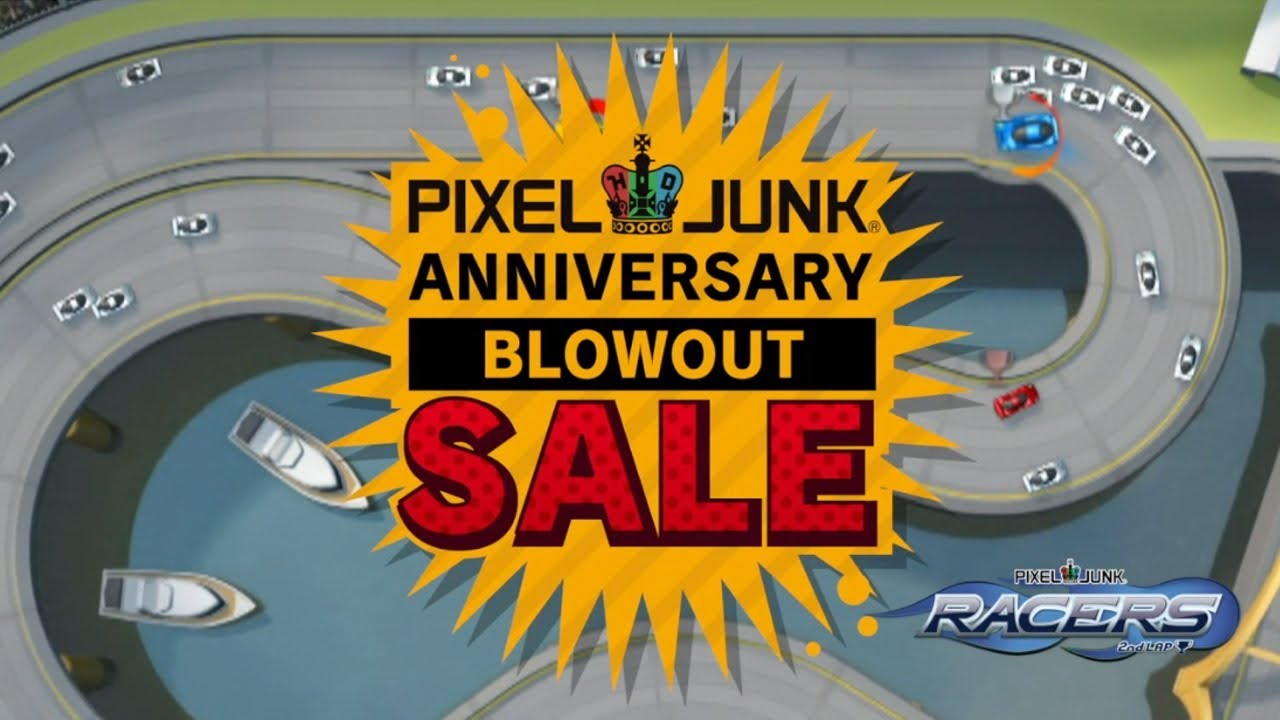 Hey everyone, it's been awhile since I wrote a Blog entry but today I have a really good reason to. In order to celebrate TEN years of Q-Games we decided to set up the ultimate BLOWOUT PixelJunk sale!!
The PixelJunk series has been a huge success for us, so to celebrate Q's 10th anniversary (and also PixelJunk's fifth), for a limited time we are slashing the prices of Racers, Monsters, Eden, and Shooter to just ONE DOLLAR. Yes, you heard correctly! On top of this, we are also slashing the prices for PixelJunk Monsters Deluxe (PSP), PixelJunk Shooter 2 and PixelJunk SideScroller by HALF! You have no choice but to snap them all up the very moment the sale goes live tomorrow afternoon with the PlayStation Store update! Spread the word and let's go PixelJunk crazy for a week! Actually, make that TWO weeks because after the sale, PixelJunk 4am will be launched (May 15th) and it is simply an incredibly unique experience.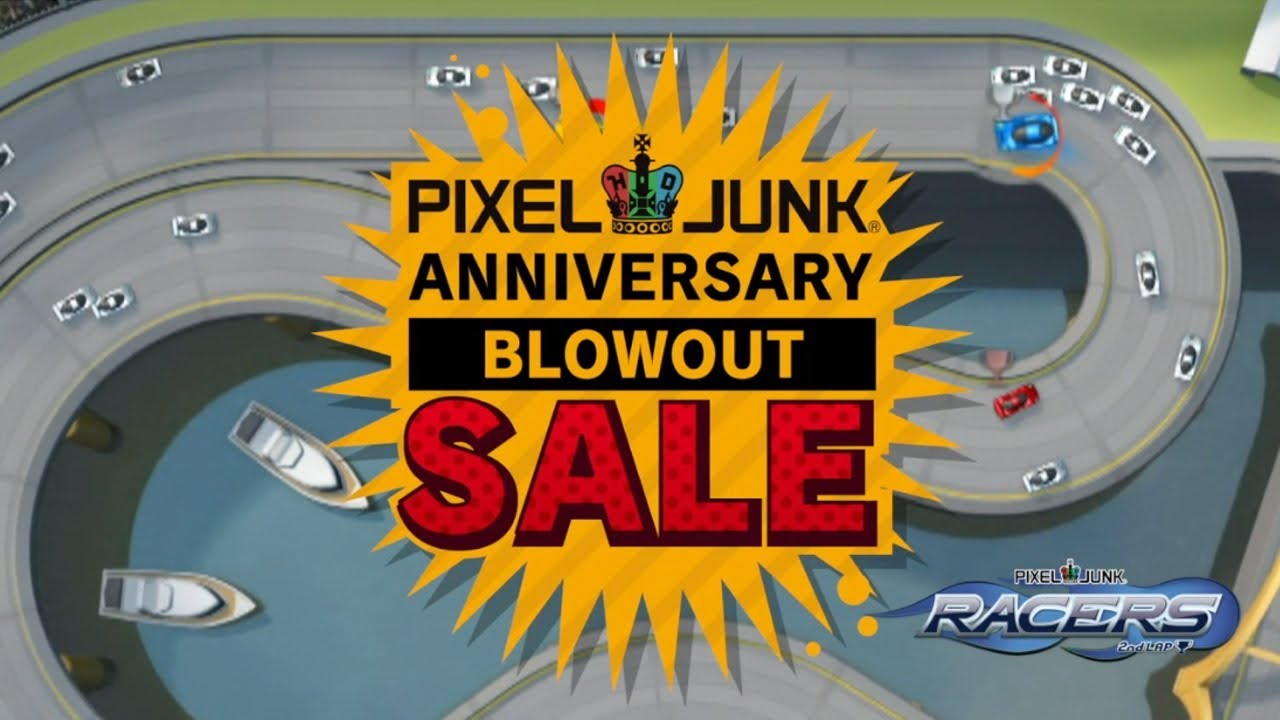 For those of you anxious to get your hands on PixelJunk 4am, we will be hosting a PlayStation PixelJunk 4am Event open to the community on Thursday, May 10 from 6:00 to 9:00pm at Harlot in San Francisco. The first 75 attendees will receive a free copy of PixelJunk 4am when it is live on the PlayStation Store on Tuesday, May 15. Spread the word, Baiyon and I would love to meet you (psst…you must be 21+ to attend).
In the 10 years since I started Q-Games we've made a huge amount of games and technology for the PlayStation family and I'd like to highlight a few key moments in our history. Did you know that we made the PlayStation 3 "ribbon" and "sparkly dust" background on the XMB, as well as parts of the XMB graphical frontend? If you let the "About PS3" credits roll you will actually see the Q-Games logo! Before that, on PSP, we developed some of the really cool technology demos that were shown at E3 all the way back in 2004. We also developed the PS3's music visualizers, beginning with the "valley" default and culminating in the awesome "earth" visualizer – which was actually developed initially as a possible boot sequence for the PS3!! Ken Kutaragi envisioned a boot sequence similar to the sequence in Kubrick's "2001 – A Space Odyssey" where you see a simultaneous moon and sunrise, but changed his mind and it became the even cooler "orchestral tuning" sequence that it is now. However, we continued working on it in secret, adding more resolution and detail until they gave in and let us sneak-release it into a firmware update a few years back.
Five years ago, with the launch of PSN, one of the guys at SCEI (Sony Computer Entertainment Inc. in Tokyo) casually suggested I consider making PSN games. I initially dismissed the idea, imagining SD 480i quality games, but once I plugged my brand-new PS3 into a 1080p TV via a HDMI cable and saw the amazing resolution and color reproduction it clicked that perhaps it represented a chance to rejuvenate 2D gaming. So I got to work preparing concepts for games that took some old ideas, added some new ones, and most importantly updated them to use the incredible extra detail and crisp colors of 1080p. Thus PixelJunk was born!
The first game was PixelJunk Racers, a game designed pretty much to only be playable in 1080p and a game that was impossible in SD because of the hundreds of tiny cars racing around the screen – quite often portrayed as a "black sheep" in the PixelJunk stable, Racers is really quite a unique game and is a great party experience, allowing you to play with up to SEVEN players simultaneously – young kids absolutely love it too and we have plenty of diehard fans which is why we updated it to become PixelJunk Racers 2nd Lap. Anyway, Racers launched us into self-publishing here in Japan which was also a lot of fun (suddenly we were not just a developer but a publisher too!), and started our arrangement with Santa Monica Studios to release the PixelJunk series in the West.
We developed the PixelJunk games in parallel and a few months after Racers we launched the smash hit PixelJunk Monsters which has been extremely popular over the years (oh, and the "Deluxe" PSP version will even run on your PS Vita as of May 15th!). Also, during the development of Racers I had the good fortune to bump into a Kyoto-based DJ and artist called "Baiyon" at a party held by a mutual friend and he seemed like an interesting guy so I decided to make our third game a little bit more "artsy" and brought him in to collaborate with us on it, giving birth to PixelJunk Eden! Just look at those CMYK colours – HDMI pushed to the extreme!
For our fourth title we had a naming contest which helped us decide on the name for "PixelJunk 1-4" to be "PixelJunk Shooter" (yes, "PixelJunk Elements" was also popular but sorry folks it didn't capture the "sci-fi" spirit enough for me – besides the acronym would be PJE and we already had a PJE in the series…). The concept for Shooter was decided right at the start of the PixelJunk project but the fluid technology took a little time to develop and flesh out, and by the time we had got to the point where we were thinking about music I had persuaded my old friend Alex "The Orb" Paterson to work with us on the soundtrack. He had just started an interesting collaboration with Dom Beken in the form of High Frequency Bandwidth (HFB for short) whose style of music is a kind of retro "b movie dub techno" was a perfect fit for the world we were creating in Shooter. This led us to collaborate on the sequel "Shooter 2" and our very latest release last year "PixelJunk SideScroller" (which is totally awesome by the way).
Which leads us to the upcoming release of PixelJunk 4am which, although it isn't a "game" per se, is deeply engaging and a fun experience for everyone. Every time you play you are broadcasting live to the world! It's really really addictive and you'll find your PlayStation Move is being used in ways you never imagined!
Well that was a long post, but hey I hadn't posted in a while – now PixelJunkies, go forth and spread the word, the PixelJunk BLOWOUT sale is ON!