PlayStation Plus returns with another month of fantastic free games and awesome exclusives that have subscribers around the world believing in Plus. Kicking things off in May is new release Awesomenauts, FREE for PlayStation Plus subscribers. Watch the trailer below!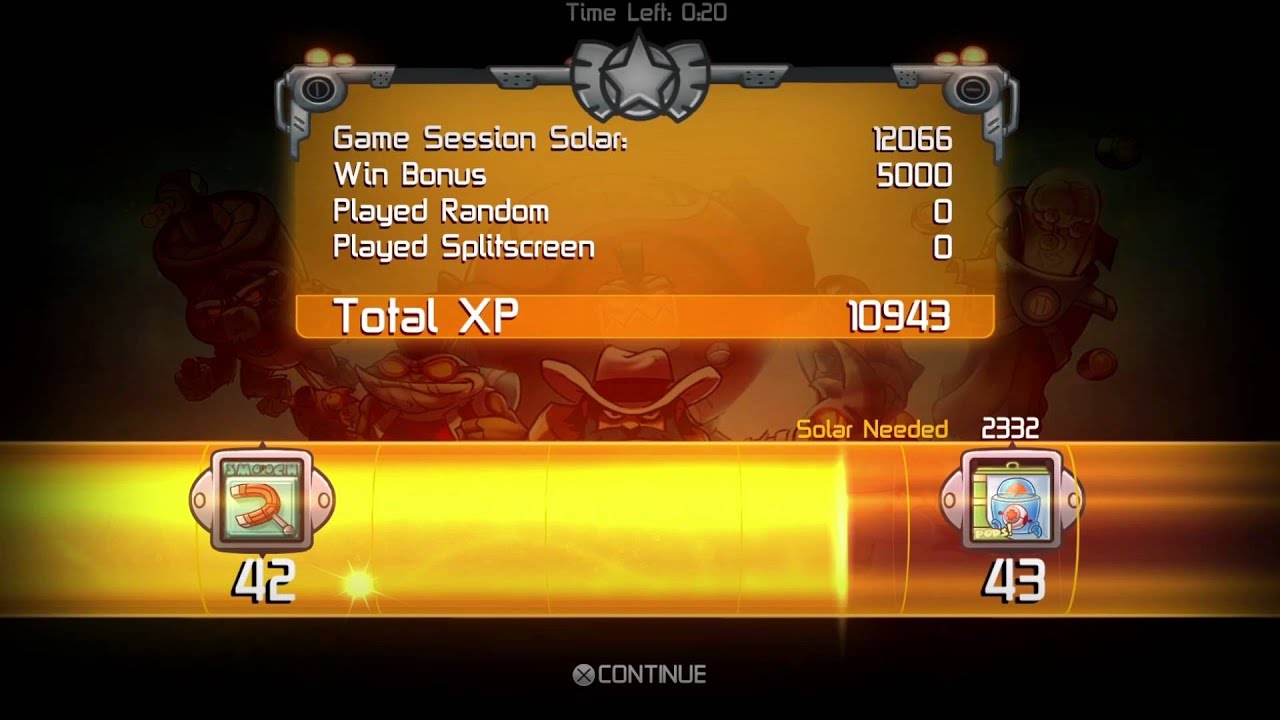 This colorfully action packed 2D online multiplayer battler with split-screen gameplay is releasing on May 1st. You'll storm the game's online battlegrounds and unlock loads of new abilities and characters for your arsenal. For more details on Awesomenauts come back to the blog a little later today — developer Ronimo will have more details on the game and will stick around to respond to your comments and questions.
PSN hit Trine 2 joins the free games selection in May, boasting widespread critical acclaim and a dazzling fantasy world. Don't miss out on one of the prettiest titles in gaming — grab Trine 2 for free on Plus this month. Not enough for you? How about getting Rock of Ages for free when it releases on PSN? The acclaimed mix of tower-defense strategy and rolling ball physics (trust us, it's fun will keep you in stitches with the game's quirky humor and ultra-addictive gameplay modes.
May also brings the free release of PS one Classic Castlevania: Symphony of the Night and Castlevania Chronicles. For many of you, Castlevania: SotN needs no introduction. If you've never had a chance to experience what many fans consider to be the definitive Castlevania game, you now have no excuse. Castlevania Chronicles, on the other hand, is based on the original Castlevania but is no less engaging than SotN, especially given its blistering challenge. Gamers who are looking for a classic challenge need look no further!
Saints Row The Third will be available on 5/8 as a PS3 Full Game download. If you missed out on this insane open-world epic last fall, you may want to jump on it as it will have a 20% discount when it releases.
If you've had your eye on PixelJunk 4am, you'll be happy to hear that Plus subscribers get exclusive access to the game's beta! All PlayStation Plus subscribers will get access to the online viewer where you can watch performances built in this musical PlayStation Move experience that immerses you in the creative flow of making music. Select Plus subscribers will also get access to the performance beta, so watch your PSN messages to see if you're selected.
There's a ton more coming this month that isn't yet on the list below, including free minis like Velocity and Floating Cloud God, exclusive discounts coming towards the end of the month and more. If you're not yet a Plus subscriber, you can snag your subscription by clicking here or purchasing it on PlayStation Store.
Remember, some content and/or release dates outlined may change including the addition or removal of content. Let us know your thoughts in the comments below, or continue the discussion on the PlayStation Community forums in the Official PlayStation Plus Update thread.
Don't have PlayStation Plus? Click here to purchase your subscription today!
Exclusives:
Early Access:
Pixel Junk 4am Closed Viewer Beta – 5/1
Velocity (Free PS mini) – 5/1
Free Downloads:
PSN Games:
Awesomenauts – 5/1
Trine 2 – 5/1
Rock of Ages – 5/15
Minis:
Floating Cloud God Saves The Pilgrims – 5/1
Velocity – 5/1
PS one Classics:
Castlevania: Symphony of the Night – 5/1
Castlevania Chronicles – 5/1
Full Game Trials:
Battlefield: Bad Company 2 – 5/1
Disney Universe – 5/1
Saints Row The Third – 5/8
Assassin's Creed Revelations – 5/15
Batman Arkham City  – 5/15
Rayman Origins– 5/15
Need for Speed The Run – 5/15
Super Street Fighter IV Arcade Edition – 5/22
Tom Clancy's Ghost Recon Future Soldier – 5/22
Free Avatars and Themes:
Dead Cloud Avatar – 5/15
Gear Avatar – 5/15
Mesh Dynamic Theme – 5/22
Discounts:
PSN Games:
Datura – 5/8 (PS Plus Price – $7.99)
Disney Universe – 5/1 (PS Plus Price: $15.00)
Rayman: Origins – 5/15 (PS Plus Price: $15.00)
Saints Row The Third – 5/8 (PS Plus Price: $47.99)