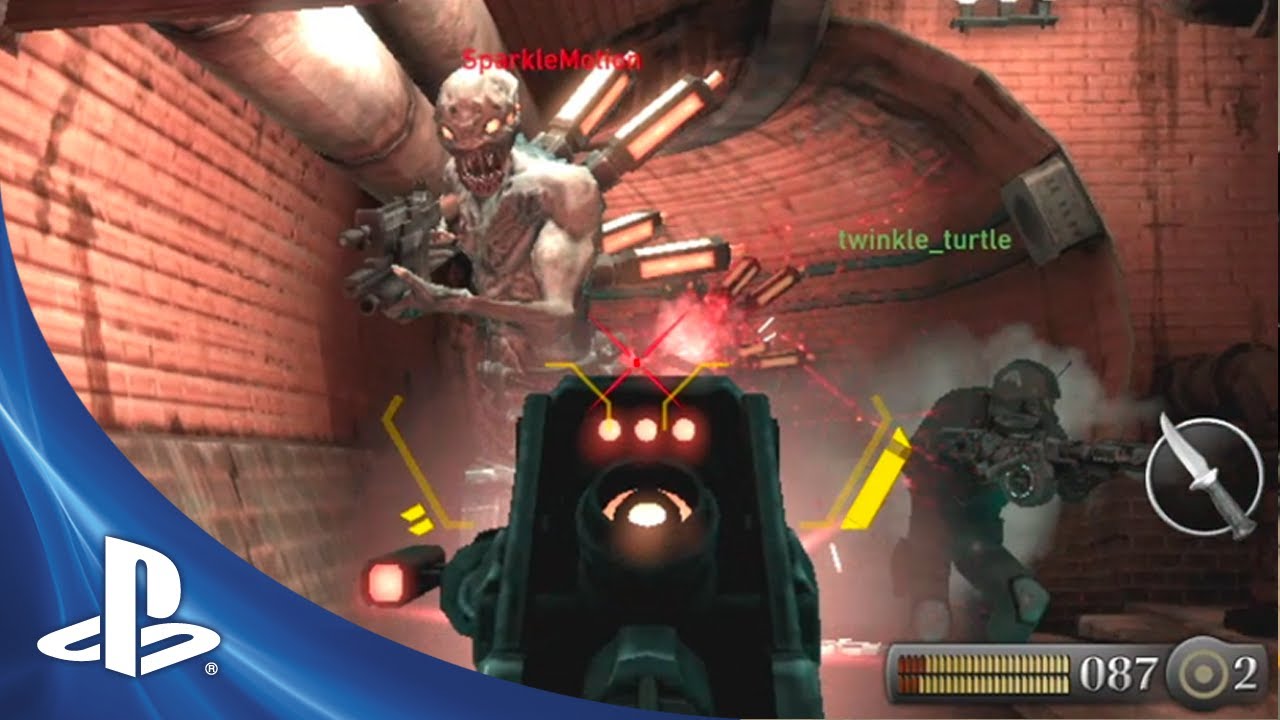 We at Nihilistic Software are excited to finally be able to pull the wraps off Multiplayer for Resistance: Burning Skies, coming May 29th for PlayStation Vita!
In addition to its all-new single player campaign, Burning Skies features an online (via Wi-Fi) multiplayer in which you and up to seven of your friends can compete over PlayStation Network! We know you've all been asking about multiplayer in Burning Skies, so please enjoy the first look at it in this new trailer!

Vita, we've ended up with an unprecedented mobile FPS. Experience the dual analog sticks for precision aiming, touch screen interactivity for precise and quick secondary weapon fires, and portable online connectivity.
We've just showcased that game at an event in NYC, showing off some of the cool things we're doing with online:
8 player multiplayer – Small games feature intense 2 vs. 2 combat and large games going all the way up to 4 on 4 action. Choose between Quick Match: a fast and easy way to get up and playing immediately by jumping in an automatic matchmaking session or Party with Friends: use the Vita's cross-game Party application and Party up with friends to join private matches and take advantage of Party with voice chat.
Rank Up! – Killing enemies and winning matches is the easiest way to earn XP and Rank Up. Be rewarded with bonus XP for your daring feats of skill. For example, you may find yourself well rewarded for killing multiple enemies with a skilled grenade toss. Unlock all your favorite weapons and upgrades from the story campaign as you Rank Up.
Modify & customize your weapons – Upgrades you purchase can be slotted and unslotted from weapons at will, with some even giving your weapons a distinctive visual look. Purchase upgrades for weapons that best suit your personal playstyle. For example, the fan favorite Bullseye can be upgraded with Explosive Tag – which gives your Bullseye Tags and extra explosive kick. But keep in mind if you're killed, your enemies may pick up your upgraded weapons and use them against you!
Connect Everywhere – You can connect with the PlayStation community no matter where you are via Wi-Fi and 3G through social features including leaderboards and NEAR, PlayStation Vita's location-based service. Through NEAR, Resistance: Burning Skies introduces a new social perk awarding players valuable XP multipliers to carry into multiplayer battle. Stay tuned as we get closer to launch for all the details on NEAR.
Online play in Resistance: Burning Skies will feature three game modes – Deathmatch, Team Deathmatch, and a very unique third mode which we'll be revealing next week. There will be six playable maps, taking you everywhere from the streets of Staten Island to the docks of Bayonne, NJ. You'll be able to vote prior to each match, allowing you to take the battle between the humans and Chimera to a variety of locales from the game.
Resistance: Burning Skies will be available in North America in stores and on the PSN May 29th for $39.99. But you don't have to wait til then; if you live in the San Francisco Bay Area, join us to go hands-on with Resistance: Burning Skies multiplayer next week! Read the details and RSVP here.