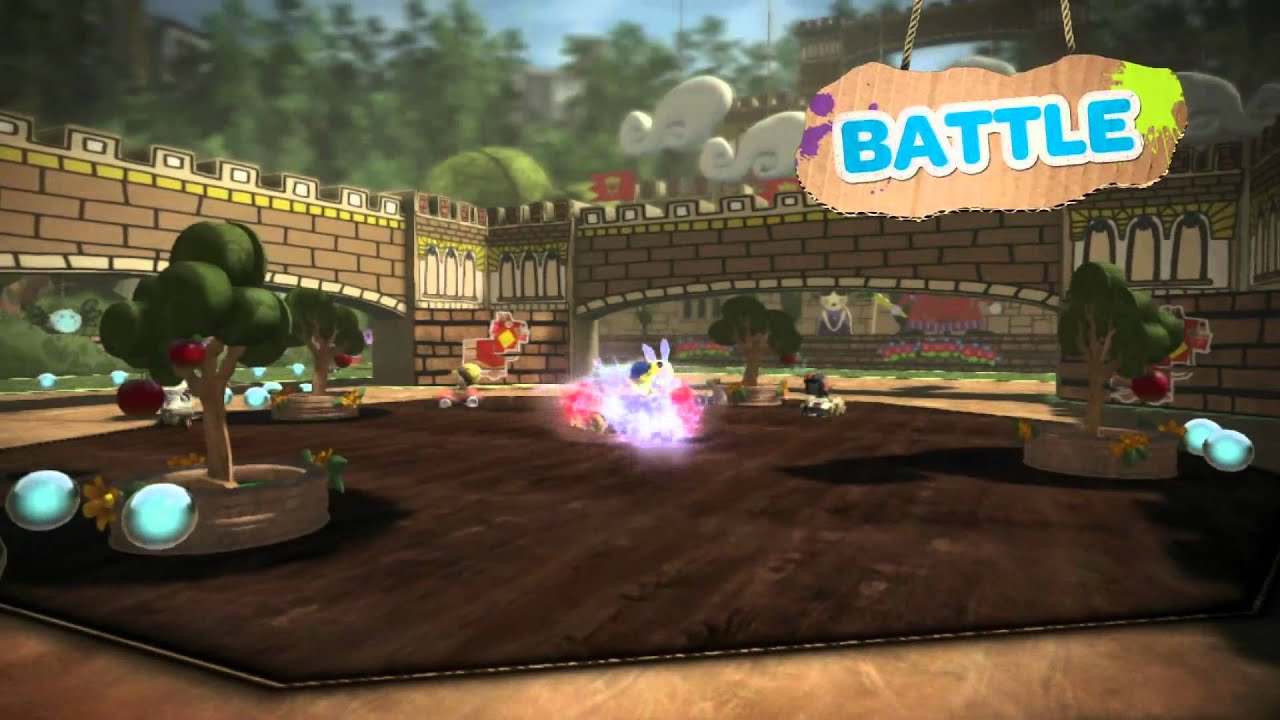 Earlier this year, we cut some cake and popped some champagne to celebrate Media Molecule's sixth birthday! We've had an awesome time during the last six years, seeing how the experiment we started here in Guildford has grown, giving rise to a thriving LittleBigPlanet community. This year will be no different, filled with DLC, plus new experiments from the LBP family for you to play with.
You already know about the fantastic LBP work that Tarsier Studios and Double Eleven Studios are doing on LittleBigPlanet for PS Vita, and now we are delighted to announce today a new LBP collaboration with the hugely talented team at United Front Games who will be leading a new project called LittleBigPlanet Karting! We've all seen that UFG has a wealth of racing experience and they're also intimately familiar with LBP's cornerstones of "Play, Create, Share." With LBP's powerful and diverse toolset in their capable hands, LittleBigPlanet Karting is sure to be an adventure that both LBP fans and kart-racing fans alike will enjoy! We are eager to see what you think of this union and especially excited to see what happens now that you can create in a 3D environment — it's the start of a whole new LBP world! Have a look at the debut trailer to see for yourself.

LittleBigPlanet! Lots of love!
James Grieve, Sr. Producer, United Front Games

Thank you to everyone at Media Molecule, we greatly appreciate the warm welcome into the LittleBigPlanet family. The team here at United Front Games has long been huge fans of LBP and all of the exceptional work done by everyone at Mm. Sackboy has become one of the iconic gaming characters of this generation and to have the opportunity to make a LittleBigPlanet game ourselves is truly an honor.

It has been a joy to collaborate with all of the folks at Mm. Since the project's inception, they have been great partners in getting to where we are today. Looking ahead, we can't wait for all of the LBP fans out there to get their hands on LittleBigPlanet Karting. The LBP community is unparalleled in the gaming world for the passion and creativity they bring and it's going to be exciting to see where they're able to take this new journey for Sackboy.
Our goal with LBP Karting has been fairly simple – provide a fast-paced experience that captures the best of classic karting gameplay, married with the unbridled creativity of LBP. This new adventure will be accessible to players of all ages and have all of the variety necessary to satisfy both the hardcore and more casual players.

This is an LBP game, so we could never talk about it without mentioning the Create tools. LBP Karting is set in an entirely 3D world that will enable players to create rich and varied gameplay experiences. Tons of familiar LBP gadgets will be present, along with a new toolbox specifically tailored to allow for building in LBP Karting's 3D world. Along with fan-favorite racing and battle modes, players will be able to modify the rules of the game itself to create completely new modes and challenges. All of this is wrapped up in a community experience that should have LBP fans feeling right at home.

Well, that's all for now, but we're looking forward to sharing more news on this exciting new game in the coming weeks so stay tuned for more info and get ready for the new world of LittleBigPlanet Karting in 2012!