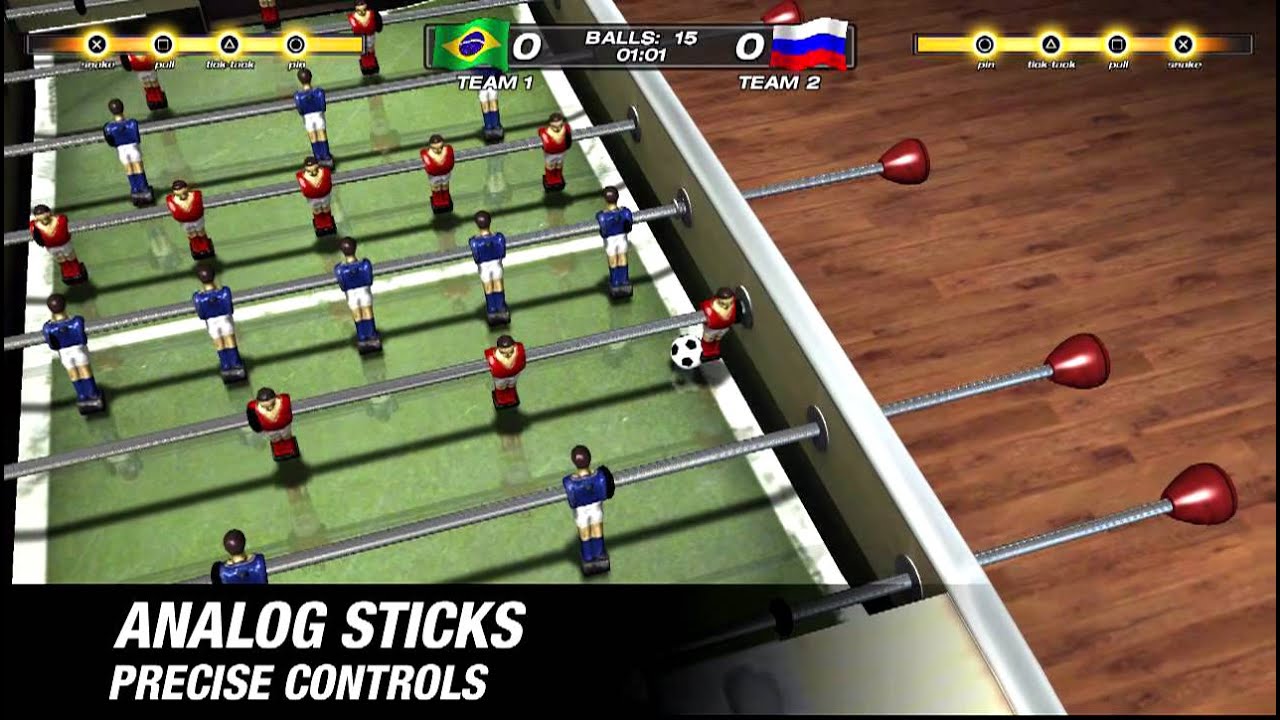 Hi everybody! This is Jakub from Grip Games, the folks who brought you The Impossible Game, MiniSquadron and One Epic Game. We are back to present you our newest creation – Foosball 2012 for PS3 and PS Vita.

PlayStation 3 and PS Vita, so we made sure that we packed it up with lots of features and game modes, like various kinds of tables (American style, European style), customizations, ball types and trick shots to keep you entertained and experimenting for hours.
The World Tour single-player mode will let you travel across the globe and challenge AI opponents in nearly 30 locations. More social players can look forward to a local multiplayer for up to four and online multiplayer, where you can match against the rest of the world and rank up to become the table football champion.
PlayStation Move is also supported on PS3. If you own this magic wand, you can control Foosball 2012 exactly like you would control a real table football, with 1:1 movement precision. If you don't own PS Move, DualShock 3 is also supported and, if you have ever played a football game before, the controls will feel immediately familiar. The PS Vita controls are the same as on the PS3 controller, thanks to the dual analog sticks and touch controls are also supported, if that is your thing.
Foosball 2012 is going to be a lot of fun for everyone – not just fans of table football. It is easy to jump into and enjoy instantaneously, but it also provides a lot of space to truly master your skills and rule the online leaderboards. If you are looking for a game that you won't put away after a few hours, but a game that will motivate you to keep playing and get better, look no further. And I think that I even don't have to mention just how fun this game can be when you have a few friends available for a local multiplayer. ;-)
Foosball 2012 will be released for both the PS3 and PS Vita as a downloadable game via the PlayStation Store, and will offer every single Cross Play feature between PS3 and PS Vita that you can think of.
First of all, the game supports cross-platform multiplayer – PS3 players can play against PS Vita players online, and vice versa. Secondly, if you own PS3 and PS Vita, the game automatically synchronizes your save data between both versions. You can start playing the game on your PS3 and then take it on the road with your PS Vita, and start exactly from where you left off.
And the best news of them all: if you buy the PS3 version of Foosball 2012 on either platform then you will be able to play on both platforms at no extra charge. The same applies for any additional purchasable content.
The release is planned for the end of this spring. In the meantime, you can follow the game on Twitter or visit the official website to get all the latest news and also keep checking back on the PlayStation.Blog. I hope to see you all soon online, playing Foosball 2012!