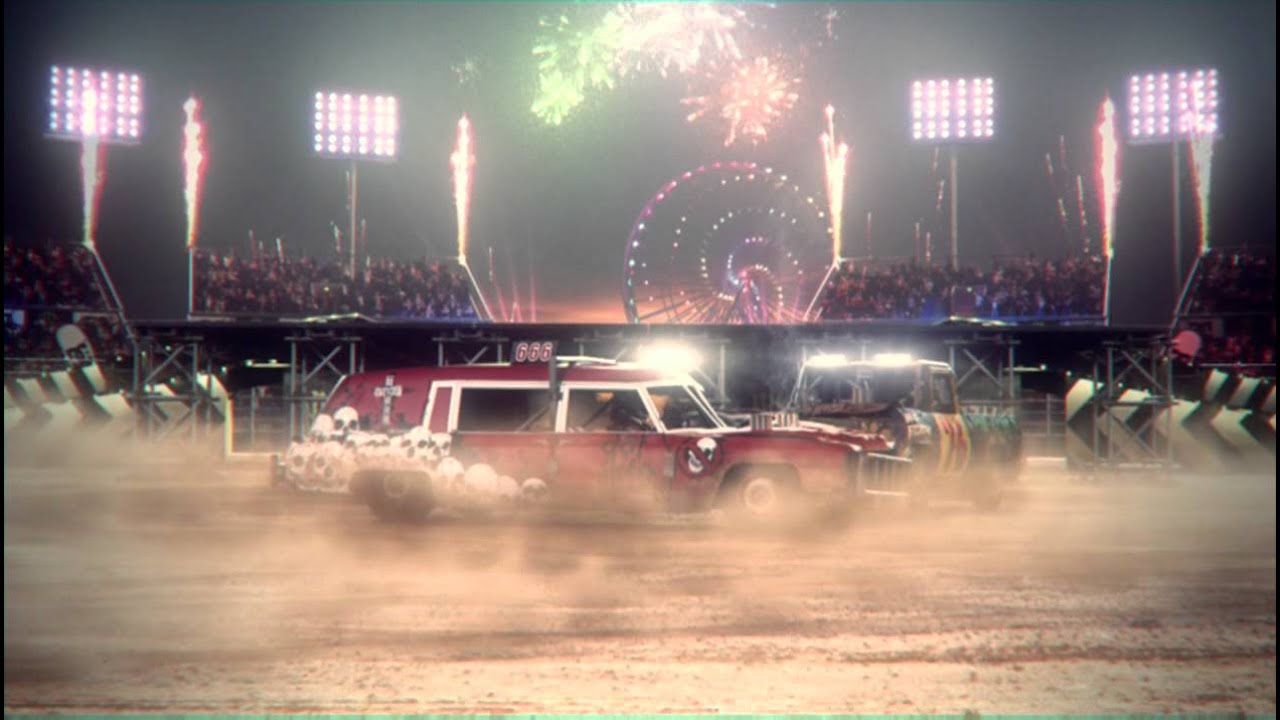 We're very excited to be able to reveal to you the latest title in our award-winning DiRT series: DiRT Showdown! Before I tell you a bit more about the game, take a look at our newly released announcement trailer to give you an idea of the kind of high-octane action you can expect to see in the game.
DiRT Showdown is due out on PS3 in May 2012, and is brought to you by the same team that brought you the other titles in the award-winning DiRT series. The game combines pick-up-and-play controls with electrifying events, frenzied crowds, and stunning graphics to deliver high-octane, dive in and drive thrills straight from the first event. The game's going to feature three main disciplines built around the pillars of speed, style and destruction. To help illustrate what I'm talking about, here's a broad breakdown of the three disciplines in question.
No holds barred racing events: Trade paint and use nitrous to blast past rivals in DiRT Showdown's racing modes. Courses are littered with obstacles, pinch points, multiple-routes and ramps to deliver adrenaline-fuelled racing across spectacular courses, where players are encouraged to do whatever it takes to get over the finish line in first place.
Bone-crunching Demolition Derby Events: (My personal favorite!) Crash, smash, and bash your way through a range of demolition derby events, pushing our stunning damage engine to its spectacular limits.
Edge of Control Hoonigan Events: A new accessible trick mechanic lets you go wild in free-roaming, freestyle stunt parks. Gymkhana has been taken to the next level in our Joyride compounds flooded with obstacles and challenges. Hoon your car around trick runs, competitive stunt events and exploration challenges.
When designing DiRT Showdown the team researched in great detail what players look for most in racing games. What the team discovered is the things that a lot of racers look for is the rush of going at high speed, pulling off slick and stylish moves, and the thrill of the crash and the resultant destruction on your car. To give gamers what they want in DiRT Showdown, we're offering Race modes, Hoonigan modes and Demolition Derby modes. However these modes don't run in isolation from one another, we want you to feel as though you're part of an action sports extravaganza, putting on the best show in town. We've taken to calling it a 'Theatre of Racing', with YOU as the star driver and main attraction.
Well I hope that's informed you a little regarding what DiRT Showdown is all about, and I'll be back at some point in the near future to let you know more about the game. However if anyone has any questions then please just let me know in the comments. Where possible I'll try to reply, but obviously at this stage in the games development I won't be able to answer everything about the game!
Finally, if you like what you saw and want to follow the development of the game more closely and get access to exclusive DiRT Showdown related competitions and giveaways, then you can either 'like' us on Facebook, or follow us on Twitter.